Excerpts from Jim Conrad's
Naturalist Newsletter
from the October 18, 2009 Newsletter issued from the woods of the Loess Hill Region a few miles east of Natchez, Mississippi, USA
OAK-APPLE GALLS FALLING
Oak-apple Galls are found nowadays on the ground beneath several oak species nowadays, as seen below: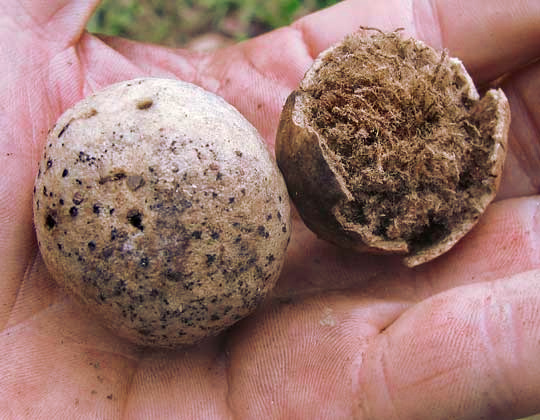 These are caused by a wasp in the Gall Wasp Family, the Cynipidae, AMPHIBOLIPS CONFLUENTA.
---
from the April 15, 2012 Newsletter issued from the woods of the Loess Hill Region a few miles east of Natchez, Mississippi, USA
OAK-APPLE GALL INK
Oak-apple galls are easy to find on the ground nowadays. You can see one before and after I broke away part of its covering to expose the spongy interior below: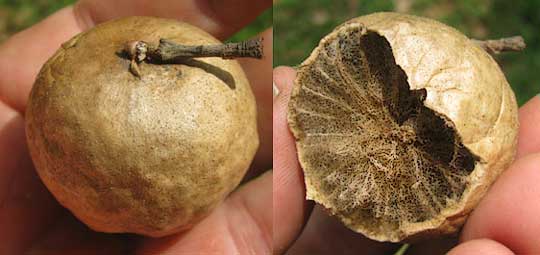 Normally in such galls, in the center an egg hatches into a wormlike larva, the larva feeds on the gall tissue around it and grows, metamorphoses into a quiescent pupa, and eventually from the pupa an adult wasp emerges.
I've always read that in the old days they made ink from oak-apple galls, so this week I tried my hand at it.
Into a bowl with about a cup of water in it I crumbled two oak-apple galls and let the mixture set overnight. Oak bark contains high levels of tannin, traditionally used to tan animal hides into leather, and wherever I see "tannin-rich water," as in mangrove swamps, it's dark, reddish-brown. Therefore, I wasn't surprised when the galls darkened the water, as shown below: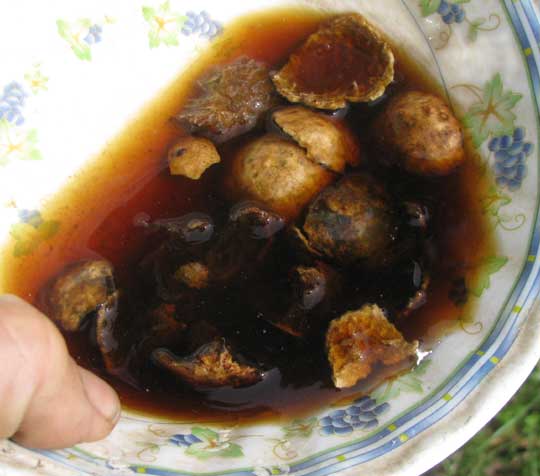 That picture shows the water after an overnight soak. When I brought out my calligraphy pen and began writing with the dark water, however, the "ink" wasn't dark enough to be useful. I'd used too much water. So, in a skillet over the campfire I boiled the water down to about a third of its former amount, concentrating the tannin, and this time I had ink, as shown below: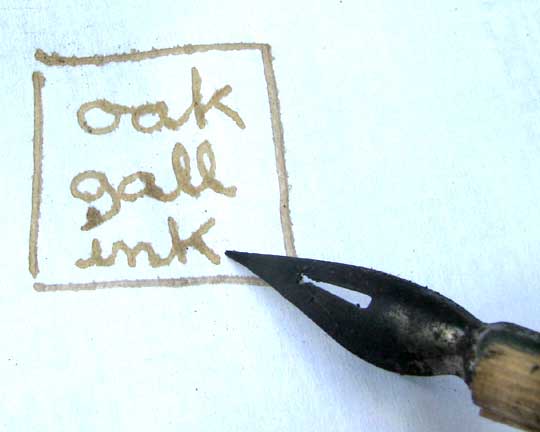 Reader Dave in New York writes that to make ink it's best to use immature solid galls like those shown below: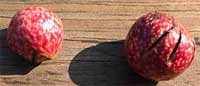 Dave writes: "Last year I simply soaked a few in water and got a deep red ink.....this year I will dry them first, crush them and then add gum arabic and iron sulfate.....the recipe is easily found on line"
On the Wikipedia Tannin Page I read that "Tannins produce different colors with ferric chloride (either blue, blue black, or green to greenish-black) according to the type of tannin. Iron gall ink is produced by treating a solution of tannins with iron sulfate."
If I had some iron filings I'd add them to my tannin-water to see if they changed things, but I don't.
I'm gratified to know that when the revolution comes I'll still be able to write, if I can figure out a good way to make paper.