Excerpts from Jim Conrad's
Naturalist Newsletter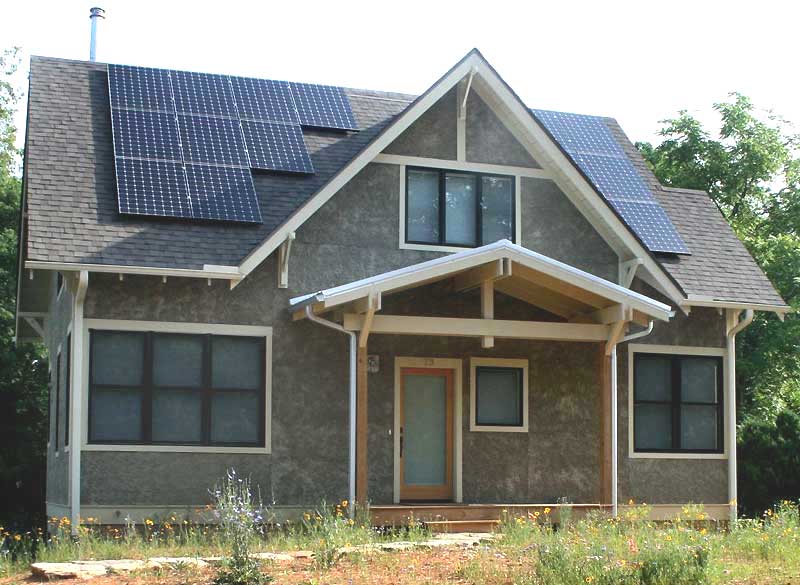 from the November 15, 2015 Newsletter issued from Hacienda Chichen Resort beside Chichén Itzá Ruins, central Yucatán, MÉXICO
JARVIS'S SOLAR POWER SYSTEM
My friend Jarvis in North Carolina, a freshly retired college professor, had a house built for himself, and since Jarvis is a thoughtful, responsible individual he wanted it equipped with solar power. Above, you can see what he ended up with.
Now that Jarvis has lived in his house for a year or so I asked him how his solar system had worked out, for sometimes when we hear about solar power, it's hard to know what's solar-power industry hype, what's coal and nuclear industry negative propaganda, and what's the truth. And Jarvis would tell the truth. He replied:
"I am very pleased with my solar power system. It generated more power than I used in every month from April through October. Also, in March I almost broke even, so that my cost for electricity consumed in March was $1.38."
"I found that in the summer I was consuming an average of about 5 kWh per day. In the summer I use the air conditioning some but not much. In the winter I was consuming an average of about 35 kWh per day. The heat pump uses a lot of power even though I used the wood-burning stove for heat on some very cold days."
"I have to pay a flat fee of $12.80 per month for being connected to the grid even if I don't use any electricity. But one advantage of being connected to the grid is that I can get credit for excess power I put into it. I am estimating that I will be able to use my credits from November through January so that I don't have to pay anything for power consumed in those months (but I still have to pay the flat fee of $12.80 per month). I estimate that in February I will have to pay about $22 for power consumed. So, my estimate for the total I will have to pay for power consumed during 2016 is $26. ... I haven't completely eliminated my dependence on fossil fuels for electricity generation but I have gotten very close."
"There is something else that people should be aware of. ... If you use solar power you should have an energy-efficient home if you really want to get the benefits. Otherwise you could still have big electric bills."