Excerpts from Jim Conrad's
Naturalist Newsletter
from the August 5, 2012 Newsletter issued from the woods of the Loess Hill Region a few miles east of Natchez, Mississippi, USA
GOBLET FUNGUS FILLED WITH RAINWATER
Sometimes in the forest you find something so pretty and unexpected that for a moment you can only stand looking, enchanted, your rational and analytic mind stunned into inaction like a hypnotized hen. That's how it was this week when I came upon a fungus I'd never seen before spotlighted by a narrow beam of sunlight shooting down through the forest gloom. The fungus was shaped like a frilly-rimmed, four-inch-wide bowl (10cm) crafted of thin paper. A small red and black beetle floated in sparkling rainwater half filling the bowl. It was a genuine golden chalice. Above you can glimpse the visual effect -- which lasted only a minute or so as the beam of sunlight moved away.
The fungus arose from a surprisingly dry, intact tree limb on the ground. The slender, silhouetted grass flowering-head cutting across the picture's lower left corner (that's Longleaf Woodoats, Chasmanthum sessiliflorum) magically passes right through the bowl's wall. A side view of it all showing the bowl to be a stemmed one is shown below: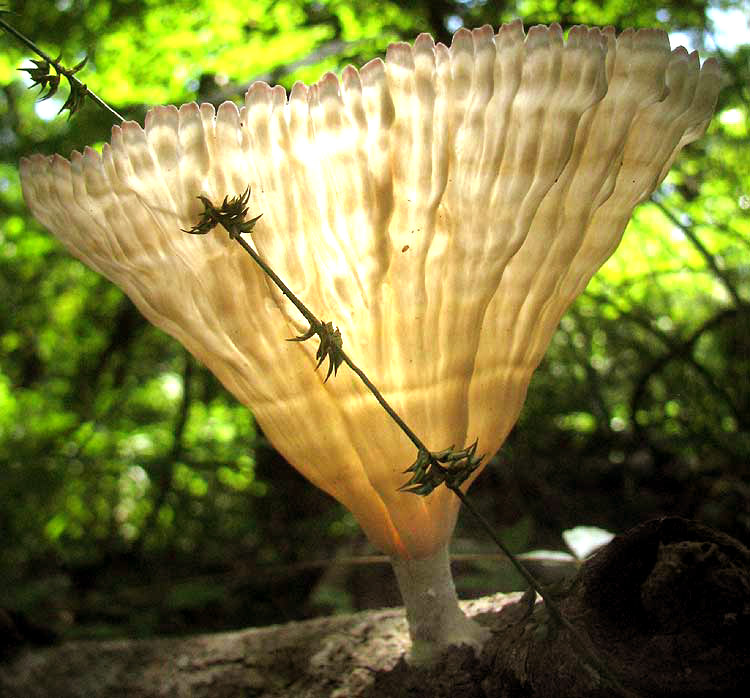 A close-up showing that this fungus's underside, unlike the vast majority of fungus fruiting bodies, bear no gills, no pores, and no teeth, is shown below: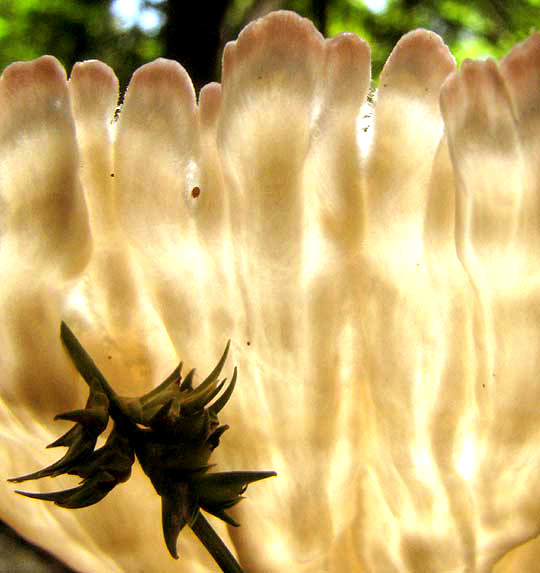 This amazing fungus was featured in none of my mushroom-identification books and it didn't key out in any of the online guides. I had to cheat by Googling words I thought some other amateur might use to describe it, hoping that they'd managed to identify it. The keywords "fungus papery bowl" brought up thumbnail photos of similar mushrooms in the family Meruliaceae, which I'd never heard of, but which is home to maybe 47 genera and over 400 species (estimates vary wildly) of mostly tropical, wood-rotting fungi. Looking for species of Meruliaceae documented in this part of the world finally our magic mushroom's identity became clear:
Our sunlight-glowing chalice is CYMATODERMA CAPERATUM, for which I can find no English name, though some species in the genus bear names such as Leather Goblet, Wine Glass, and the like. The species is fairly widely distributed in the American tropics. In our area it's been documented in Florida and Louisiana.
As discovery confirms, the Meruliaceae family is characterized by its fruiting bodies bearing no gills, pores or teeth. The clublike, spore-producing basidia typically lie close to the body's papery or leathery surface or are fairly encrusted in it.
What a pleasure finding this amazing organism, and what fun figuring out its identity, and learning what I could about it!