Excerpts from Jim Conrad's
Naturalist Newsletter
from the August 9, 2009 Newsletter, issued from the Siskiyou Mountains west of Grants Pass, Oregon:
BLOSSOM END ROT IN TOMATOES
A few of our tomatoes have on their bottom ends large, dark, scabby areas such as the yellow tomato shows below: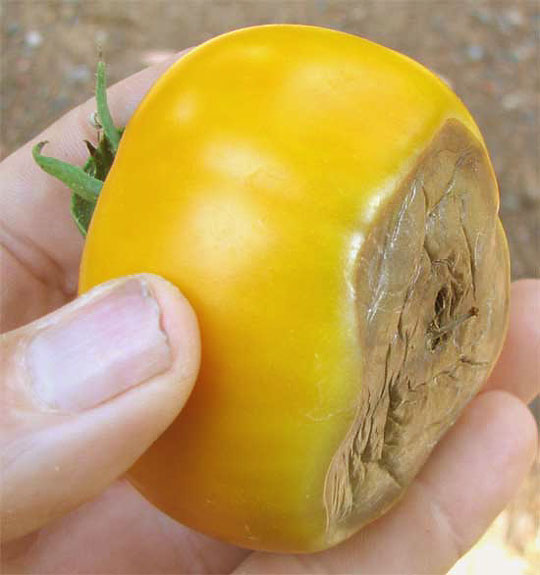 That condition is known as blossom end rot and it's not caused by disease organisms, so it's not contagious and no fungicide or insecticide helps. It's caused by a number of environmental factors affecting the supply of water and calcium to fast-developing fruits. For example, if you hoe too close to the plant and break some roots, this may diminish the supply of water with calcium dissolved in it, resulting in end rot. Planting tomatoes too early in cold soil also can cause end rot, and so do periods of hot, dry weather with not enough watering.
I'm not sure why occasionally one of our tomatoes turns up with the problem. Our garden is watered with a sprinkler, so maybe the tomato plants are absorbing water through their leaves and that water may not contain the calcium that soil-water would.