Excerpts from Jim Conrad's
Naturalist Newsletter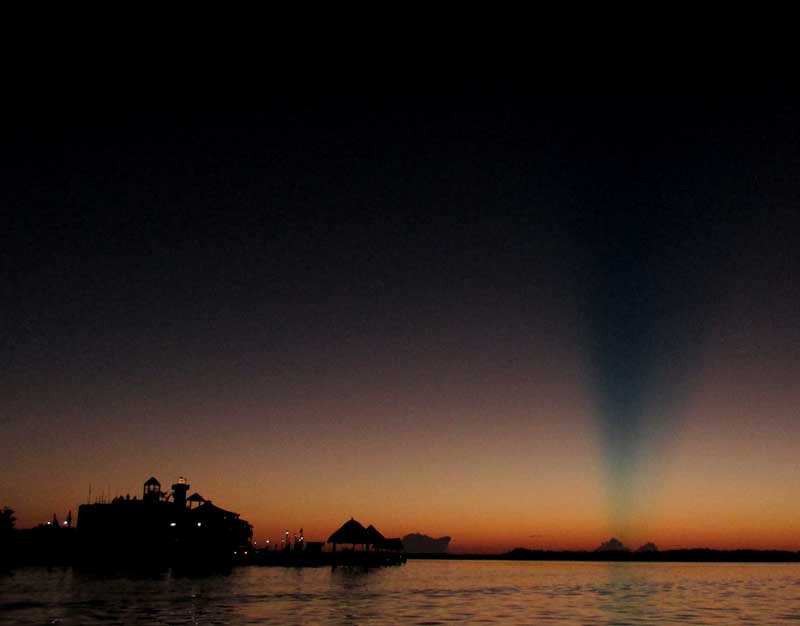 from the June 7, 2015 Newsletter issued from Río Lagartos, on the north-central coast of Yucatán, MÉXICO
CREPUSCULAR RAYS
Tuesday a little after dusk we were returning from a trip up the estuary, approaching Río Lagartos just as lights were flickering on. Toward the west, across the estuary and far beyond the dark line of mangroves rimming the estuary, here and there distant thunderheads soared high into the sky, their silhouettes looking like far-away mountains. The sun, now below the Earth's curvature, lit up the horizon's rim, and the towering thunderheads cast their shadows across the sky. Above, you can see the effect.
Sometimes up North we see such shadows streaking the sky at dusk and wonder what they are, for in most of North America the air is so hazy that distant object at the horizon are hidden by haze. Here the air is so clear that you can see all the way to where sky meets Earth, and the far-away thunderheads were obviously the source of the shadow. Such streaks in the sky at dusk are known as crepuscular rays, the word "crepuscular" referring to things that appear or become active in twilight. Sometimes it's the bright areas that show up and we call them sunbeams.
Of course what's happening is that particles of dust and humidity are lighted where the sun shines, but if a big cloud blocks the sunlight, the dust and water droplets don't show up, and their part of the sky looks darker.
The marvelous thing was the dark ray could be traced across the sky above us, and then seemed to focus on the opposite side of the night sky, where a full moon at that moment was rising, barely above the horizon. That effect was too weak to photograph, but we saw it from our little boat. There in open water we just turned off the boat's engine and floated bobbing about, fully conscious that we were seeing something extraordinary, and uncommonly beautiful.