Excerpts from Jim Conrad's
Naturalist Newsletter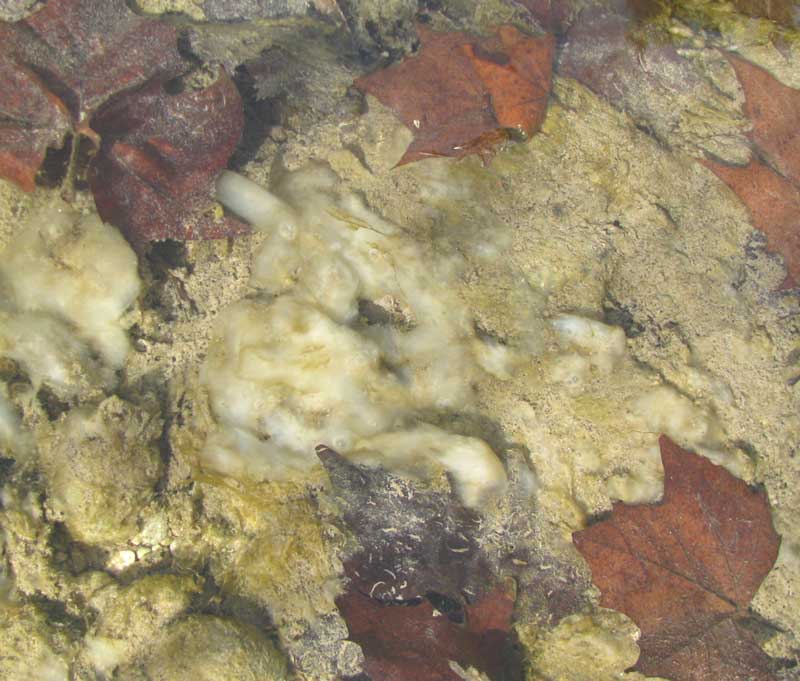 from the January 19, 2014 Newsletter issued from the Frio Canyon Nature Education Center in the valley of the Dry Frio River in northern Uvalde County, southwestern Texas, on the southern border of the Edwards Plateau, USA
WHITE BLOBS OF COTTONY SLIME
Scanning the Dry Frio's shallow water for interesting algae not yet looked at, I came upon the white blobs of cottony slime shown above.
You can judge from the sycamore leaves in the picture that the main blob is maybe the size of a hand, with cylindrical sections about as thick and long as fingers. I guessed that when the blob was looked at microscopically it'd reveal parallel strands of fungus, but instead I saw what's shown below: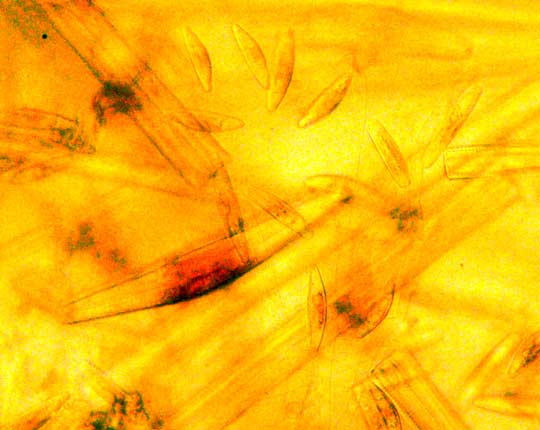 Apparently the white masses are composed nearly entirely of several diatom species of very different sizes and shapes. In the picture the smaller ones shaped like grains of rice pointed at both ends were constantly moving about but the other kinds remained motionless.
Diatoms constitute a major group of algae. One of their main features is that they are enclosed within a cell wall made of silica, silica being SiO2, the main component of most glass. Most diatoms are composed of just one cell and they come in many distinct shapes and sizes. You might enjoy reviewing the major groupings based on gross morphology at http://westerndiatoms.colorado.edu/taxa.
In our picture, the ones with pointy ends are "asymmetrical biraphids." I think the long, straight ones are "araphids."
I read that thick, slimy masses of diatoms are known to form in streams after prolonged sluggish flows and in waters with moderate to high nutrient concentrations. With our current drought, the Dry Frio's flow certainly has been sluggish. If there are ranches upstream discharging nutrient-rich water from cow manure, they are at a great distance. However, I'm seeing other indications of the Dry Frio's waters being moderately nutrient rich -- of "eutrophication" -- so that well may be the case.