Excerpts from Jim Conrad's
Naturalist Newsletter
from the February 9, 2009 Newsletter, issued from near Natchez, Mississippi:
A NEW COLDFRAME
You can see my new coldframe below: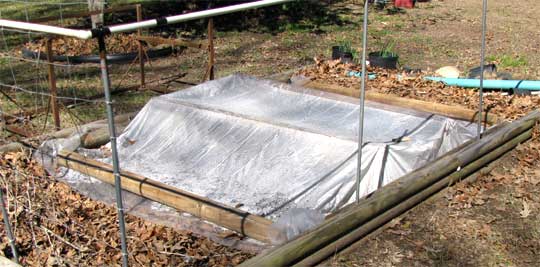 Actually it looks more complicated than it is, for I built it inside one of Karen's old raised beds with a watering system around it. The coldframe uses none of that infrastructure. The coldframe itself is no more than a plastic sheet held up by planks atop cinderblocks, with the sheet held down at the edges by boards. I built the coldframe there hoping the raised beds and watering pipes would deter marauding deer and dogs.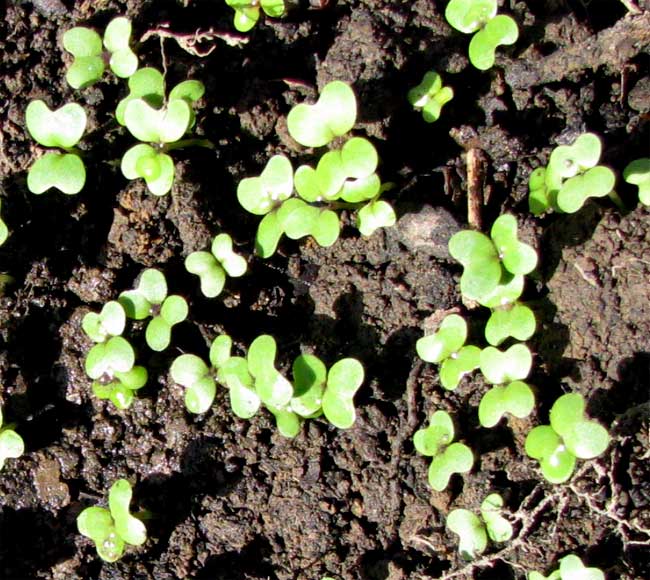 Above you can see what's inside the coldframe as of yesterday, Sunday. Those are mustard greens seedlings which occupy half of the coldframe, with lettuce taking up the other half. The seedlings will be thinned as they grow; I begin eating the thinnings long before individual plants get large enough to be picked by themselves.
All this growth comes after only about ten days, and some of those days were pretty chilly. I think that most people underestimate both what a powerful phenomenon the greenhouse effect is and how complicated a coldframe needs to be.
In fact, one of my most successful coldframes was nothing but a sheet of plastic held up by a fallen tree-limb dragged over tilled and sowed soil, the sheet held down around the edges by handfuls of dirt. This simple structure provided wonderful crops of lettuce and greens long before anyone in the area was thinking of sowing anything in their regular gardens.
If I hadn't found an unused sheet of plastic, I'd have built a coldframe with some old windows that were lying around. A typical old-window coldframe is shown at http://www.doityourself.com/stry/oldwindowuses.