Excerpts from Jim Conrad's
Naturalist Newsletter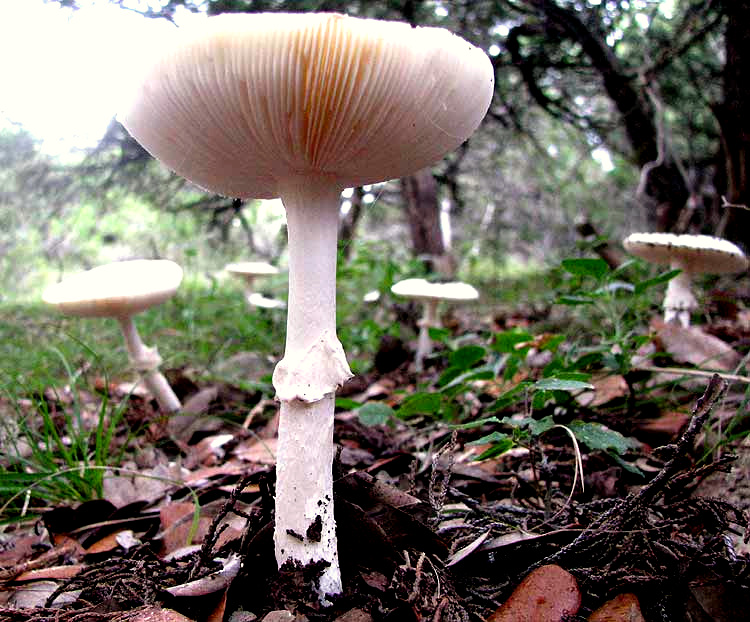 from the October 7, 2012 Newsletter issued from the valley of the Dry Frio River in northern Uvalde County, southwestern Texas, on the southern border of the Edwards Plateau, USA
DESTROYING ANGELS
I was afraid that here in arid southwestern Texas I'd hardly ever see interesting mushrooms. However, two days after a good rain last weekend, on the lower slope of a limestone hill forested with Texas Live Oaks and Ashe Junipers, a line of twelve very impressive mushrooms popped up averaging six inches tall (15cm), their stark whiteness glowing in the dim understory, as seen above.
A different view of another one in the line of twelve shows fresh, crumbly dirt atop the cap, testifying to how recently the mushroom had pushed up from below, is below: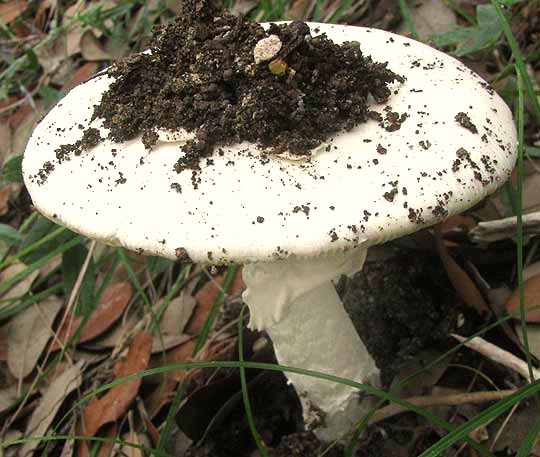 Seeing that they were so large and that their stems bore skirt-like rings, or annuluses, already I had an idea of the mushrooms' identity. However, first I needed to scratch away debris at the stalk's base to see what's shown below: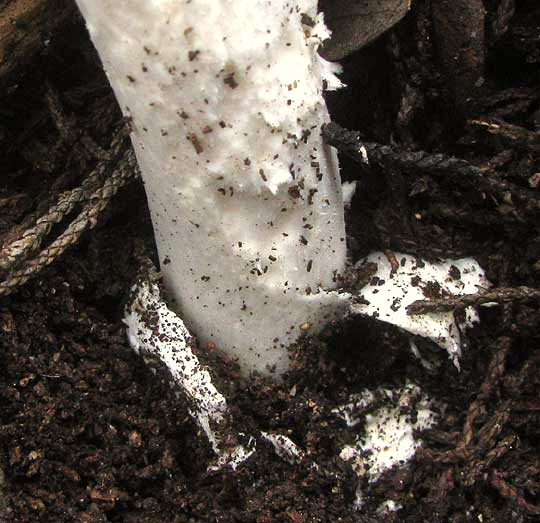 The stem arises from a white, fragile, cuplike "volva." Most mushrooms don't have volvas, but the kind I was thinking of do, so this an important field mark indicating that the mushrooms were members of that famous group of mushrooms known as the Amanitas. Amanitas include some of the most deadly of all fungi -- as well as a few delicious, highly edible species.
An Amanita bearing both ring and volva, with a smooth, white top free of warts and patches, and with white gills is most likely a Destroying Angel, AMANITA BISPORIGERA. I say "most likely" because the taxonomy of the Destroying Angels is poorly understood. Also, at least three other deadly, similar species also are known as Destroying Angels. Michael Kuo at MushroomExpert.com explains the situation at http://www.mushroomexpert.com/amanita_bisporigera.html.
When I was famously poisoned by a Parasol Mushroom in 2006 -- the story is at http://www.backyardnature.net/n/06/060824.htm -- the toxin only affected my gastrointestinal tract, as in simple food poisoning. Much in contrast, Amanita toxins disrupt basic cellular function by inhibiting the enzyme RNA polymerase II, which catalyzes the transcription of DNA to synthesize precursors of Messenger RNA. If you know basic genetics, you know that life doesn't happen without well functioning Messenger RNA. Amanita poisoning is serious stuff.
The first symptoms of Amanita poisoning appear six to 24 hours after the meal. Then there's a period of apparent improvement, but before long, if you've eaten enough, the liver and kidneys fail, and death occurs after four days or more.
Amanita bisporigera hyphae form mycorrhiza on hardwood roots. You can see what mycorrhiza are and why they're so important at http://www.backyardnature.net/f/mycorhza.htm.
The species is thought to be widely distributed in North America.
---
from the September 28, 2014 Newsletter issued from the Frio Canyon Nature Education Center in the valley of the Dry Frio River in northern Uvalde County, southwestern Texas, on the southern border of the Edwards Plateau, USA
DESTROYING ANGELS RETURN
Above you can see what our famously poisonous Destroying Angel mushrooms looked like two years ago. This year they've returned at the very same time and in the same place, but now year they're fewer and shorter, probably because this year has been drier than recent years. Below, you can compare the above mushrooms with this year's short-stemmed crop: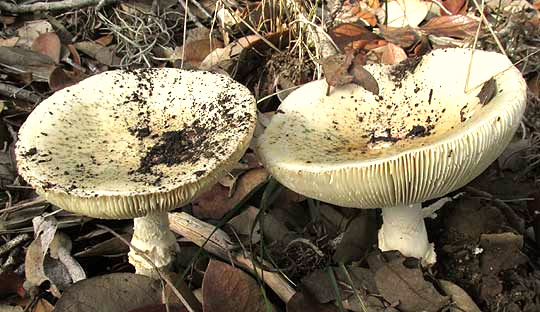 Even with these short mushrooms, if you dig away the leaf litter you can see the Amanita field marks consisting of a conspicuous, collar-like ring or annulus halfway up the stem, and the stem arising from a white cup, or volva, as shown below: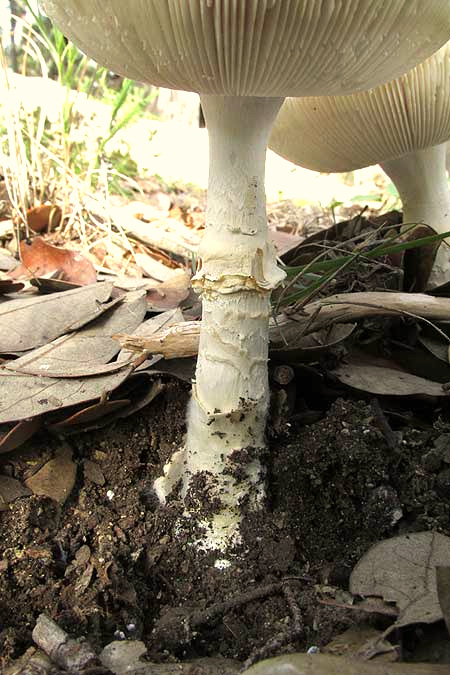 To be even more certain that you have an Amanita you need to confirm that the mushroom's spores are white. Normally that means plucking a mushroom's cap, or a portion of it, placing it top-up on a surface, and noting the color of the dusty pollen that over time accumulates beneath the cap. A typical Amanita spire print I made several years ago is shown at http://www.backyardnature.net/f/sporprnt.jpg.
To make a spore print your mushroom's cap must not be so young that it's not dropping spores yet, or so old that the spores already have been released, plus it might take several hours to get a nice print. Of course, you'd like to see your mushroom's spore color in the field, but that's rarely possible. However, with this week's short-stemmed Amanitas it could be done in some cases where the caps nearly lay flush with the forest floor, as was the case shown below: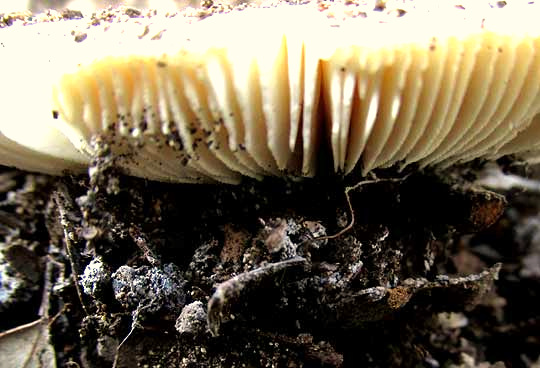 Do you see the whitish powdering of the black organic matter below that cap's gills? The whiteness is produced by spores released from the above gills. If the spores had been dark, we'd been out of luck -- and our mushrooms wouldn't have been Amanitas.
Only rarely can you determine spore color so quickly and easily, but it's nice when those opportunities arise.