Excerpts from Jim Conrad's
Naturalist Newsletter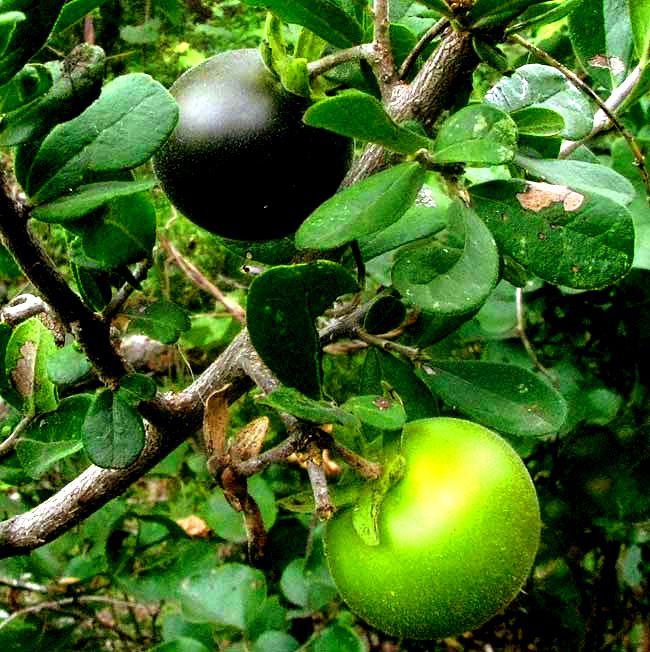 from the the September 2, 2012 Issued from the valley of the Dry Frio River in northern Uvalde County, southwestern Texas, on the southern border of the Edwards Plateau, USA
TEXAS PERSIMMON
Last week we looked at yellowing persimmons in Mississippi which, unfortunate for me, don't occur this far west. However, there's another persimmon species -- one found only in the southern half of Texas and northern Mexico -- on the slope down to the river behind the cabin, as you can see above.
This persimmon tree is about ten feet tall (3m), is compact with gnarly branches, and its small, deciduous leaves are leathery and brittle. You can see that its persimmons, unlike last week's Common Persimmon of eastern North America, is black. In fact, sometimes this species is called the Black Persimmon, but mostly it's called the Texas Persimmon. It's DIOSPYROS TEXANA. In Mexico it's called Chapote or Chapote Prieto.
Last week we made the point that something unusual about persimmon fruits is the very large, leathery calyx that remains attached until the fruit is overly mature. You can see that Texas Persimmon fruits also have big calyxes. Look at the calyx on the persimmon from which I've taken a bite below: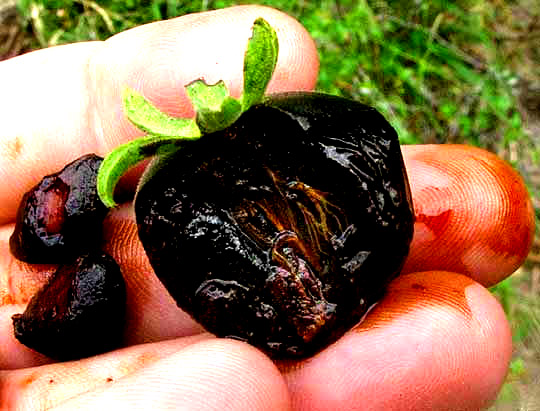 Texas Persimmon fruits are much juicier and have a less custard-like texture than the East's Common Persimmons, and the ones I'm eating aren't nearly as good. They're a tiny bit bitter, but tolerable if you're hungry. I read that they make a decent jelly but a local native said outright that he didn't like them. Birds, foxes, coyotes and raccoons are reported to eat them.
---
from the April 21, 2013 Issued from the valley of the Dry Frio River in northern Uvalde County, southwestern Texas, on the southern border of the Edwards Plateau, USA
TEXAS PERSIMMONS FLOWERING
Texas Persimmon trees are flowering now, and it's something to see, for the species is abundant here, even though it's distributed only in southern Texas and arid northern Mexico. Persimmon trees usually are dioecious, which means that their blossoms are unisexual, and occur on different trees; there are boy trees and girl trees.
A cluster of male flowers -- the one on the far left fully open -- is shown below: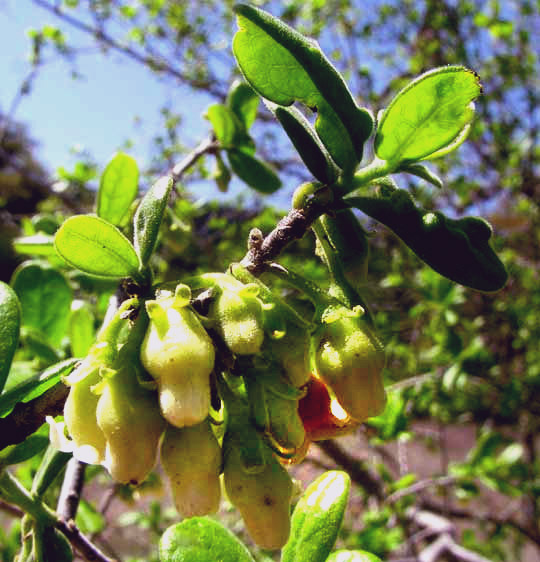 In that picture, notice how the blossoms arise from last year's wood, not from the new sprout emerging from buds. In North America we have four persimmon species -- four members of the genus Diospyros -- and this feature distinguishes Texas Persimmons from the other three. A close-up of a longitudinal section of a male flower showing the blossom's interior occupied only with pollen-producing stamens (usually numbering 16 in each flower) is shown below: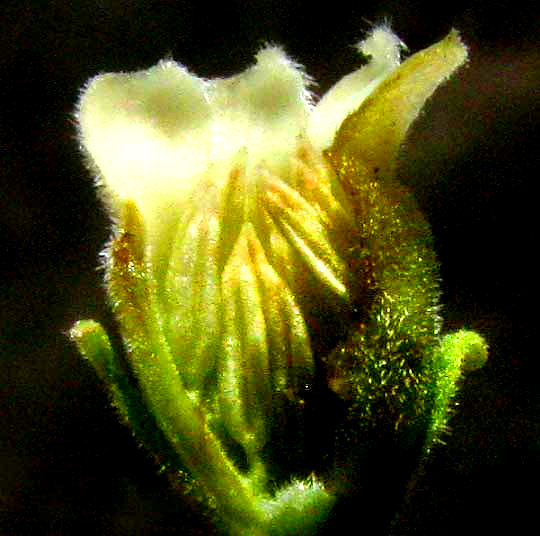 Female flowers are much larger and fewer in each cluster, as shown below: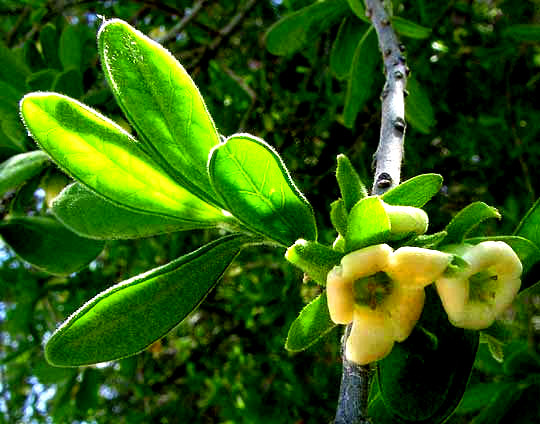 A close look into a female flower's throat, showing four hairy styles (one style is obscured) atop a green, oval ovary -- the future black persimmon -- is shown below: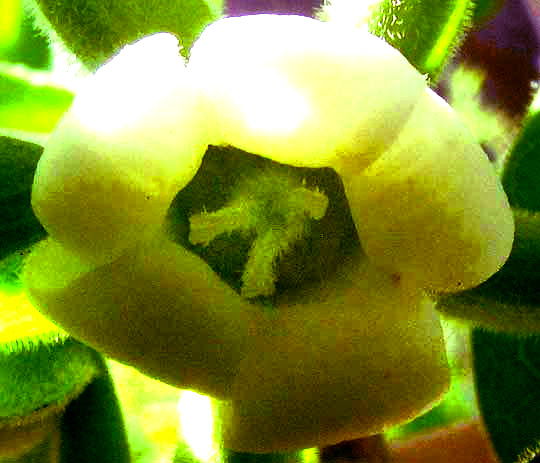 Something surprising to me is that in our area during this season male trees far outnumber female ones -- maybe by a ratio of ten to one. On the Internet I find no mention of such a mismatch between male and female trees, though one paper reports that individual Japanese Persimmon trees are said to develop predominantly female flowers one year and male flowers in another, resulting in great fluctuations of crop yield from year to year.
Maybe this predominance of male trees is temporarily caused by our current severe drought. Maybe the trees "know" that if they produce female flowers leading to fruits there won't be enough rainfall later on to produce fruits with viable seeds. Among persimmon species, gender roles are not written in stone. Sometimes male trees produce a handful of female flowers, and vice versa for female trees.
---
from the October 6, 2013 Newsletter issued from the Frio Canyon Nature Education Center in the valley of the Dry Frio River in northern Uvalde County, southwestern Texas, on the southern border of the Edwards Plateau, USA
TEXAS PERSIMMON DYE
The Internet is full of references to pioneers having used Texas Persimmons for dye, but there's little information on how it was done. However, Deb McClintock here in the Texas Hill Country has experimented with fruit juice from Texas Persimmons. Her interesting page is at http://debmcclintock.wordpress.com/tag/dye-2/.
I've not dyed anything with the juice but I've done what's shown below: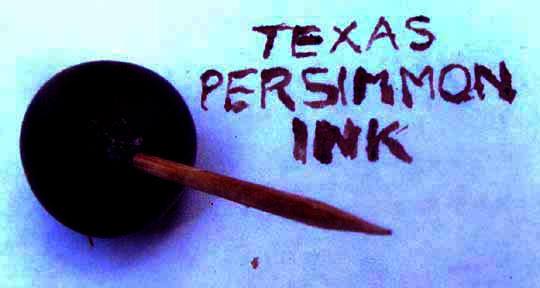 That picture shows a toothpick stuck into a Texas Persimmon persimmon, and writing accomplished with the toothpick wet with persimmon juice.
Therefore, when the revolution comes, we in the Texas Hill Country will be able to write notes to one another, maybe on Sycamore leaves, with persimmon juice.