Excerpts from Jim Conrad's
Naturalist Newsletter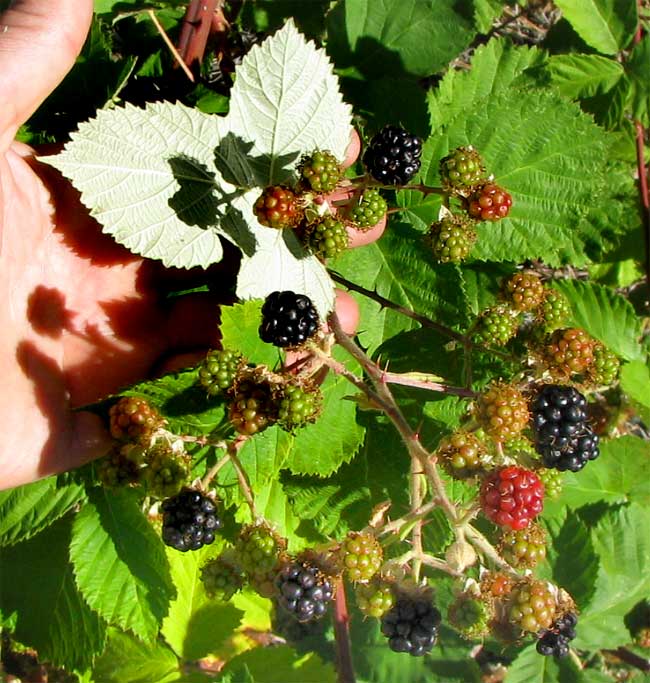 from the the August 2, 2009 Newsletter, issued from the Siskiyou Mountains west of Grants Pass, Oregon:
HIMALAYAN BLACKBERRIES
If you cherish the days of high summer when you can take seldom-used paths through fields and along woods edges to gather blackberries, this week has been the very one when you'd do that in southwestern Oregon. What's more, blackberry picking here isn't nearly as daunting as in the US Southeast where usually I pick, for here there's no worry about chiggers, or redbugs, and even ticks are rare. The Southerner can hardly imagine such genteel blackberry picking as is normal here. You can see a big cluster of berries near my trailer above.
In that picture I'm turning over a leaf so you can see an important fieldmark for this species -- the leaves' hairy-white undersurfaces. Another feature is seen below: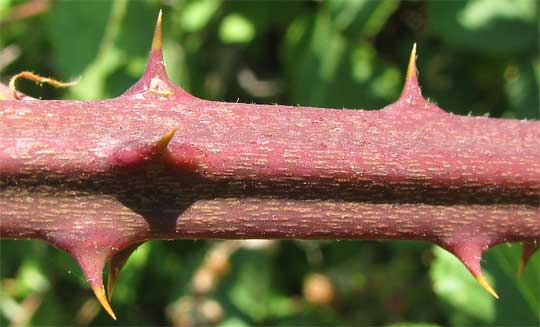 That shows how this species' main canes are "five-angled"; in cross-section they're roundly star-shaped.
The species shown, our most prolific wild-growing blackberry, is the Himalayan Blackberry, RUBUS ARMENIACUS (sometimes named Rubus discolor), an invasive species in North America originally from southwest Asia, but not the Himalayas. The species may have been first introduced into North America in 1885. Since its blackberries are larger, sweeter and more prolifically produced than with our native species, Himalayan Blackberries were often planted, and horticultural varieties have been developed from the species, the best known being Himalayan Giant and Theodore Reimers. In North America wild Himalayans occur mostly in the West but they're getting established here and there all across the continent.
Around here Himalayan Blackberries are absolutely abundant, forming dense, wildlife supporting thickets along nearly all roads with halfway moist soil that's not kept cleared. Native blackberry species do show up here and there and often their fruits are fine, though they tend to contain larger seeds and not be as large and sweet as those of the "Asian invader."