Excerpts from Jim Conrad's
Naturalist Newsletter
from the September 2, 2012 Issued from the valley of the Dry Frio River in northern Uvalde County, southwestern Texas, on the southern border of the Edwards Plateau, USA
A FENCE-LOVING CLEMATIS
This is ranch country so, among other things, that means that lots of fences crisscross the landscape. And on these fences very often you see what's shown below: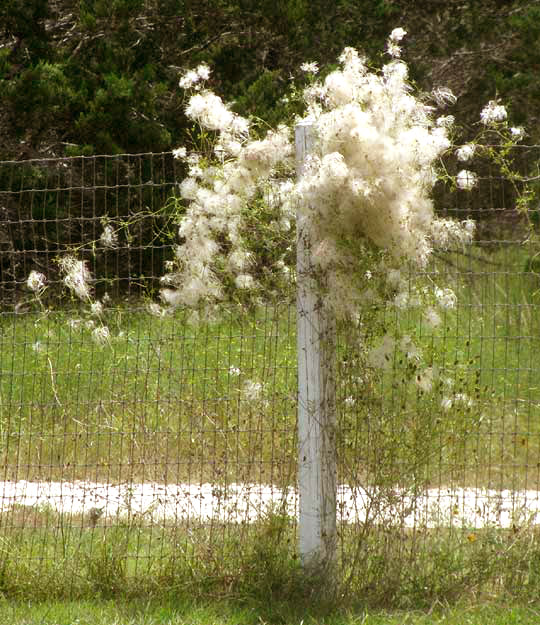 Any plant producing so much fuzz is bound to be called Old Man's Beard or Goat's Beard -- and these are among this vine's most common names. Other more definitive names are Texas Virgin's Bower and Drummond's Clematis, the latter name being the most apt, since the fence sun-catcher is indeed a clematis, CLEMATIS DRUMMONDII, native to the US arid Southwest from southern California to southern Texas, and much of northern Mexico. A close-up of one of the vine's fuzz-puffs is shown below: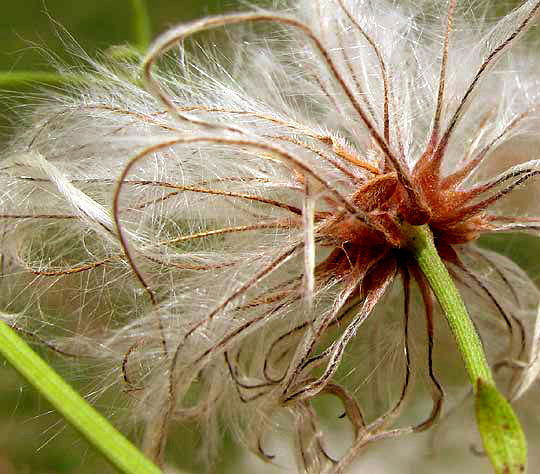 There you can see that the fuzz consists of abundant, white hairs on long, slender, curving necks, or "beaks," atop numerous achene-type fruits, achenes being one-seeded, dry fruits that don't split open at maturity.
The fuzzy fruiting heads are typical of the clematises, but the Drummond's Clematis's leaves are exceptionally slender, rangy things that somehow seem appropriate for this arid, sun-baked environment, as shown below: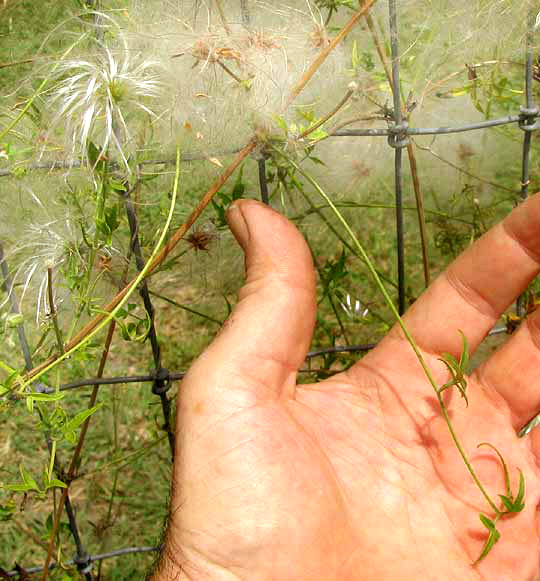 The vine produces no tendrils, but the leaves' wiry petioles and rachises serve as tendrils, half-heartedly but effectively hooking themselves onto bush branches and fence wires.
The vine's flowers are nearly as understated and no-nonsense as the leaves, as you can see below: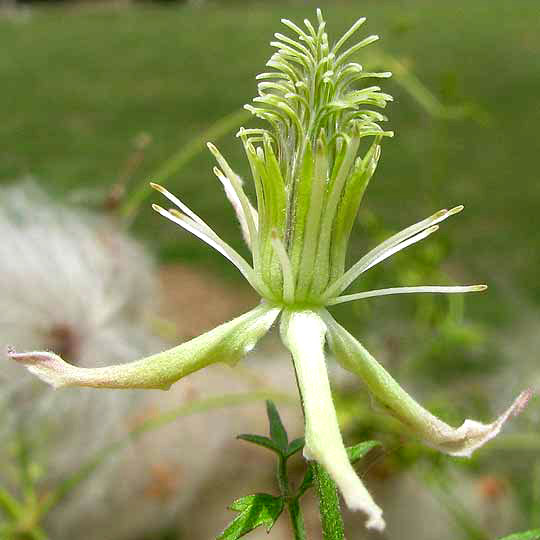 About 32 wild clematises are listed for North America (±300 worldwide), and some species produce flowers with both male and female parts, while other species produce unisexual flowers. Drummond's Clematis bears unisexual ones. The flower in the picture is female. Male and female flowers occur on different plants. Our flower's stamens, looking like pale little matchsticks arising at the pistil's base, are rudimentary and sterile. The pineapple-like object in the flower's center are the female stigmas and styles. Notice that the flower bears no petals, or corolla, for its large sepals serve the corolla's function of attracting pollinators.
Traditionally teas have been brewed from Drummond's Clematises to ease headaches and migraine.
---
from the July 28, 2013 Newsletter issued from the Frio Canyon Nature Education Center in the valley of the Dry Frio River in northern Uvalde County, southwestern Texas, on the southern border of the Edwards Plateau, USA
DRUMMOND'S CLEMATIS FLOWERING
Nowadays the Drummond's Clematises, also known as Texas Virgin's Bowers, are flowering, and even in flower they present spectacles climbing the area's fences. Below, you can see a small section of flowering vine back-lighted by morning sunlight: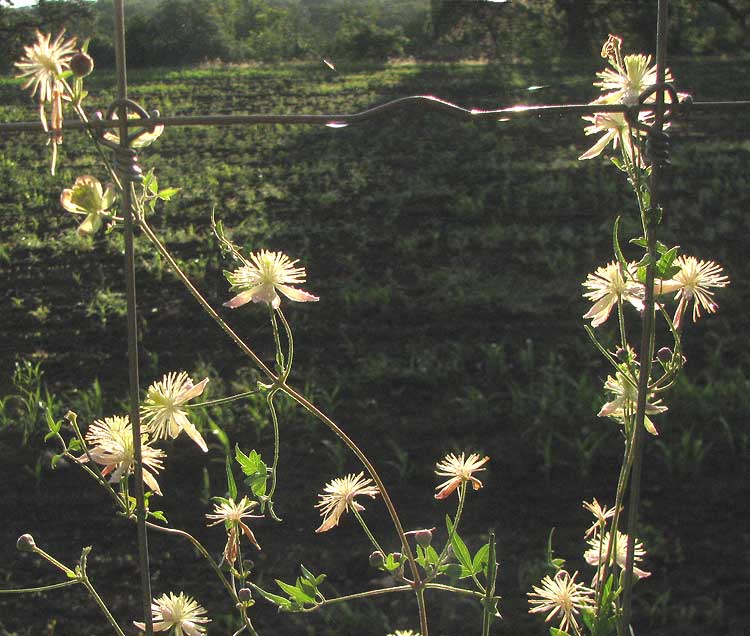 A flower close-up appears below: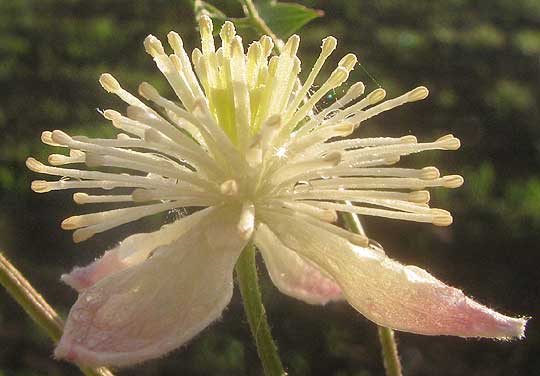 Those are male flowers, for the flowers of Drummond's Clematis are unisexual, with different sexes borne on different plants. The picture shows many stamens composed of slender filaments tipped with small, baglike, pollen-producing anthers. Below the stamens arise white sepals -- segments of the calyx -- looking like petals, for there are no petals. You might enjoy comparing that male flower with the very different female blossom shown in the above section from last year.
Once the female flowers are pollinated they drop their petal-like sepals and their styles elongate to form hairy "beaks," which give the flowers a surprising appearance, as shown below: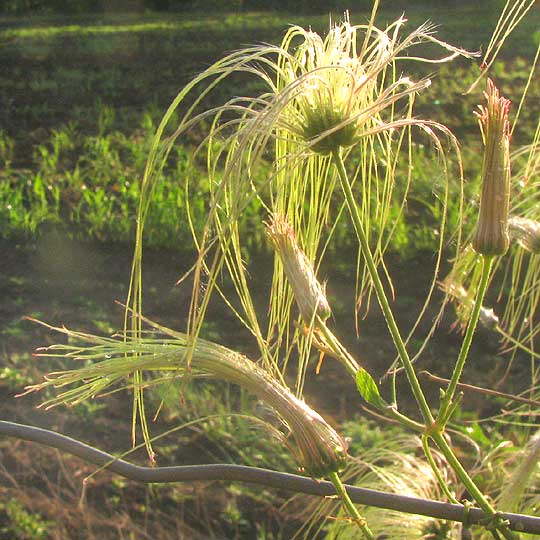 When the beaks are a little hairier they start catching sunlight, shown below: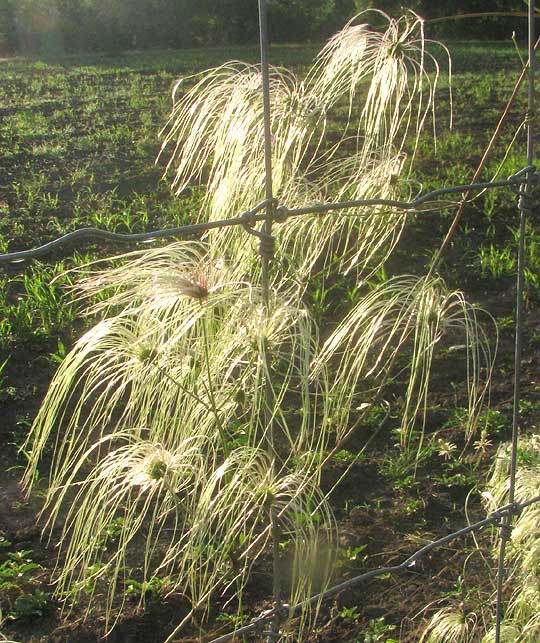 And then in a month or so the huge snowballs we saw last fall once again will appear in all their glory.
We have more than one clematis species here. To help you identify the Drummond's Clematis, our most common species, one of its distinctive compound leaves is shown below: