Excerpts from Jim Conrad's
Naturalist Newsletter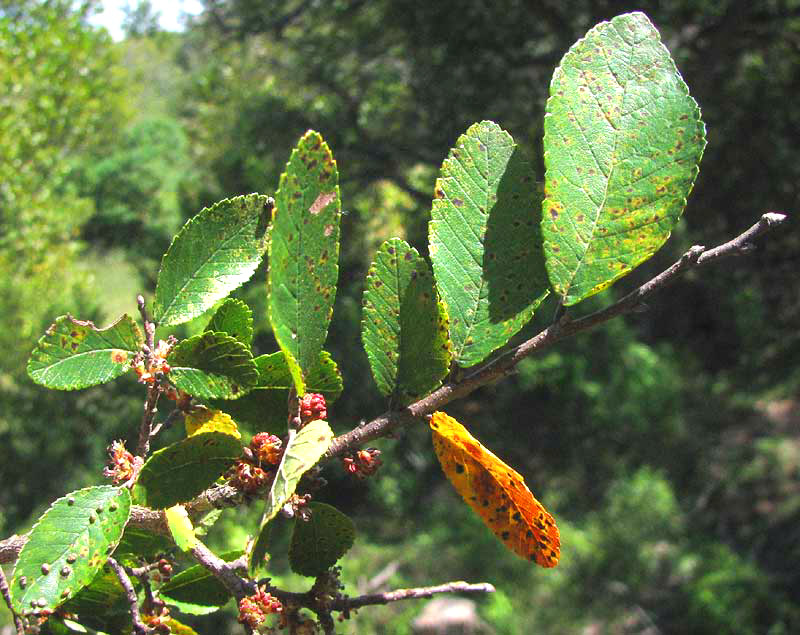 from the the September 23, 2012 Newsletter issued from the valley of the Dry Frio River in northern Uvalde County, southwestern Texas, on the southern border of the Edwards Plateau, USA
CEDAR ELMS FLOWERING
Occasionally in our ocean of Ashe Junipers and Texas Live Oaks you encounter a different tree species. One of those is obviously an elm, its leaves having serrated margins, asymmetrical leaf bases and pinnate, feather-like venation, just the way an elm leaf is supposed to be. However, the leaves are only about 1½ inches long, which is smaller than most other kinds of elm, plus there's something even more atypical of elms, which is that nowadays, here at the beginning of fall, they're flowering. Most elm species flower during the winter to early summer, though in some parts of the US Southeast there's the late-summer-blooming September Elm. You can see our small-leafed, flowering elm above.
There's not much to the flowers. Two to five emerge in a cluster from each flower bud. Their calyxes bear five or six hairy lobes, and each flower has the same number of stamens with reddish purple anthers; female stigmas are white and project from the flowers like slender little fingers. You can see this below: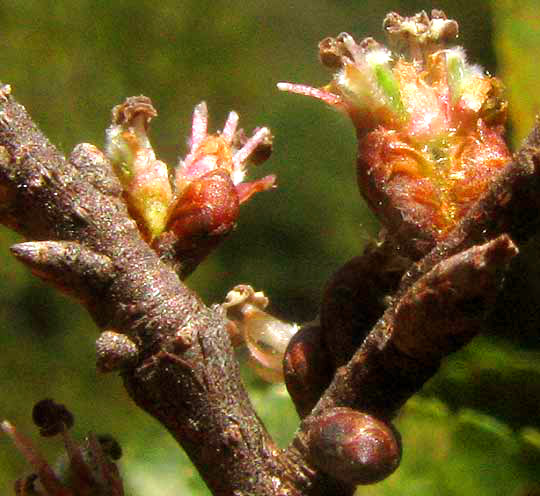 The tree's bark is elmy enough, gray with flat scales, as seen below: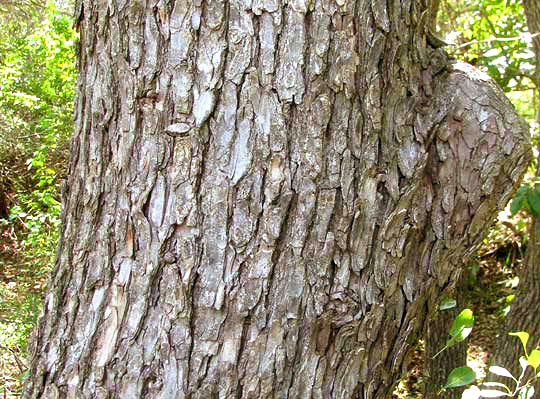 I read that the twigs are often winged with corky ridges, like the East's Winged Elms, but I'm not seeing that on our trees.
We're talking about the Cedar Elm, ULMUS CRASSIFOLIA. Ours was found on the steep limestone slope along our little Dry Frio River, which agrees with the Flora of North America's habitat description of "Stream banks, low woods, low hillsides, roadsides, waste places." The species occurs in northern Mexico and in the US south-central states from extreme western Tennessee south to Louisiana and here in southwestern Texas.
Our trees are only about 20 feet high (6m) but in rainier places they can reach 80 feet (24m).
I find two explanations of why this species is called the Cedar Elm. The first is because of its leaves' rough leaf surfaces, which supposedly is like rough cedar leaves. The second, more convincing reason is that here in the western part of its distribution it's often found with Ashe Junipers, which local people call cedars, and that's completely true.
---
from the October 7, 2012 Newsletter issued from the valley of the Dry Frio River in northern Uvalde County, southwestern Texas, on the southern border of the Edwards Plateau, USA
CEDAR ELMS FRUITING
Already certain of our Cedar Elms are loaded with dense clusters of wafer-like, deeply notched and white-hairy, samara-type fruits, as shown below: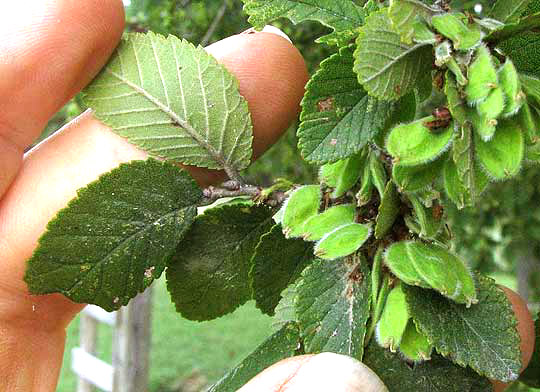 A close-up of the fuzzy samaras can be seen below: