from the September 8, 2013 Newsletter issued from the Frio Canyon Nature Education Center in the valley of the Dry Frio River in northern Uvalde County, southwestern Texas, on the southern border of the Edwards Plateau, USA
SKULLCAP
On the Dry Frio's bare sand and cobblestone banks, six-inch-tall (15cm) green sprouts issued from a much-pruned, woody, bushy base apparently chewed on by deer or maybe shattered during the last flashflood. One sprout bore two purple, dog-face-type flowers, shown below: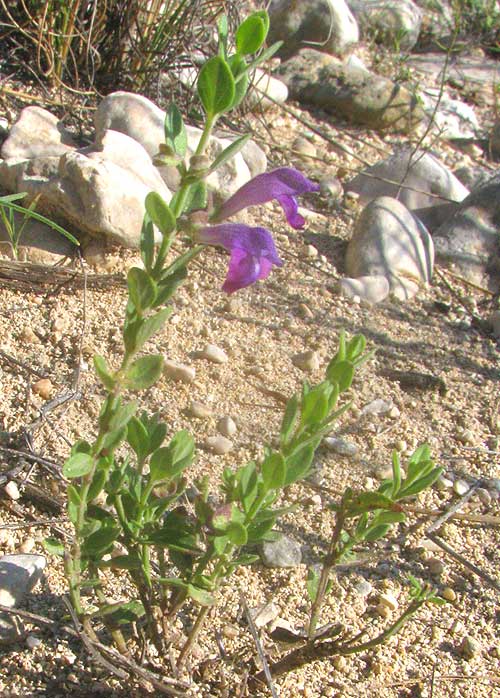 That's the flowers close-up below: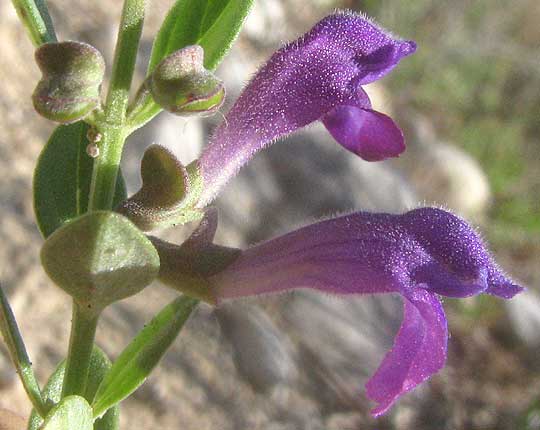 Seeing the flowers' pronounced bilateral symmetry and the stems' opposite leaves (two per stem node), and the stem itself square in cross-section, most wildflower lovers recognize this as a member of the Mint Family, the Lamiaceae. When we see the remarkable disk-shaped protuberance atop each calyx, not only are we immediately confirmed that we have a mint, but also we know which Mint Family genus we have. It's the large, important genus Scutellaria, whose species generally are known as skullcaps. Experts estimate that maybe 300-425 skullcap species exist worldwide.
In our area we can expect two skullcap species. The calyx of the most commonly occurring one, Scutellaria drummondii, is long-hairy and the plant itself is an annual herb. You can see that the calyx of our plant lacks long hairs and that the green shoots arise from a definitely woody base. Therefore, this is our less common second species.
In books it's listed variously as Wright's Skullcap, Bushy Skullcap and Shrubby Skullcap. It's SCUTELLARIA WRIGHTII, in the whole world occurring naturally only in Texas and Oklahoma.
On a Gardenweb.Com forum I find Registered Herbalist Nicole Telkes of central Texas regarding Wright's Skullcap as a "calming" herb. Further she writes that "The wrightii species is more bitter so I use it for pain and headaches as well as calming the digestive tract."