Excerpts from Jim Conrad's
Naturalist Newsletter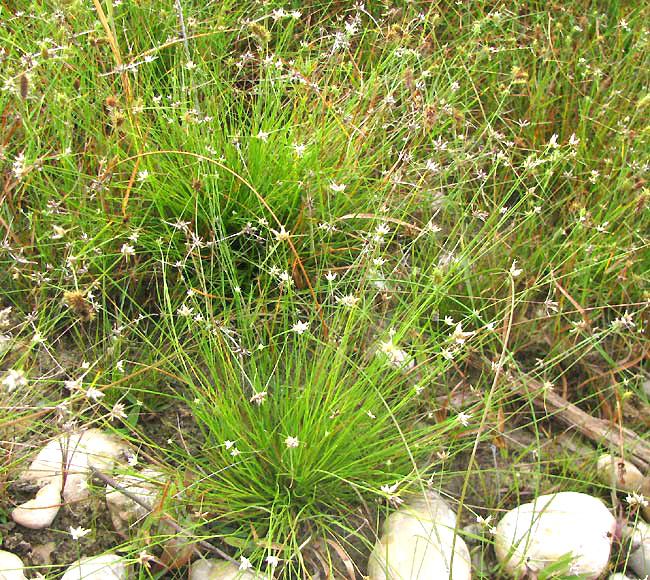 from the August 25, 2013 Newsletter issued from the Frio Canyon Nature Education Center in the valley of the Dry Frio River in northern Uvalde County, southwestern Texas, on the southern border of the Edwards Plateau, USA
SHOWY WHITETOP
Last month we looked at the mostly tropical Whitetop Sedge, which looks like an umbrella sedge except that its spikelets and surrounding blade bases are white, which is something pretty special for the Sedge Family. You can review Whitetop Sedge on its page at http://www.backyardnature.net/n/h/whitetop.htm.
This week I found a very closely related but smaller and less spectacular species of whitetop sedge right next to the Whitetop Sedge pictured above. Above, you can see a foot-tall tuft of this smaller species growing on mud between cobblestones in the Dry Frio's river bed. A close-up of a white head is shown below: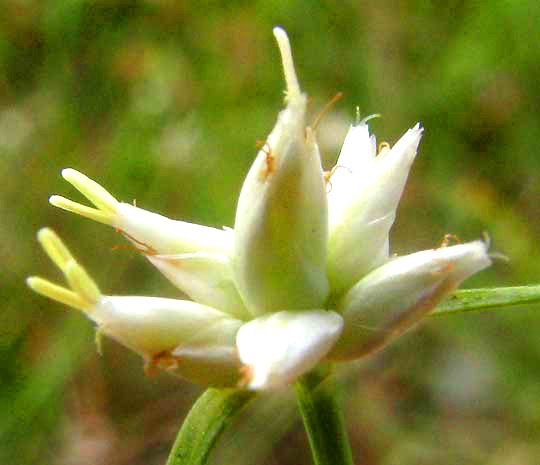 In that picture you see how the blade bases radiating from below the tuft of spikelets not only are not white, which they are on Whitetop Sedge, but also that they are much narrower than the flowers they subtend. On Whitetop Sedge, the blade bases are much wider than the spikelets.
This is the Showy Whitetop, RHYNCHOSPORA NIVEA, endemic to about 22 counties in Texas and a bit of Oklahoma, plus a tiny part of Coahuila State, Mexico, across the river from Texas. Its habitat is described as seeps, edges of streams and similar wet areas, all on limestone.