Excerpts from Jim Conrad's
Naturalist Newsletter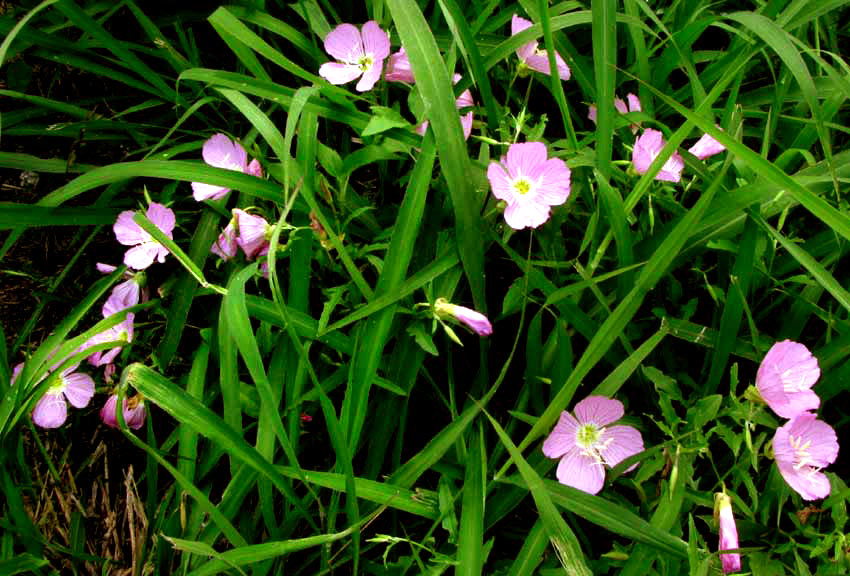 from the the April 1, 2011 on-the-road Newsletter with notes and pictures from a few miles south of Kingsville, Texas, USA
PINKLADIES ALONG THE ROAD
The southern Texas landscape was overwhelmingly green and springy looking with green mesquite, green lawns, green roadsides. The roadsides are surprisingly colorful with wildflowers, and one wonders whether this is the effect of Lady Bird Johnson's wildflower initiative, for similar roadsides I know in Mississippi and elsewhere nowadays are so overmowed and drenched in herbicides that such gorgeous displays have long disappeared.
Across the road from the Laughing Gull truckstop I went see what was making such a fine splash of pink against the grassy greenness. You can see it up close at the top of this page.
It was OENOTHERA SPECIOSA, a species so widespread and beloved across southern North America and northern Mexico that it's known by several English names, including Pink Evening Primrose, Pinkladies, Showy Evening Primrose and Mexican Primrose. A close-up of a two-inch wide (5cm) blossom with its four broad petals with pink veins, several stamens with white anthers hovering above a yellow-green eye, and a star-shaped stigma dangling on a threadlike style is shown below: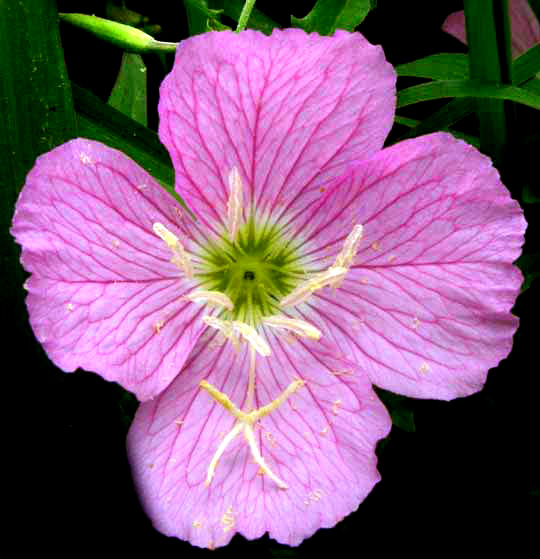 A side view showing the typical way Oenothera sepals bend backwards and stick together at their tips is shown below: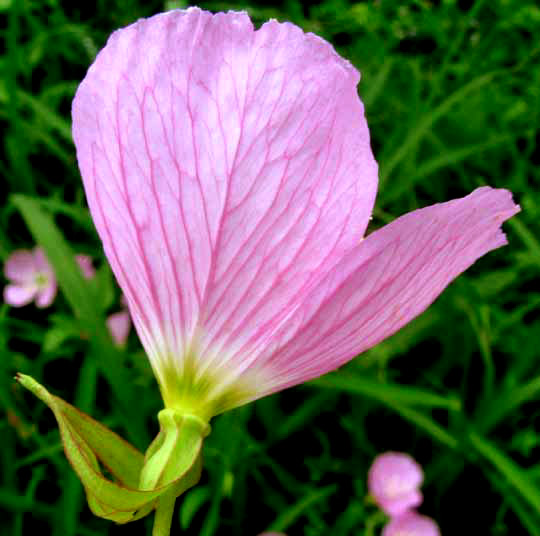 The names containing the words "evening primrose" reflect the fact that members of the genus Oenothera are generally known as evening primroses. Lots of evening primrose species exist but flowers of the vast majority are yellow or white. Pinkladies' pink blossoms are unusual.
I'll always remember my introduction to Pinkladies. Back in 1975 or thereabouts I went on my first botanical expedition for Missouri Botanical Garden to collect evening primroses for genetic studies. I was high in the Argentine Andes with my eyes desperately searching for any evening primrose when my first Pinkladies appeared before me. I'd thought that all Oenothera flowers had to be either yellow or white, so I thought I'd really discovered something. But the expedition leader just laughed and said that it was a common weed in the Andes, and that it was even a native to North America, so there went my credibility as an evening primrose specialist.
But, how pretty those Pinkladies were in that high Andes meadow, and how pretty they were along the road this Wednesday in their south-Texas homeland.