Excerpts from Jim Conrad's
Naturalist Newsletter
from the May 12, 2013 Newsletter issued from the Frio Canyon Nature Education Center in northern Uvalde County, southwestern Texas, on the southern border of the Edwards Plateau, USA
PRAIRIE PHLOX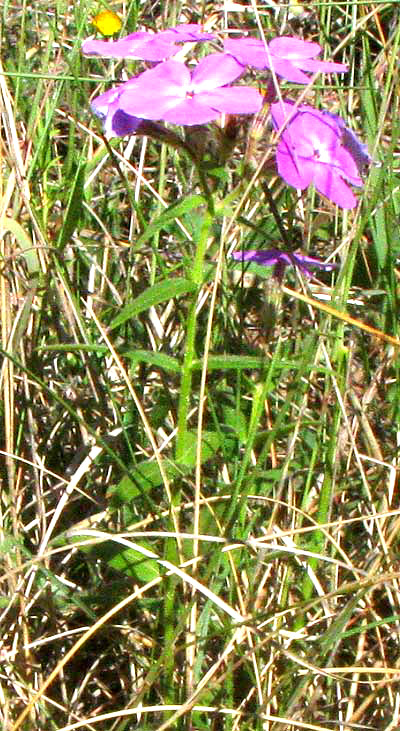 Down inside knee-high grass in patches of prairie here and there nowadays you can find the foot-tall, purple-flowered wildflower blossoming shown at the right.
With corollas of that color and that particular shape -- slender tubes topped by five horizontally spreading lobes -- and with two leaves per stem node (opposite leaves) anyone halfway familiar with North American wildflowers or common garden plants will recognize this as a phlox, a member of the Phlox Family, the Polemoniaceae.
In our area we have two common phlox species. The other species, the Goldeneye Phlox, displays a conspicuous golden eye at the blossom's center, which our species doesn't. The species in the picture is about equally known as the Prairie Phlox and the Downy Phlox. It's PHLOX PILOSA, occurring throughout most of the eastern US, though absent from New England and the Appalachians. It's most common in the westernmost states of Eastern North America.
A pretty picture suggesting why one name of the plant is Downy Phlox can be seen below: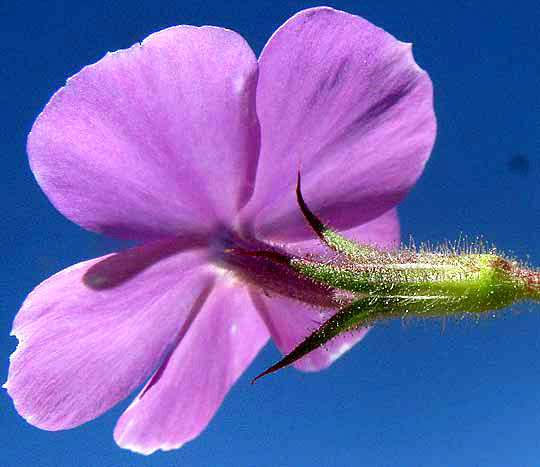 The long hairs on the calyx and long, slightly curved corolla tube are soft to the touch. A longitudinal section of a blossom showing that the hairs are gland tipped, and that the stamens -- typical for the genus Phlox -- are inserted on the corolla tube at different levels, is seen below:
Huron Smith's 1928 publication Ethnobotany of the Meskwaki Indians, dealing with the Fox Tribe, reports that Prairie Phlox roots were used as "love medicine." In other cultures, traditionally a tea of the leaves was used externally to treat eczema.