Excerpts from Jim Conrad's
Naturalist Newsletter
from the May 20, 2012 Newsletter issued from the woods of the Loess Hill Region a few miles east of Natchez, Mississippi, USA
EASTERN PRICKLYPEARS FLOWERING
Just last week we looked at the Western Pricklypear cactus, Opuntia macrorhiza, that Karen had collected in northwestern Arkansas and planted in her garden here. This week her locally-obtained Eastern Pricklypear, OPUNTIA HUMIFUSA, is flowering, so you can see the difference between the two species. This week's spineless, yellow-flowered Eastern is shown below: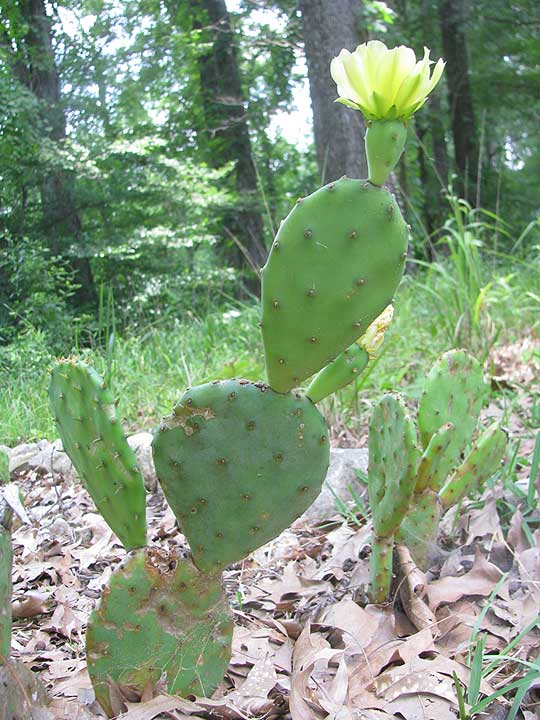 The Eastern's body is practically identical to that of last week's Western species, plus both come in races that are spineless or heavily spined. However, a peep inside the blossom shows a big difference between them. A look into the Eastern's flower is shown below: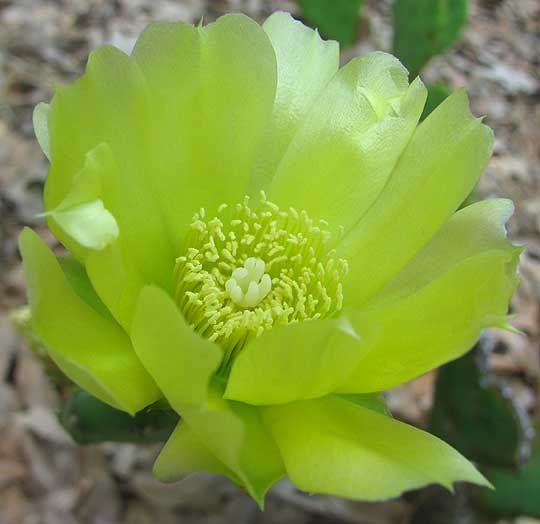 Compare that view with a similar shot of the Western's blossom at http://www.backyardnature.net/n/12/120513oq.jpg.
The difference is that the Western's yellow flowers are conspicuously reddish inside -- the individual petals have reddish bases -- while the Eastern's flowers are completely yellow. The online Flora of North America's Opuntia Page also says that the Western's flowers have yellowish to cream stigmas while the Eastern's stigmas are white, but I can't see much difference there. I read that many experts regard the Eastern and Western species as mere variations of the same species, so maybe that's true.
If you're interested in trying your hand at "keying out" your own North American pricklypear cactus, the Flora of North America Opuntia key is down the page here.