Excerpts from Jim Conrad's
Naturalist Newsletter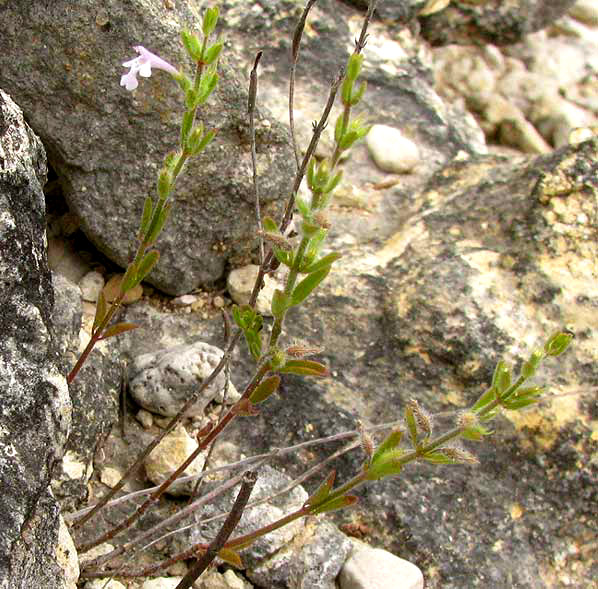 from the May 18, 2014 Newsletter issued from the Frio Canyon Nature Education Center in the valley of the Dry Frio River in northern Uvalde County, southwestern Texas, on the southern border of the Edwards Plateau, USA
DRUMMOND'S FALSE PENNYROYAL
Back East one of my favorite wildflowers was the American Pennyroyal, Hedeoma pulegioides, a member of the Mint Family. The wonderful thing about it was the intensely sweet, minty odor produced when its herbage was crushed. Last year about this time we found a different pennyroyal species here in southwestern Texas, the Slender False Pennyroyal, Hedeoma acinoides. You can review that pretty plant at http://www.backyardnature.net/n/h/hedeoma.htm.
At first, that's what I thought I'd found again this week in a similarly very rocky spot, shown above. However, it didn't seem exactly the same. The leaves on this week's plant were more slender and the flower paler. A close-up of a flower appears below: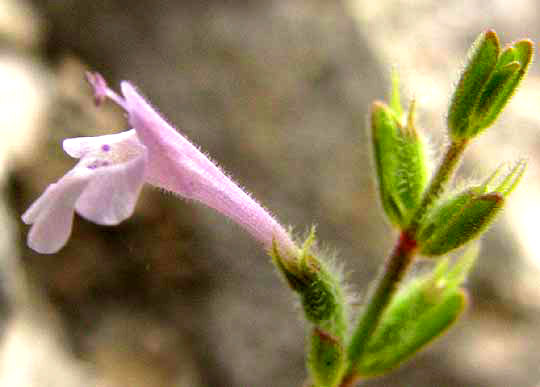 The Slender False Pennyroyal's upper corolla lobe was longer and abruptly bent upward, but this corolla's upper lobe is short and straight. A close-up of the plant's very hirsute parts is shownbelow: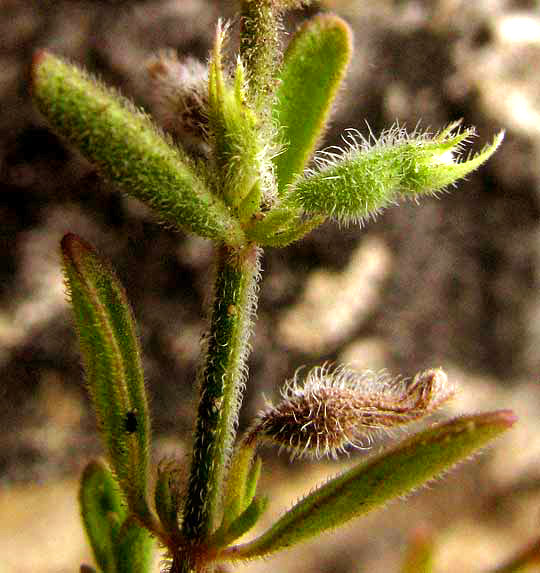 So, this is another pennyroyal species, the Drummond's False Pennyroyal, HEDEOMA DRUMMONDII, commonly occurring on well-drained limestone all through the western US except in the Pacific states, and deep into arid northern Mexico.
Drummond's False Pennyroyal smells very good, but I don't think it's as delightful as the American Pennyroyal. Still, traditionally it's been a favorite for teas. Indigenous Americans used it medicinally for ailments ranging from fever, colds and headaches to constipation, menstruation problems and poor appetite. In fact, laboratory studies have found that extracts from the plant produce powerful antioxidant effects and antimicrobial activity.