Excerpts from Jim Conrad's
Naturalist Newsletter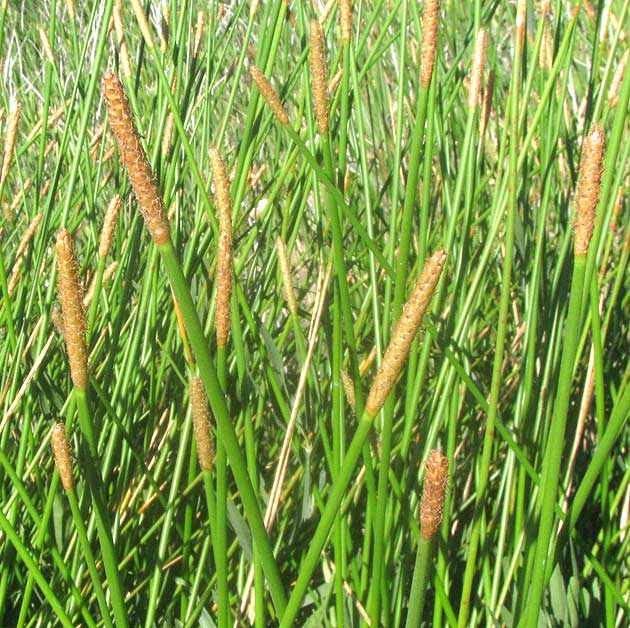 from the July 21, 2013 Newsletter issued from the Frio Canyon Nature Education Center in the valley of the Dry Frio River in northern Uvalde County, southwestern Texas, on the southern border of the Edwards Plateau, USA
GULF COAST SPIKERUSH
On the upstream side of a concrete culvert on the little Dry Frio River a garage-size community of knee-high spikerushes looked very pretty in the dazzling sunlight, their golden flower spikes pointed skyward like stiff little fingers. You can see a small portion of the community above.
A close-up of a flowering spike showing slender styles deployed to catch pollen swirling around them in the morning air appears below: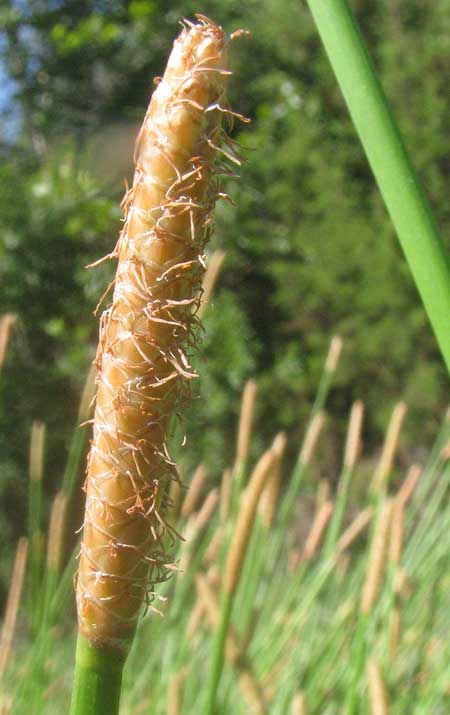 With the single, fingerlike flowering spike atop a cylindrical stem, it's easy to recognize this as a spikerush, spikerushes being species of the genus Eleocharis in the big Sedge Family, the Cyperaceae. Some spikerush species are larger or smaller than our culvert species, some bear shorter, thicker spikes much broader than the slender, apparently leafless stems below them -- which is unlike our species -- but, in general, they are all structured pretty much like our culvert one. Once you have met two or three spikerush species, henceforward you'll always recognize any spikerush as a spikerush.
But, knowing which species of spikerush you have of the 200 or so known ones -- of which 67 occur in North America -- can be harder to figure out. Still, when you "do the botany" on our culvert spikerush you find that it is distinctive enough to be relatively easily figured out.
Besides the fact that it's larger than most species, our culvert spikerush produces an unusually thick, spongy stem. If you peel back the stem covering you can see that the sponginess is produced by squarish cells, as shown below: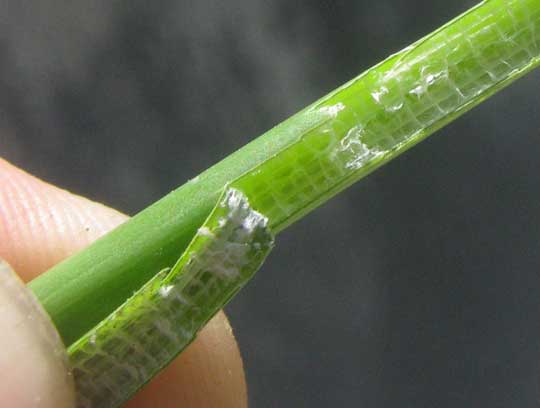 Behind each scale on the flowering head there resides a flower. Once the flower is pollinated, its ovary begins maturing into an achene-type fruit -- an achene being a kind of dry, one-seeded fruit. Spikerush achenes are highly distinctive. You can see one of our culvert spikerush's below: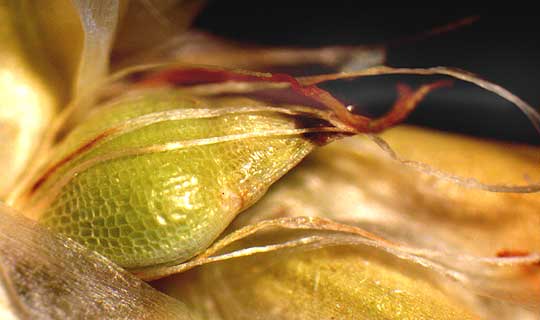 The surface of our spikerush's somewhat flattened, oval achene is ornamented with a net-like pattern, while the surfaces of many spikerush species are smooth, or the pattern is different, maybe the cells much longer, or of different size. Notice that the top 1/3 of the achene is a little different in color and texture than the lower 2/3rds, and that there's a slight constriction at the boundary between the two parts. The top part is referred to as the tubercle, and among spikerushes tubercles also come in many shapes and sizes, so their appearance helps a lot with identification.
I'd seen this species before: in a mangrove swamp on the Caribbean Coast of the eastern Yucatan. This is ELEOCHARIS CELLULOSA, the Gulf Coast Spikerush, occurring in Mexico, Central America, the Caribbean area in general, along the US Gulf coast and, for some reason, a bit inland in Texas, to here. The online Flora of North America describes its habitat as "brackish to saline marshes, shores, ditches," but here we are far from salty water. However, our stream water contains a high concentration of dissolved calcium carbonate, so maybe that's good enough for the Gulf Coast Spikerush.
What a pleasure finding this old friend from the Yucatan here, as pretty here as it was there in its dense, close-packed colonies with all its little golden fingers pointing skyward.