Excerpts from Jim Conrad's
Naturalist Newsletter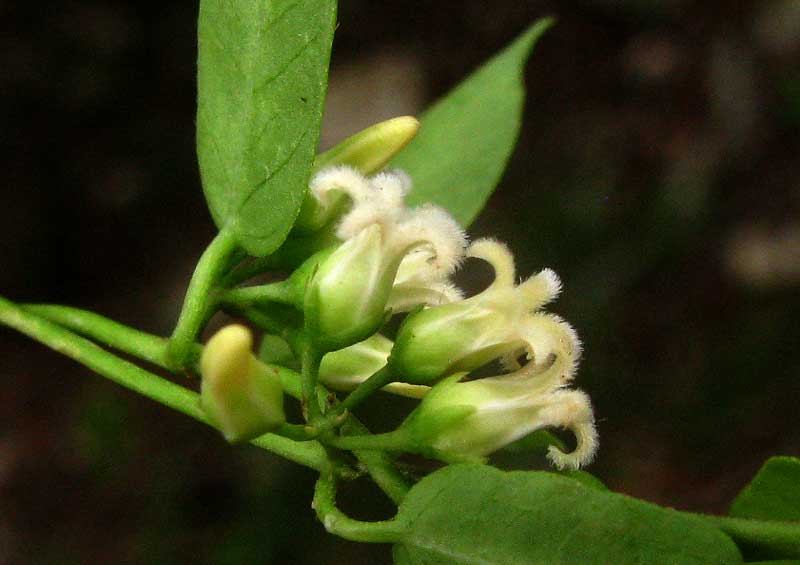 from the June 29, 2014 Newsletter issued from the Frio Canyon Nature Education Center in the valley of the Dry Frio River in northern Uvalde County, southwestern Texas, on the southern border of the Edwards Plateau, USA
SWALLOW-WORT
A dense vine entangled with weeds along the road bore slender, narrow leaves a little less than an inch long, two per stem node, and clusters of mouse-eye-sized white flowers, as shown below: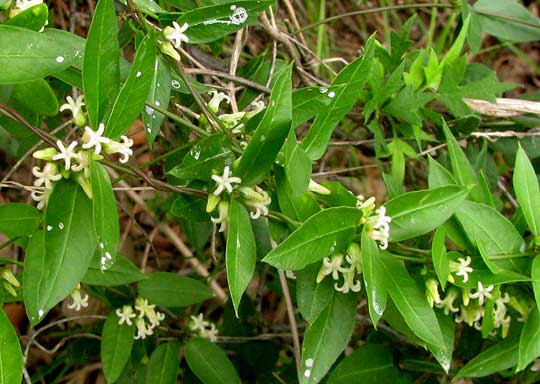 The glossy leaves were white-splotched where the vine's milky latex had dripped from wounds. The milky latex and the opposite leaves, quickly direct us to the big Dogbane Family, the Apocynaceae, a mostly tropical family embracing many wonderful ornamentals, plus many temperate species that used to belong to the Milkweed Family before it was sunk into the Dogbane Family. At the top of this page you can better see the flowers. An even closer look showing how the corolla lobes twist like starfish arms, and are very fuzzy with soft hairs, is shown below: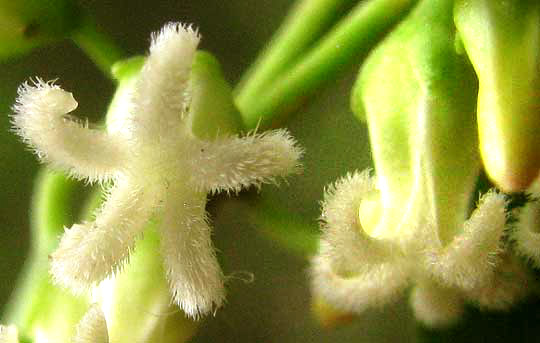 We've seen very similar vines like this before, though not with flowers whose corolla lobes were so fuzzy. This little vine is usually listed in books as the Bearded Swallow-wort, or sometimes as the Thicket Threadvine. It's CYNANCHUM BARBIGERUM, native only to southern and central Texas, and across the Rio Grande in adjacent northeastern Mexico.
You might enjoy comparing this with another swallow-wort vine we've found here, the MacCart's Swallow-wort, with similar leaves but with corolla lobes not hairy like this one's, at http://www.backyardnature.net/n/h/swalwort.htm