Excerpts from Jim Conrad's
Naturalist Newsletter
from the August 4, 2013 Newsletter issued from the Frio Canyon Nature Education Center in the valley of the Dry Frio River in northern Uvalde County, southwestern Texas, on the southern border of the Edwards Plateau, USA
CLAMMYWEED
Iit's interesting to see what weeds invade the community's bulldozed floodplain. A nice one growing next to a pile of dead Ashe Junipers is shown below: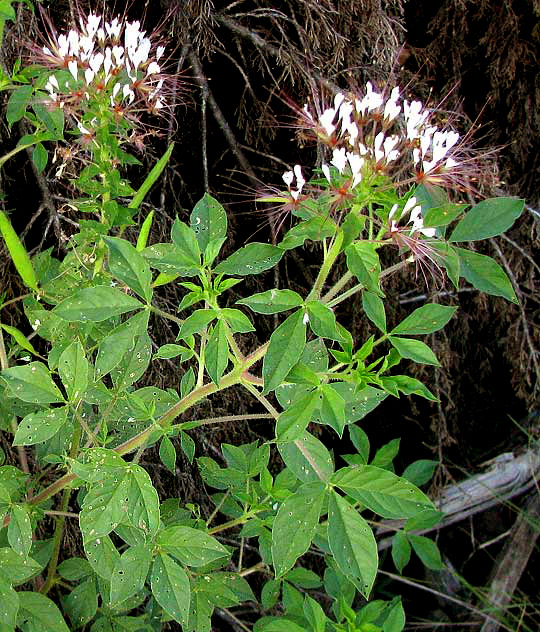 A side view of a flower displaying its stamens nearly twice as long as its petals is shown below: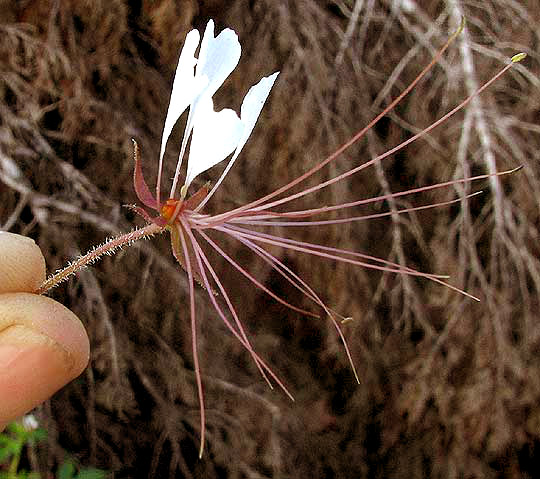 Its cigar-shaped, upward pointed fruits on conspicuous stems, or stipes, can be seen below: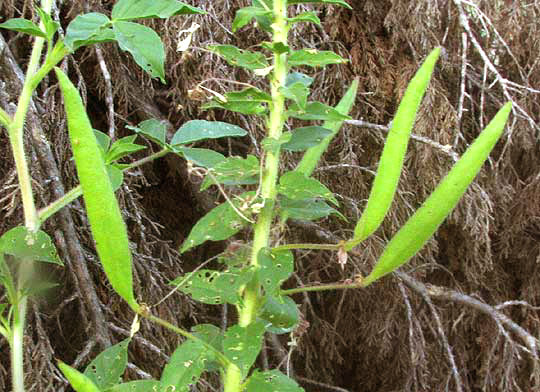 The compound leaves with leaflets arising from one point atop the petiole (digitately compound), the cigar-shaped fruits, and the flowers with those very long, slender stamens will have many gardeners recognizing this as a kind of "spider-flower" -- though that name is used for just about any kind of plant whose flowers issue long, spider-leg-like stamens.
This particular "spider-flower" is POLANISIA DODECANDRA, usually called Clammyweed. The species occurs across the US, though it's strangely missing from most of the Southeast and Northwest. Three subspecies are recognized. Ours, with its stamens much longer than its petals and its leaflets with sharply acute points appears to be subspecies trachysperma, which is more restricted to the Great Plains and western states than the general species. It is described as inhabiting gravelly or sandy, sunny places along streams and other sandy places, often in disturbed areas, open woodlands, grasslands, and roadsides, so our bulldozed, gravelly floodplain must be just perfect for it.
The five clammyweed species -- species in the genus Polanisia -- are native only to North America and Mexico. They're called clammyweeds because one of several meanings of "clammy" is "unpleasantly sticky," and clammyweeds are thickly invested with glandular hairs, which causes them to be sticky to the touch.
Clammyweed's herbage is strong smelling -- though neither pleasant nor particularly unpleasant, just strong. It's a kind of purple-green, oily odor. In Herbert Covey's African American Slave Medicine: Herbal and Non-Herbal Treatments I read via Google Books that slaves brewed a tea of the herbage and/or roots, sometimes mixed with peach tree leaves, oak bark and other items, as a general medicine but especially for malaria and colds. Maybe clammyweeds are similar to a plant remembered from Africa, for there are no clammyweeds native to Africa.
When I was doing botany, the main "spider-flower" species were regarded as residing in their own family, the Caper Family, the Capparaceae. Capers are edible flower buds produced by certain plants in this family, sometimes pickled and used as seasoning. However, recent genetic sequencing has determined that species of the Caper Family fit snugly within the much larger Mustard Family, the Brassicaceae. Therefore, it seems that our clammyweeds should be regarded as members of the Mustard Family, and many experts do so. Moreover, genetics can't find any difference between our clammyweed genus Polanisia and two other genera, so really Polanisia shouldn't exist.
However, some experts just can't give up old ideas. The online Flora of North America not only continues to recognize Polanisia, but also to maintain the Caper Family as the Cleomaceae.
Whatever the taxonomic situation, I'm glad to see such a pretty native plant, even one with weedy tendencies, invading our bulldozed gravelly floodplain.