Excerpts from Jim Conrad's
Naturalist Newsletter
from the May 17, 2009 Newsletter, issued from the Siskiyou Mountains west of Grants Pass, Oregon:
WESTERN FLYCATCHER
I've often mentioned the trouble birders have distinguishing flycatchers of the genus Empidonax, which are frustratingly similar in appearance and behavior. Their voices are distinctive but often they don't sing. Here Empidonax doesn't seem to be such a challenge as back East. The other day I surprised myself by identifying one fairly easily, even though he wasn't calling. You can see him below: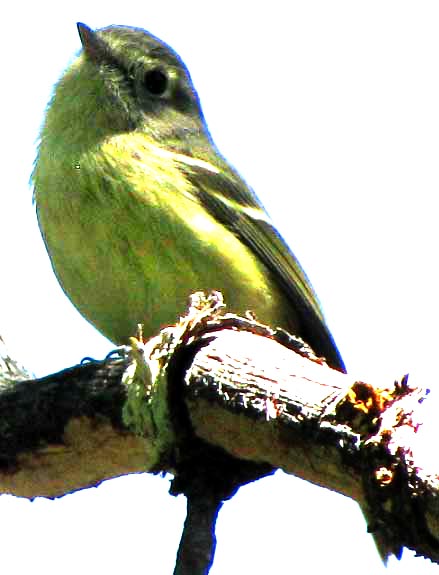 He's a Western Flycatcher, EMPIDONAX DIFFICILIS. Despite the species name difficilis meaning "difficult," to identify this species all you have to remember is what my old field guide says: That the Western Flycatcher is "the only western Empidonax with a yellow throat." Others have white or dingy throats, but not a hint of yellow. What a treat to identify a non-singing Empidonax so easily.