Excerpts from Jim Conrad's
Naturalist Newsletter
from the December 2, 2012 Newsletter issued from the valley of the Dry Frio River in northern Uvalde County, southwestern Texas, on the southern border of the Edwards Plateau, USA
VESPER SPARROW
This week's LBJ, or "Little Brown Jobbie," was foraging in grass with its flock, which flew up as a group when I approached. However, instead of quickly plummeting back into the grass like most LBJs, this one sought refuge inside a shadowy Ashe Juniper beside the grassy area. He must have felt secure there for he let me get close enough for our picture, and he even looked bored about it. That's the picture below: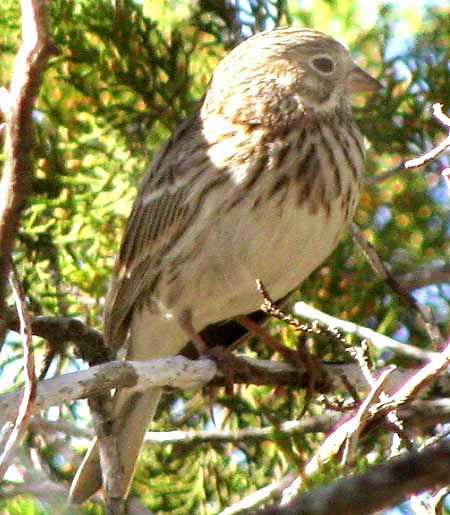 This week's bird was larger than most LBJs. For example, the Savannah Sparrow is listed in my field guide as 4-3/4 inches long (12cm) while this week's species is recorded as 5-1/2 inches (14cm). Also this week's bird lacked the Savannah Sparrow's conspicuous yellow spot between the upper beak and the eye. The most important distinction of this week's bird, however, and one not seen in the photograph, was that when it flew away, it long tail displayed conspicuous white outer feathers.
This week's LBJ is the Vesper Sparrow, POOECETES GRAMINEUS. Like our Savannah Sparrows, it's only overwintering in our area. The bird in the picture not long ago departed its species' nesting grounds in Canada and the US northern states. The Vesper part of its name reflects the fact that often it sings at dusk, at vesper time.