Excerpts from Jim Conrad's
Naturalist Newsletter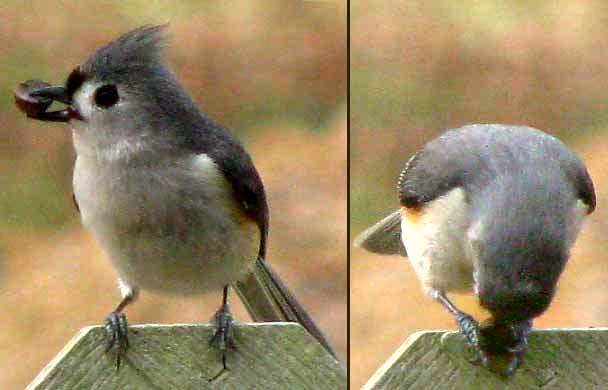 from the the March 16, 2009 Newsletter, issued from near Natchez, Mississippi:
A TITMOUSE MEAL
The other day a Tufted Titmouse, BAEOLOPHUS BICOLOR, landed atop a trellis not far from me. Carrying in his beak half a Water Oak nut too large to swallow whole he looked right and left, then wedged the seed between his feet and began chiseling at it with his small, sharp beak. The above pictures show the whole operation.
Stabilizing food between the feet like that and pounding on it straight up and down with the beak is a behavior shared with other titmouse and even chickadee species. The assumption is that the behavior arose in an ancestor common to both titmice and chickadees, and the genetic predisposition to do so was retained as new species arose from the ancestor. Members of the Jay Family do the same thing, the behavior probably having arisen independently in both groups.
Nowadays titmice around here certainly are full of hormones. You see couples cavorting and mating up in the trees, at least I suppose that that's what they're doing as they lock together and tumble downward fluttering and squeaking like fighting cats. The other day a pair almost ran into me coming around the corner of the house, one holding a feather. At dawn, calling males are prominently represented in the "morning chorus" of birds who begin singing well before it's light enough to see anything larger than a toad.
If you'd like to hear what I hear every morning, a plaintive peter-peter-peter, click here, then click in the MULTIMEDIA box.
---
from the Jun 17, 2012 Newsletter, issued from near Natchez, Mississippi:
ACORN-EATING TITMOUSE
Right outside my computer-room window a Tufted Titmouse landed, took into his beak an acorn that seemed far too large for him to ever swallow or hammer open with his little bill, and flew away. You can see this below: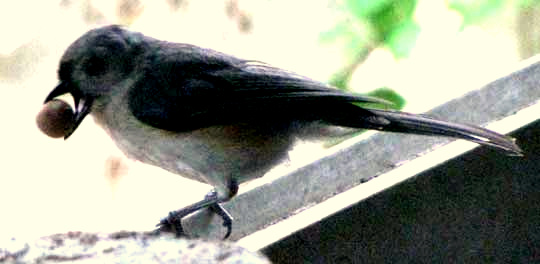 I've seen jays swallow acorns similarly "too large," but some jay species are known to have "expandable throats and esophagi." Jays and titmice aren't too far apart on the Phylogenetic Tree of Life, so maybe that's part of what is going on here.
Experiments with Tufted Titmice do indicate that they always choose the largest seeds they can when foraging. At a feeding station, the bigger the seed, the better. Either their gullets are more expandable than I can imagine, or their little beaks are more effective at hammering than I'd guess.
---
from the February 2, 2003 Newsletter, issued from near Natchez, Mississippi:
FIVE TUFTED TITMICE AT BREAKFAST
Tuesday morning during breakfast five Tufted Titmice flew into the Sweetgum tree next to my trailer. They looked squarely at me and began fussing the way they do when the resident Corn Snake travels between the toilet and the woodpile.
I wondered if this were a family or a chance grouping of titmice, so on the Internet I Googled titmouse behavior. It turns out that during the winter family flocks of 2-5 birds stick together, the family normally consisting of parents and offspring of the previous season. Sometimes "unattached satellite birds" join such flocks, too.
During my Googling I ran into a study on titmouse behavior, done by some folks at Eastern Kentucky University. They captured 29 titmice in mist nets, banded them, and watched them through a winter. They found that the wider the black forehead patch on a titmouse's head, the more dominant it was in the flock. Also they confirmed that in a given flock the males typically dominate females, and adults dominate juveniles. It's also known that titmice observe strict pecking order -- every bird knows who can peck whom -- so there's no ambiguity about anyone's status in a flock.
A couple of years ago a storm blew over the big two-seater composting toilet the hippies used when I first visited Laurel Hill as a writer back in the early 80s. The community kept a suggestion box inside the toilet. Now most of the old building has disappeared into my campfires but I've strapped the suggestion box to that Sweetgum next to my trailer. I suspect that the titmice who scolded me during breakfast were making reference to that box. I think they said that the box would make a nifty nest, but they were a bit concerned about the commotion I made each morning. Titmice live in old woodpecker nests and other tree cavities, so this suggestion box must have looked like the Ritz to them.