Excerpts from Jim Conrad's
Naturalist Newsletter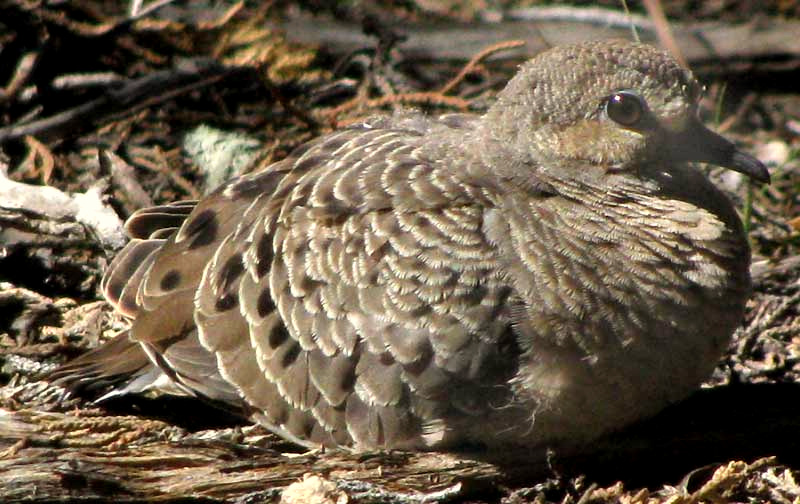 from the the April 28, 2013 Newsletter issued from the Frio Canyon Nature Education Center in northern Uvalde County, southwestern Texas, on the southern border of the Edwards Plateau, USA
GROUND DOVES
While I dug a trench for the new nature center's water pipes, Fred called to me that he'd spotted three sparrow-sized doves basking in the morning sunlight beneath low-hanging Ashe Juniper branches. Above you see one with his feathers fluffed up letting in warm sunshine and springy air.
At first we thought they were Inca Doves, common from the US Southwest through Mexico into Central America, and distinguished by their "scaly" appearance, caused by their feathers' dark edges. Our birds beneath the junipers looked scaly but once the picture was on the laptop's screen it was clear that the scaliness was caused by feathers that -- at least in their fluffed-out, backlit state -- had pale margins, not dark ones.
Also, Inca Doves have long tails, but you can see that our bird's tail is a stubby little thing. And note the large, dark spots on some of the feathers. Inca Doves don't have such dark spots.
So, this was the Common Ground Dove, COLUMBINA PASSERINA, occurring from southern California and southern Texas to Florida, south through Mexico into much of Central America, as well as in northern South America. Persnickety birders need the "Common" in the name Common Ground Dove because several other ground-dove species exist. In the Yucatan, along with the Common, we had Ruddy and Blue Ground Doves.
Within their area of distribution Common Ground Doves normally are easy to find. They like open or shrubby areas with tall grasses, or groves of trees along rivers and in open savannas. They also live in towns and suburbs, where they frequent yards and hedges.
---
from the June 23, 2013 Newsletter issued from the Frio Canyon Nature Education Center in the valley of the Dry Frio River in northern Uvalde County, southwestern Texas, on the southern border of the Edwards Plateau, USA
THE GROUND DOVE'S SHORT TAIL
In our earlier pictures it was hard to see the birds' tails. One afternoon this week a Ground Dove lighted on the ground outside my window displaying his tail, so that's to be seen below: