Excerpts from Jim Conrad's
Naturalist Newsletter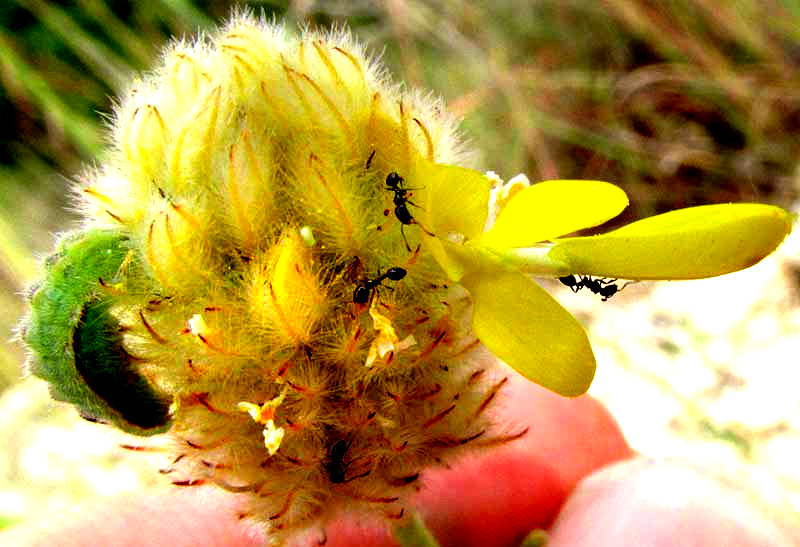 from the August 24, 2014 Newsletter issued from the Frio Canyon Nature Education Center in the valley of the Dry Frio River in northern Uvalde County, southwestern Texas, on the southern border of the Edwards Plateau, USA
CATERPILLAR OF REAKIRT'S BLUE
The flowering head of a Golden Prairie-clover, Dalea aura, bore an unusual looking caterpillar. It was green and juicy like many caterpillars, but along its top surface ran two low-toothed, purplish ridges, and that's something a little unusual. You can see the caterpillar above.
Volunteer identifier Bea in Ontario was on vacation so I had little hope of identifying the caterpillar on my own. However, the less commonly encountered caterpillars often are very restricted with regard to the plant hosts they feed upon, and I knew that the host was the Golden Prairie-clover, so I looked for images of our caterpillar by searching on the keywords " Dalea caterpillar," "Dalea" being the Golden Prairie-clover's generic name. Within seconds pictures appeared showing what seems to be our prairie-clover caterpillar.
It's the caterpillar of the Reakirt's Blue butterfly, which happens to be our most common butterfly of that group known as blues. Our picture of the adult Reakirt's Blue seen from above is at http://www.backyardnature.net/n/a/uvalde/023.jpg.
The more commonly seen side view is seen at http://www.backyardnature.net/n/a/uvalde/036.jpg.
This caterpillar's appearance seems to change considerably as it grows. Though it's listed as foraging on many species in the Bean Family, many pictures on the Internet show individuals on Golden Prairie-clover, so maybe that's the preferred species.