Excerpts from Jim Conrad's
Naturalist Newsletter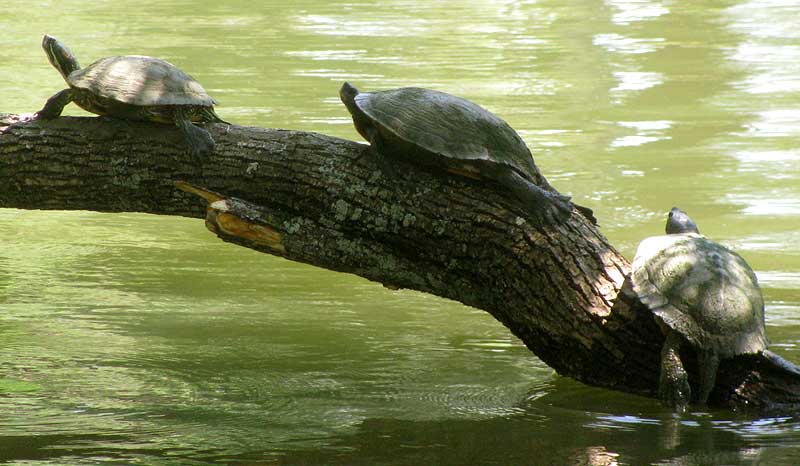 from the June 15, 2014 Newsletter issued from the Frio Canyon Nature Education Center in the valley of the Dry Frio River in northern Uvalde County, southwestern Texas, on the southern border of the Edwards Plateau, USA
BASKING RED-EARS
In the green, placid waters of the little Leona River coursing through Uvalde's Memorial Park an old tree snag rose from the water just the size and orientation to invite turtles to climb up and bask. Above, you can see three of them doing exactly that.
Whenever I see basking turtles of that general size and shape I figure that they're probably Red-eared Sliders, also called Red-eared Terrapins and Red-eared Turtles, TRACHEMYS SCRIPTA ELEGANS. That's because that species is abundant and very widely distributed. It's so tough and adaptable that it's often sold in pet shops throughout the world and thus has become an invasive species far beyond its native homeland, which is the southern US and northern Mexico. During our Newsletter days we've run into them from Oregon and California to Mississippi, south to the Yucatan.
But, somehow these particular turtles' upper shells, the carapaces, looked a little flatter and more widely flaring around the edges than I'm used to, so maybe this was a similar and more interesting species. Specifically, in our area the Texas River Cooter, Pseudemys texana, also can turn up, and that one, endemic just to Texas, is noted for its flattened carapace thats toothed, or "serrated," at its rear.
In the end I couldn't decide which we had, so off I went to http://www.Texasturtles.org where an offer is made to identify pictures of Texas turtles if they can keep the pictures. Verdict: Red-eared Sliders.
The determination was made by Carl Franklin, no less than the Biological Curator of the Amphibian and Reptile Diversity Research Center at The University of Texas at Arlington. He writes that one good field mark for the Red-eared Slider consists of the horizontally oriented, line-like furrows on that species' carapace. He says that the furrows are so diagnostic that they can even be used to ID fragments from road killed specimens. However, the best field mark, which maybe I'd have seen without my cataracts, is that, as he writes, "The one on the left has red ears ... "