Excerpts from Jim Conrad's
Naturalist Newsletter
from the December 2, 2012 Newsletter issued from the valley of the Dry Frio River in northern Uvalde County, southwestern Texas, on the southern border of the Edwards Plateau, USA
PORCUPINE UP CLOSE
A month ago I got excited about seeing my first porcupine, even though the one encountered was dead along the road (following entry). This week during the dusk walk my first live one turned up sniffing and waddling along a trail beside the road, and I got a closer look. A shot of his head with its boxy snout and cauliflower ears is shown below: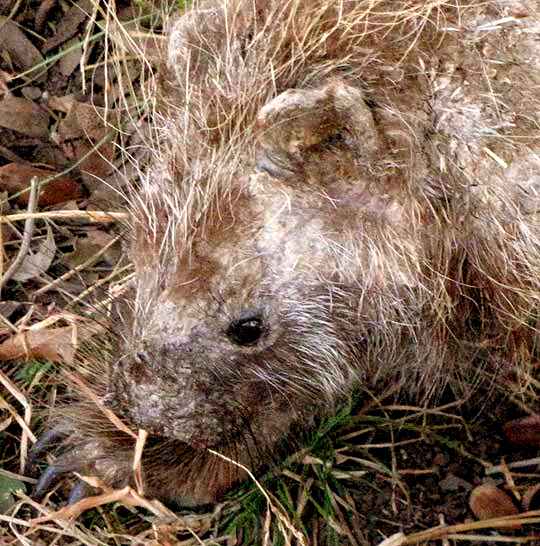 Having a live porcupine at hand I learned that porcupines can be as oblivious to someone standing right next to them as armadillos, and they move even slower. I read that porcupines, like armadillos, have excellent senses of smell, but I didn't see any indication of this. An armadillo becoming aware that something unexpected is going on nearby rears up and sniffs, but this porcupine just looked around, showed indecision about my presence right beside him, and only slowly came to the conclusion that he ought to climb a tree. Hugging the liveoak's thick trunk with his spread front legs and with his long nails catching in the tree's rough bark, he climbed the tree very expertly. You can see him embarking on a diagonal branch below: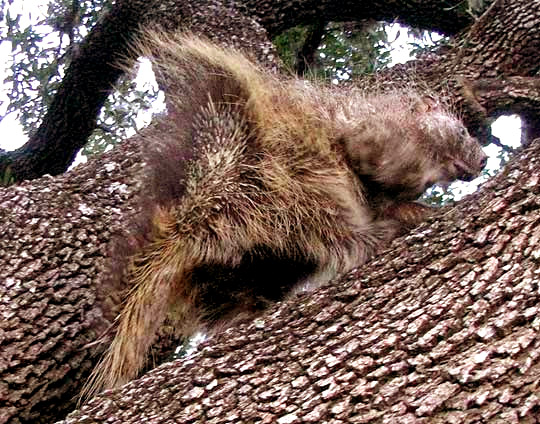 ---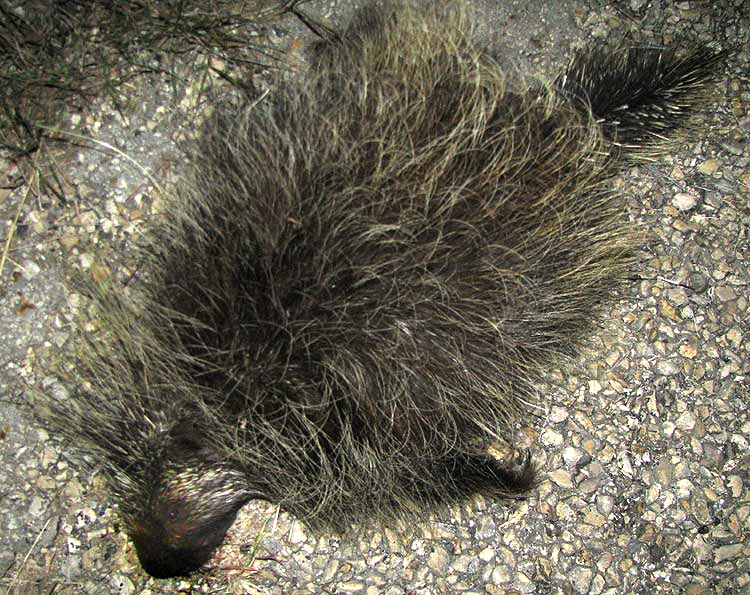 from the November 4, 2012 Newsletter issued from the valley of the Dry Frio River in northern Uvalde County, southwestern Texas, on the southern border of the Edwards Plateau, USA
PORCUPINE
I'd never seen a porcupine, so on our full-moon walk this week maybe I can be excused for not immediately recognizing the car-killed bulk along the road. Illuminated only by the Moon, all I could see was its Raccoon size and odd silhouette, which was so broad that at first I thought it was a dead crow with outspread wings. But when I picked up the animal by its tail and felt its heaviness and stiff spines, it was instantly clear: it was the North American Porcupine, ERETHIZON DORSATUM. Pulling out the camera and opening the flash, I took the picture shown above.
To see what kind of feet porcupines have I flipped the animal over and took the picture below: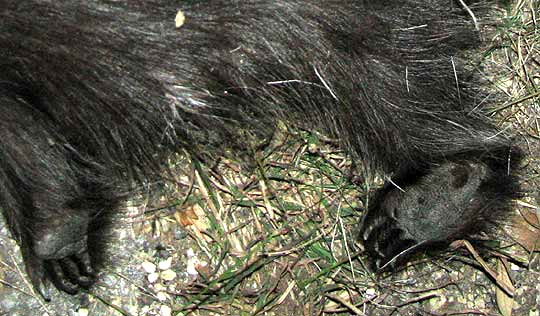 They almost look like skunk feet, but that's just incidental, since skunks and porcupines belong to entirely different orders. Skunks are carnivorans while porcupines are rodents. You might think that this is big to be a rodent, and it is, but porcupines are still smaller than capybaras and beavers, which also are rodents.
North American Porcupines are distributed from open tundra beside the Arctic Ocean in Alaska and northern Canada south through many kinds of habitats into northern Mexico, but they're absent from most of the eastern US, except for the Northeast. In Texas they're missing from the eastern and southernmost third of the state, but present elsewhere. It's a mystery as to why they should be absent from so much of the eastern US. The preferred habitats for Texas porcupines is forested areas with rocky areas, ridges, and slopes, which describes the limestone hill next to our walking road very well.
Porcupines are vegetarians and sometimes gnaw through tree bark to reach the softer inner bark, which damages the tree. They seem to have a passion for salt.
I told my neighbor Fred about our porcupine discovery and he wasn't too impressed, saying that they're pretty common around here. In fact, he sent me his picture of a porcupine clambering over a wire fence to get into his garden, which you can see below: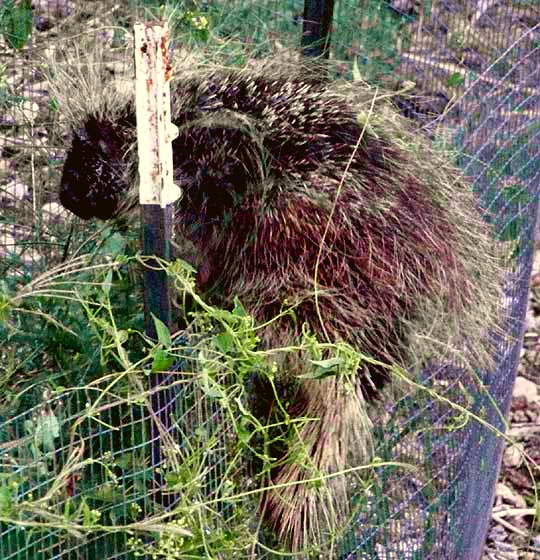 "He seemed to be enjoying the morning glory vines," Fred said.