from the February 23, 2009 Newsletter, issued from near Natchez, Mississippi:
PILLBUG ECDYSIS
Arthropods, including all insects, spiders, horseshoe crabs, ticks, centipedes and more, possess hard, plastic-like exterior skeletons known as exoskeletons. As an animal with an exoskeleton grows, periodically its hard covering needs to split so that it can emerge from its old "shell." Then the still-soft-shelled animal enlarges a little and, finally, the new, larger animal's bigger-than-before exoskeleton hardens. Sometimes you find old spider exoskeletons suspended in the spider's web, and of course abandoned cicada exoskeletons often are conspicuous on trees. The process of shedding an exoskeleton or an old skin (as snakes do) is called ecdysis.

So, the other day I picked up a slab of wood lying on the ground and there was a pillbug beneath it undergoing ecdysis, as you can see below.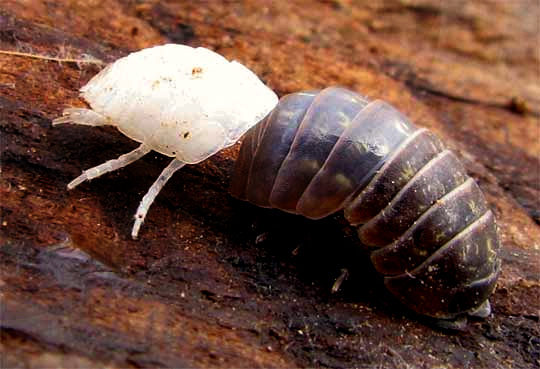 The discarded, white exoskeleton at the left must belong to another pillbug who has left the scene. You can see that the rear half of the pillbug in the picture wears an opaque covering just like the exoskeleton at the left, so the pillbug in the picture probably is about to leave a second white exoskeleton beside the first.
By the way, what's the difference between woodlice, sowbugs and pillbugs? Basically they're all the same, except that some woodlice/sowbugs can't roll into spherical "pills" so they're not called pillbugs. The name pillbug often is restricted to the genus Armadillidium. Other English names for woodlice and sowbugs include armadillo bug, cheeselog, doodlebug, roly-poly, potato bug, roll up bug and chuggypig.