Excerpts from Jim Conrad's
Naturalist Newsletter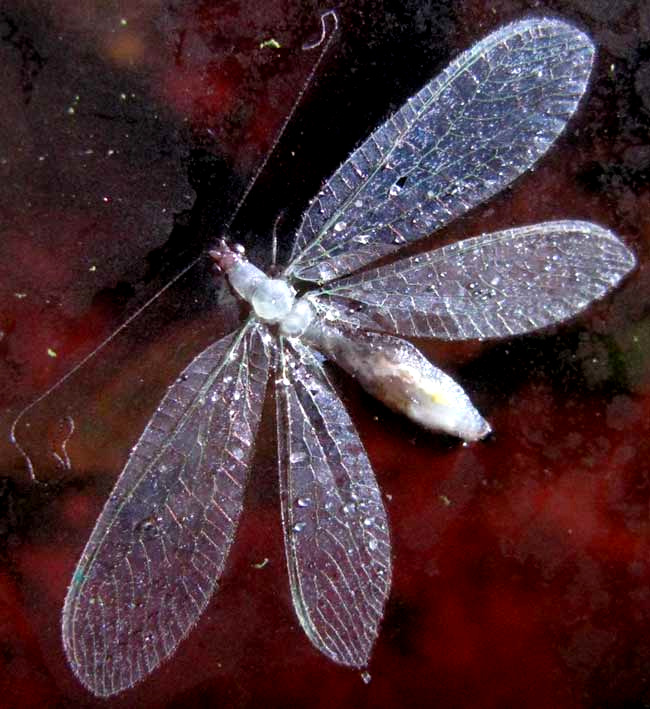 from the February 26, 2012 Newsletter issued from Hacienda Chichen Resort beside Chichén Itzá Ruins, central Yucatán, MÉXICO
LACEWING ART


We've documented lacewing insects doing interesting things before. For example, in the woods outside Natchez, Mississippi we've seen their stalked eggs, as shown at the right. Their eggs are stalked because the predatory larvae hatching from them are such voracious predators that if they can get at unhatched siblings they'll eat them.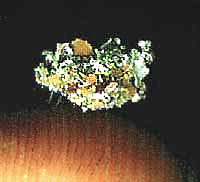 Back in Kentucky we've also seen how the larvae of some kinds of lacewings adorn their bodies with flecks of alga or similar trashy material, as camouflage, as seen on the tip of my finger at the left.
This week I got a good look at a lacewing itself floating on the surface of a forest pool, shown at the top of this page.
Because so many kinds of lacewing exist, and the tropical ones are so poorly known, identifying this one to species level would be very hard. However, something about this particular lacewing, being as it was, where it was, requires that it remain incognito, that we focus on its circumstances and the implications thereof, not its mere identity.
---
from the March 4, 2012 Newsletter issued from Hacienda Chichen Resort beside Chichén Itzá Ruins, central Yucatán, MÉXICO
LACEWING EGGS HATCHING
Just last week we looked at a dead lacewing floating in a forest pool near the Hacienda. This Wednesday at 8 AM, on the upper surface of a leaf of an Elephant-Ear plant beside the hut, a white splotch caught my eye. Up close the smudge showed itself as what's seen below: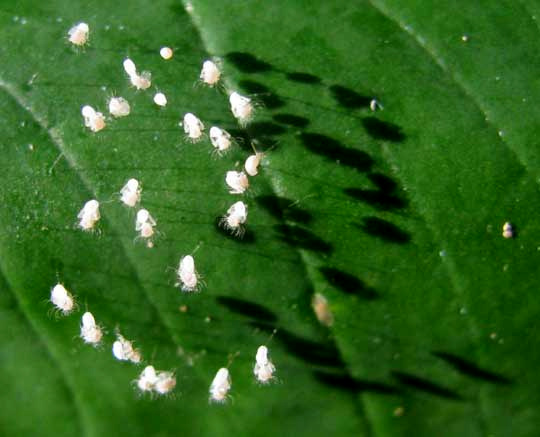 That's a view from directly above a cluster of stalked lacewing eggs -- stalked because the lacewing's newly hatched larvae are so hungrily predaceous that if they can get at their siblings they'll eat them.
In the picture, the eggs' slender stalks show up as shadows. The picture also shows something I didn't notice while working with the camera: On their lower sides, most eggs bear something white and hairy. A shot pushing my camera and Photoshop to their limits better shows what the hairy things are below: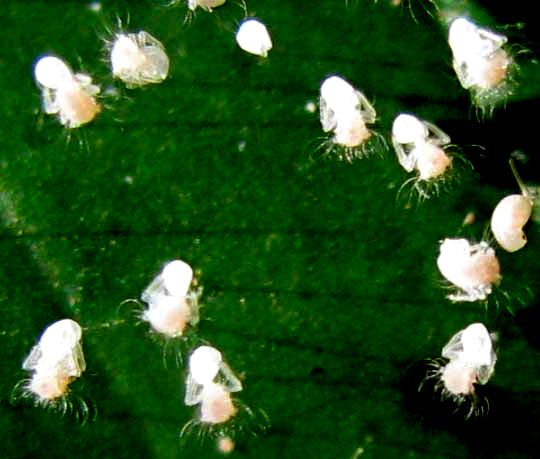 The hairy things are larvae just hatched from the eggs, the larvae's bent legs clasping the egg shells they've just emerged from. Spreading hairs arise from atop each larva's back. A side view of the same is shown below: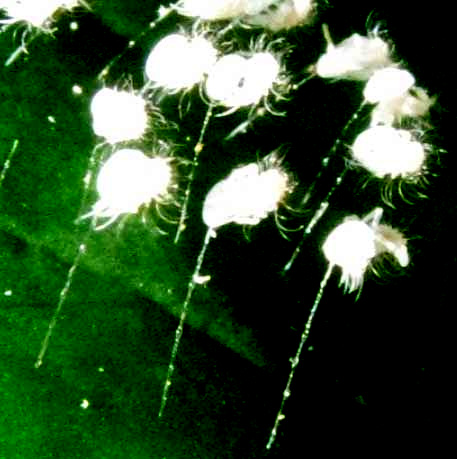 Not to go unnoted in these pictures is that only a very few eggs do not bear larvae. These pictures answer the question of whether in this lacewing species eggs hatch at the same time -- are synchronous.
Also, seeing the hairs atop each larva's body, we remember a lacewing larva that fell from a tree onto us one summer back in Kentucky. Its body had been covered with lichen flecks, as camouflage. Maybe our current larvae will similarly attach pieces of camouflage to their own hairs.
My surprises weren't over yet. At about 10:30, as it was starting to get pretty hot and the sun bore down with great intensity, I went back to see if larvae might be found wandering the Elephant-Ear's big leaf. I found no larvae, but where the stalked egg cases should have been I found what's shown below: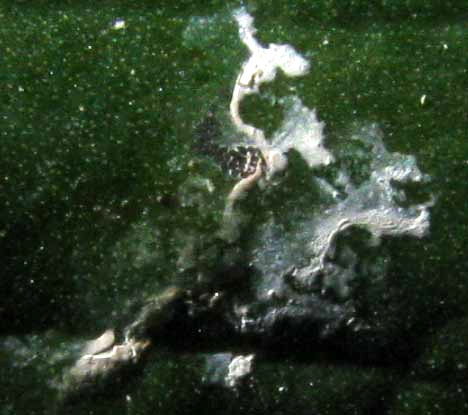 It looks like all the stalks and egg cases melted together!