Excerpts from Jim Conrad's
Naturalist Newsletter
from the June 27, 2009 Newsletter, issued from the Siskiyou Mountains west of Grants Pass, Oregon:
MITES ON HUMMINGBIRD BEAKS
My friends went visiting a bit this week so I took over watering flowers and filling the hummingbird feeders. When Anita showed me her hummingbird-feeder filling procedure I was surprised to see her take a toothbrush and clean each hole in the center of each of the red feeders' yellow plastic flowers.
"Mites from the hummingbirds' beaks," she explained. With my handlens I looked at the dingy halo around each hole and by golly she was right. You can see them below: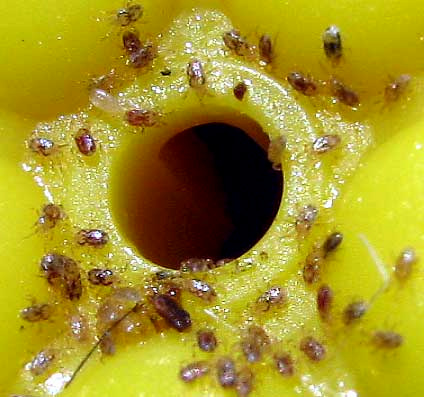 This set me to Googling and before long I had them figured out as flower mites. Judging from what I see in the above picture and from what I read on various web pages, there are indeed several kinds of flower mites, and they all do pretty much the same thing:
They go after flower nectar and use animals such as hummingbirds only for transportation to other flowers. Some flower mite species travel by butterflies, moths, honeybees, or other creatures, including hummingbirds. When a hummingbird-using mite is ready to leave a drying-up blossom and a hummingbird beak becomes available, it crawls onto the beak, possibly enters a nostril for the ride, and when it has a chance it disembarks inside another flower -- or maybe it mistakenly abandons ship for a plastic feeder, or gets wiped off there by a bird doing some beak-cleaning.
One day after a feeder's holes are toothbrushed clean, the same number of mites cluster around the holes, not more or less. This suggests that there's lots of mites traveling via hummingbird beaks, plus mites may be leaving the feeder holes just as earlier they left their flowers.