Excerpts from Jim Conrad's
Naturalist Newsletter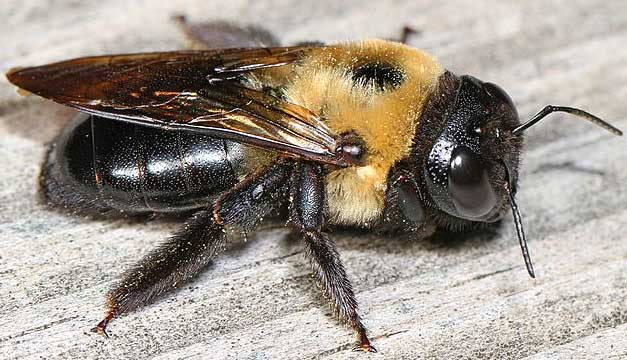 Eastern Carpenter Bee,
Xylocopa virginica
, Leesylvania State Park, Woodbridge, Virginia, copyright-free photo contributed by Judy Gallagher
from the July 29, 2001 Newsletter issued from the woods of the Loess Hill Region a few miles south of Natchez, Mississippi, USA
ROBBERS & CHEATERS
The high deer-fences around our organic gardens are beautiful now, heavily draped with the vine my kinfolk in Kentucky call Hummingbird Vine, and people around here often call Cypress Vine, since its leaves look like feathery green Baldcypress leaves. I planted these vines because they produce many, many scarlet blossoms which our Ruby-throated Hummingbirds and some moths and butterflies go crazy for. The vine is Ipomoea quamoclit.
Friday I was resting after doing some hoeing, just feasting my eyes on a big green and scarlet fence-wall with its circus of pugnacious hummingbirds and my eye was drawn to a Large Carpenter Bee (genus Xylocopa) visiting one red blossom after another. Thing is, this bee was not pollinating the flowers. It paid no attention to the blossoms' openings. Instead, it went to the outside base of each flower, thrust its "tongue" down between the corolla and the calyx, and did something.
What it did was to rob the flowers of their nectar.
"Rob" is the right word because flowers are designed so that their pollinators "pay" for the nectar they collect by pollinating the flowers -- bringing other flowers' male pollen to their female parts, then carrying their own pollen to other flowers. But this bee was actually slitting each blossom's corolla so it could get at the nectar inside, completely bypassing the flower's sexual parts. I examined the corollas after the bee visited them and I could clearly see the slit. It was violent robbery pure and simple.
All this is worth thinking about. It shows that Mother Nature condones robbery, at least on occasion. For one to whom "Nature is Bible," a bit of thinking "outside the box" (the box of conventional human thought) must be done to see that in the end all this is exactly as it should be.
---
from the October 21, 2001 Newsletter issued from the woods of the Loess Hill Region a few miles south of Natchez, Mississippi, USA
CARPENTER BEE NEST
My little trailer is unheated so during winters I build a box around my computer and on cold nights keep a small light burning in the box to keep the computer warm. This year I hadn't built the box yet, but Wednesday morning's 38 degrees surprised me. When I turned on my computer I got a blank screen -- something inside the computer was too cold to work.
So, I set about constructing this winter's box. For my frame I found some discarded two-by-fours that were riddled with holes excavated by Carpenter Bees. The holes were barely large enough to admit the tip of my smallest fingers. While sawing these boards I happened to cut through a Carpenter-Bee hole.
The hole went down about an inch deep (2.4 cm) and then formed a kind of T, with each arm of the T traveling in opposite directions inside the board. At the end of each tunnel there were two Carpenter Bees, four in total, all buzzing their discontent with my sawing. I was sorry to mess up such a cozy overwintering nest; I'd thought the holes were abandoned.
Anyway, one of the T's arms was 5 inches long (13 cm) and the other was 7 (18 cm). Certainly a bee capable of gnawing away so much wood can with ease rip open the side of a tubular flower!
---
from the January 27, 2002 Newsletter issued from the woods of the Loess Hill Region a few miles south of Natchez, Mississippi, USA
CARPENTER BEE EMERGES
Last October I built a box around my computer to keep it warm during the cold months. Carpenter Bee tunnels were found in the lumber I was using. This Wednesday, when it was 84° and I was typing up this Newsletter, a groggy Carpenter Bee emerged from one of the holes and tumbled onto my lap. I suspect that it will not be the last bee to emerge, and also I suspect that this one was a little early in coming out. On Saturday morning thin ice encrusted my water buckets.
---
from the April 6, 2003 Newsletter issued from the woods of the Loess Hill Region a few miles south of Natchez, Mississippi, USA
CARPENTER BEES BUZZING
Many hours during these warm days a Large Carpenter Bee, XYLOCOPA VIRGINICUS, stations himself right outside my trailer door, buzzing loudly as he holds in one position about chest level above the ground. If a horsefly flies by, for a second the bee chases it, then immediately returns to his post. If another male carpenter bee streaks through, there's some kind of mid-air interaction too fast for my eyes to follow, then instantly my fellow is back in front of the door buzzing. If a female comes along, then there's a bit of sky-high buzzing and bumping about, all too fast for me to register. If I thump a woodchip in his general direction, he'll chase it, too, then return to his post. If I walk through his territory, he'll buzz and dodge and weave and buzz some more, sometimes even brushing my face, but he never stings.
Male Large Carpenter Bees will never sting because they bear no stingers. Females do have stingers, but they have to be roughed up pretty badly before they'll use them. You can tell males from females because males have large white or yellowish spots on their faces, while females don't.