Excerpts from Jim Conrad's
Naturalist Newsletter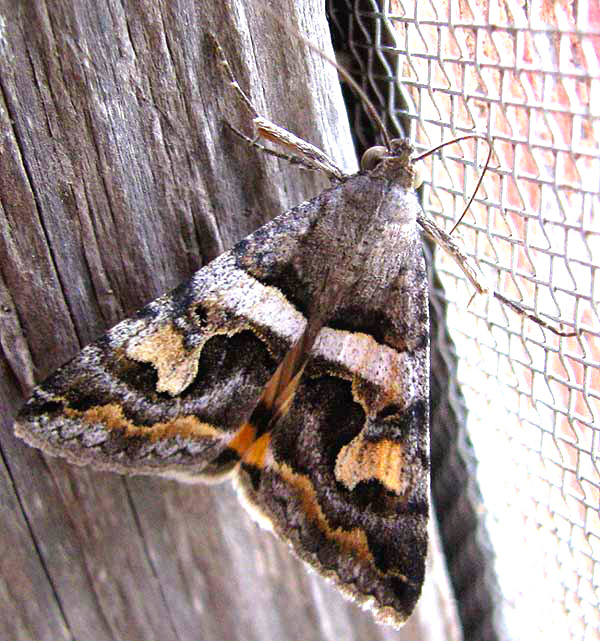 from the June 29, 2014 Newsletter issued from the Frio Canyon Nature Education Center in the valley of the Dry Frio River in northern Uvalde County, southwestern Texas, on the southern border of the Edwards Plateau, USA
BULIA MOTH
A triangular, boldly patterned moth had settled into a corner of the screened-in veranda of the house I was painting in the valley, as shown above. Usually it's hard to see wing undersides of moths holding their wings as flat as this one was but after posing for the above picture our moth abruptly fluttered to another part of the screen, this time angling his wings into a shallow V above his abdomen, and I was able to see that the lower wing surfaces were nothing like the upper, as shown below.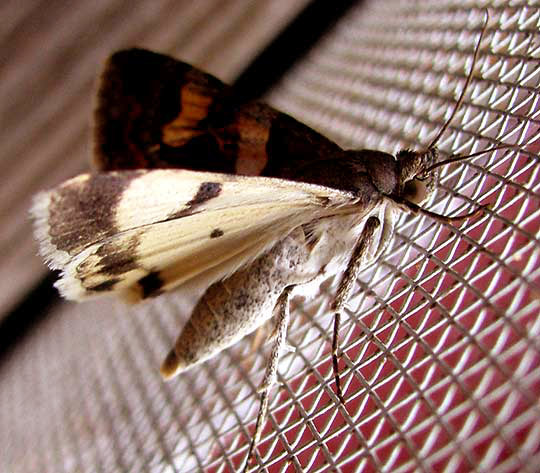 Volunteer identifier Bea in Ontario pegged this one as a Bulia Moth, genus Bulia, either the species Bulia deducta or Bulia similaris. She didn't feel bad about being unsure which species we had because she also found reference to a 2002 paper by Pogue & Laughlin in which it's stated that these two species, Bulia deducta and similaris, are outwardly indistinguishable and can only be separated by their genitalia and geographic distribution. Both species occur in our area, and I'm not about to cut open our moth looking for genitalia.
Bulia deducta seems to be the best known species. It occurs from central Mexico north to central California, Utah, Wyoming and Nebraska, east to Arkansas and Alabama. Its caterpillar stage feeds on Mesquite trees, which explains why the species isn't found in most of the US southeastern states, since Mesquites don't naturally occur there. The adults sometimes wander northward beyond the Mesquite's range, which explains their presence in Nebraska, where Mesquites don't occur.
Bulia Moths belong to the Owlet Moth Family, the Noctuidae, and generally fly at night, when they are almost invariably attracted to light.