Excerpts from Jim Conrad's
Naturalist Newsletter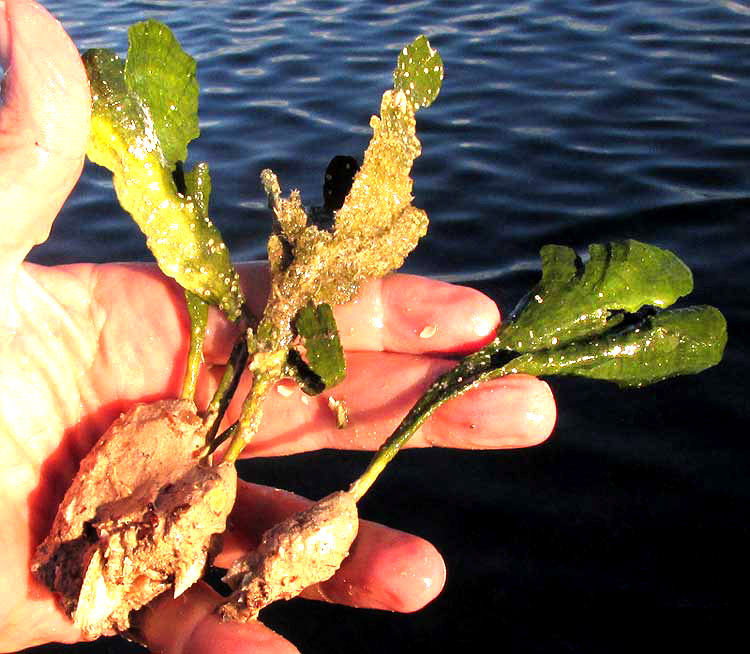 from the February 8, 2015 Newsletter issued from Río Lagartos, on the north-central coast of Yucatán, MÉXICO
MERMAIDS FAN
Full moons such as we're having these days produce exceptionally high and low tides. During a flamingo-viewing trip when the tide was very low I got to see some estuary-bottom vegetation that normally lies too deep to see. Simply leaning over the boat, I temporarily uprooted what's shown above.
Those leathery, fan-shaped items are well enough known to bear the English name of Mermaid's Fan. Mermaid's Fans are green algae of the genus Udotea, possibly Udotea flabellum.
However, it seems still to be true what I read in a 2009 study by Ligia Collado-Vides et al in the journal Revista de Investigaciones Marinas, entitled "Una Revisión Taxonómica del Género Udotea en El Caribe Mexicano y Cubano." There the author writes, "We conclude that the taxonomy of the genus Udotea in the Western Tropical Atlantic is still unclear."
Of the various species our plants could be, I mention Udotea flabellum because it's a common species often described as occurring in our area, it lives in calcium-rich waters like ours, and ours looks similar to pictures of that species found on the Internet. Most other Udotea species appear to have thinner blades and lack slender stems. Well formed Udotea flabellum individuals display very broadly spreading, turkey-tail-like blades, not narrower, lobed blades like ours. However, the species is known to be very variable in its appearance. Our specimens appear to have suffered from animal nibblings and competition from surrounding Shoalgrass.