Excerpts from Jim Conrad's
Naturalist Newsletter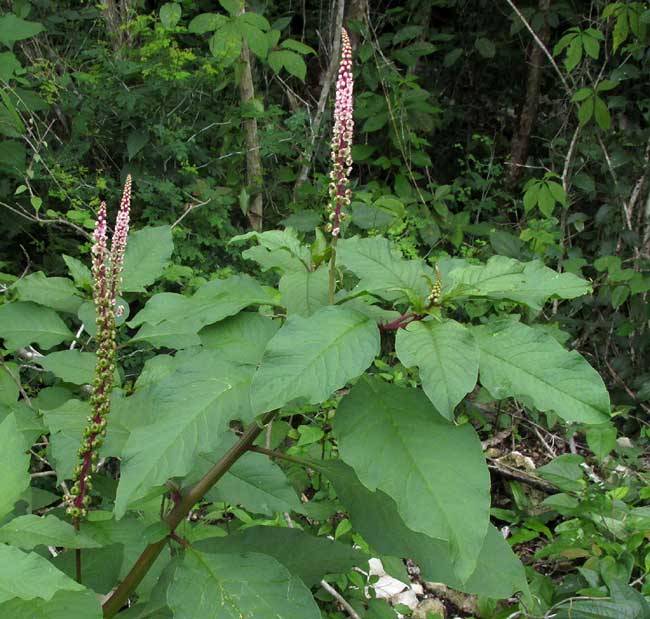 from the October 4, 2015 Newsletter written in Yaxunah and issued from Pisté in central Yucatán, MÉXICO
TROPICAL POKEWEED
This week along the weedy roadside to Kancabzonot a plant turned up that, although I've not seen before, was very familiar. Maybe in the above picture you can see why.
With those thick, succulent stems turning reddish at their tips, the leaf shape, and especially with the slender spike of flowers bearing immature blossoms at the top, open ones at the middle, and immature fruits at the base, it couldn't be anything but what North Americans call the Pokeweed, genus Phytolacca. Though the stems and leaves look practically identical to the North's Pokeweed, the flowering spikes are different. A closer look at a spike is shown below: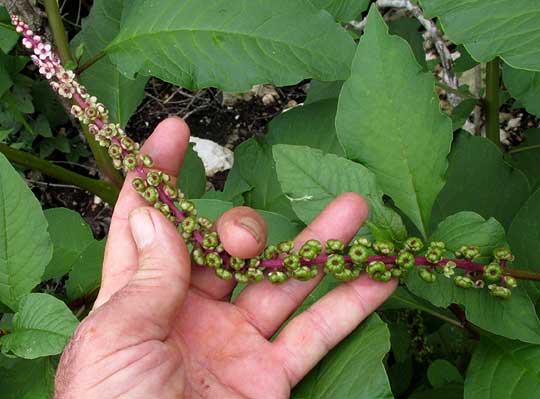 A flower close-up below: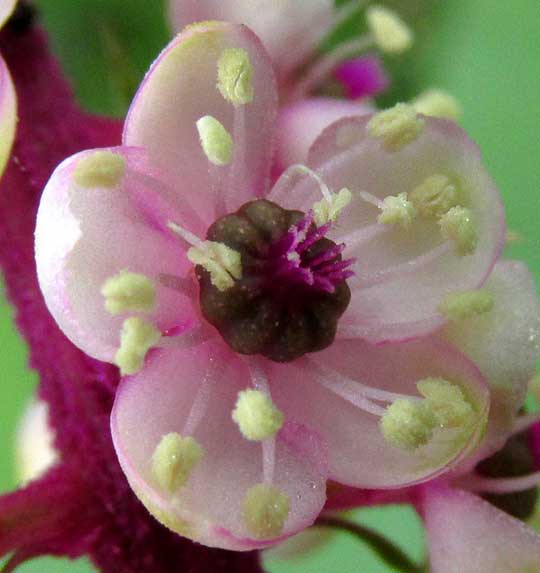 In that picture you see traits making this a Phytolacca flower: 6-33 stamens in two series; ovary almost spherical, and; ovary topped with 5-16 styles. One feature separating this species' flowers from those of North America's Pokeweed is that it's flushed with rosy purple color. North America's Pokeweed flowers are pure white. By the way, the whitish items we assume to be petals are actually petal-like sepals forming the calyx.
*Update: This is indeed PHYTOLACCA ICOSANDRA, occurring from here and there in the southern US as an invasive, south through the American Tropics into South America. It is often used medicinally in many cultures, especially for skin diseases. Juice from the fruit has been used against skin fungus
*Yaxunah's Community Center library has a handful of books dealing generally with the Yucatan's plants, so I thought they might mention a Phytollaca species occurring here. They mentioned three, which made things difficult. Judging only by how commonly the three species are reported, I'm guessing that this is the most common one, Phytolacca icosandra, known in Maya as T'eel Koox. A book says that T'eel Koox's roots and immature fruits are useful for washing clothing.