Excerpts from Jim Conrad's
Naturalist Newsletter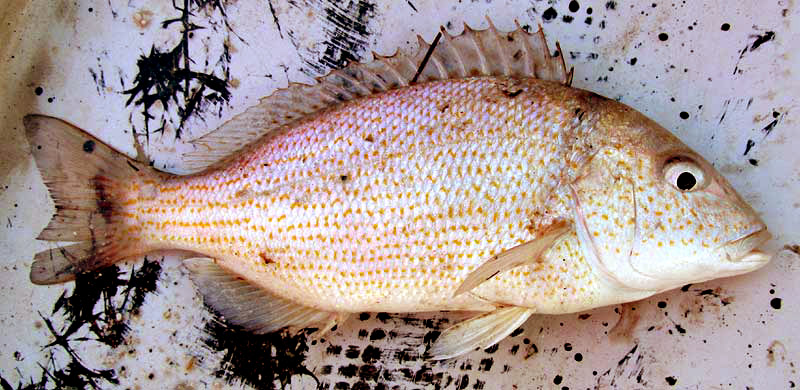 from the January 18, 2015 Newsletter issued from Río Lagartos, on the north-central coast of Yucatán, MÉXICO
TOMTATE GRUNT
Nearly always when we pass up the estuary to the flamingo feeding grounds, fishermen on a little pier beneath the bridge of the coastal road between Río Lagartos and Las Coloradas are fishing with cast nets. Sometimes our tour guide asks for any throwaways the fishermen might have on hand, for these unwanted fish can be tossed into the water to attract fish-eating raptors or crocodiles for picture taking. That's how I got the above picture of the six-inch long (15cm) fish seen lying on the boat's bottom.
Several local species look more or less look like this, so during the identification process attention had to be paid not only to the fish's general shape, coloration, and fin arrangement, but also to such details as the number of spines in the top, or dorsal, fin, the back, lower fin, which is the anal fin. Once I'd figured out the fish's family, pictures of each species on the list of fish identified in Ría Lagartos Biosphere Reserve were sought on the Internet.
Eventually I settled on the name HAEMULON AUROLINEATUM, usually known as the Tomtate. It's one of several species known as grunts so sometimes it's listed as the Tomtate Grunt. They're called grunts because of the sound made when caught. The sound is made when the fish grinds its pharyngeal teeth, which are teeth in the throats of a number of fish types. Paco, our guide that day, called the fish a Ronco, in Spanish meaning "hoarse," which describes the grinding sound amplified by the air bladder, which acts as a resonator. Maybe the sound's purpose is to surprise a captor enough to drop its catch. The origin of the word "tomtate" seems to be unknown, though it's supposed to be an Americanism.
Tomtates are fish of the western Atlantic, found in seagrass beds, sand flats and patchy reefs from Massachusetts south to the Brazilian coast. Tomtates feed on small crustaceans and other invertebrates, mollusks and plankton. They are not highly regarded by fishermen, but in some places they're marketed both fresh and salted.
Adult Tomtates during breeding season display bright, yellow lines, with an especially bold yellow line through the eye and all the way back to the tail, plus in some stages there's a conspicuous, dark smudge at the base of the tail. However, pictures on the Internet show fish as pale and void of bright, yellow lines and patches as ours. More important for identification are details of fin configuration. The FishBase.Org website reckons the Tomtate's dorsal fin to have 13 spines at the front and15 soft rays at the back, with the anal fin having 3 spines at the front and 9 soft rays at the back.