Excerpts from Jim Conrad's
Naturalist Newsletter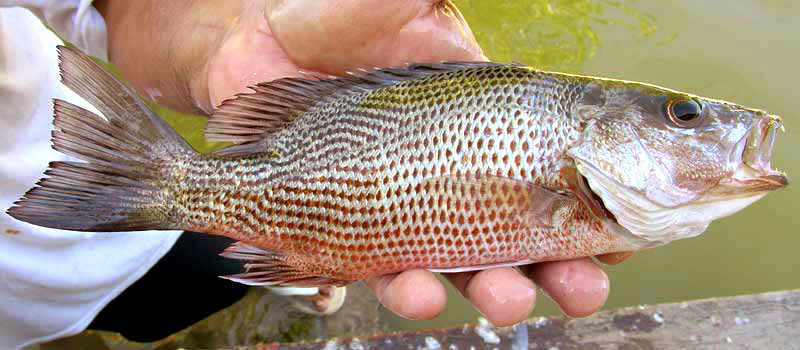 from the February 15, 2015 Newsletter issued from Río Lagartos, on the north-central coast of Yucatán, MÉXICO
GRAY SNAPPER
The road between Ría Lagartos and Las Coloradas crosses a narrow section of the estuary on a one-lane bridge. That bridge seems to be built for much heavier traffic than you'd expect on such a small road, until you meet barreling down the road one of many big, twin-trailer trucks that cross it filled with salt from Las Coloradas. Beneath the bridge there's a pier from which men toss nets into the estuary for fish. The other day I peeped into a fisherman's bucket and saw that it contained maybe ten smallish, yellow-lined Tomtate Grunts, and one silvery fish with a big mouth and ornamented with lines of small, dark, triangular specks along its sides. The friendly fisherman held up the fish for the picture shown above. Even I could see the fish's sharp teeth, shown below: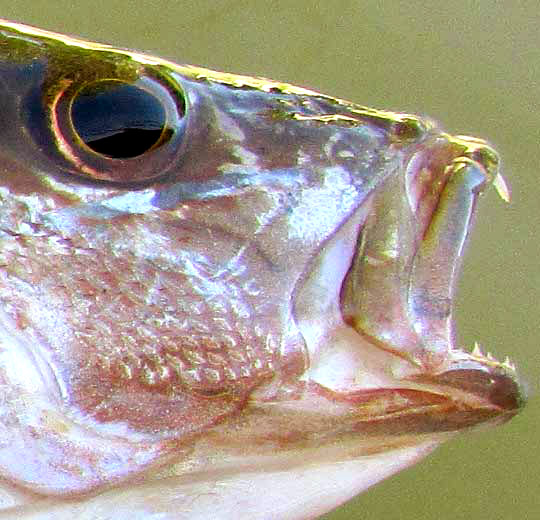 When the fisherman set about filleting the Tomtates on a concrete block beside the pier, he seemed disgusted with his catch, remarking that he'd caught only one good fish that day, the one in our photograph, and even it was too small. The fisherman called this fish a Pargo. That's the name for what in English usually is called the Gray Snapper, or Mangrove Snapper. It's LUTJANUS GRISEUS, distributed from Massachusetts in the US and Bermuda southward to Rio de Janeiro, Brazil, including the Gulf of Mexico and Caribbean. Later I confirmed the fish's identity by counting its fin spines and such, though not many fish species have sharp front teeth like this one.
Gray Snappers feed mainly at night on small fish, shrimp, crabs, gastropods, cephalopods and other prey. They're regarded as good food fish, "Utilized fresh and frozen; eaten pan-fried, broiled, microwaved, and baked," as the FishBase.Org website says. An average size is about 1.3 ft (40cm), and ten pounders (4.5kg) are commonly caught along Florida's shores; they can grow to over twice that size. The species is known to reach spawning age at 7-13 inches (18-33cm), so our smallish one must just be reaching sexual maturity.
Gray Snappers, especially young ones, can tolerate varying degrees of freshwater and sometimes turn up in the lower reaches of rivers.
So far I've not seen a single fish of any species caught in the estuary that I'd regard as a good size, though quite a few large catches have been brought in from offshore, in the Gulf of Mexico. One reason for the estuary's small fish is that many ocean fish breed in the estuary and their young grow up here, often seeking shelter in the maze of mangrove roots and stems along the estuary's borders.
Another reason, which the fishermen themselves admit, is that this estuary is heavily overfished.