Excerpts from Jim Conrad's
Naturalist Newsletter
from the July 23, 2017 Newsletter issued from Rancho Regensis north of Valladolid, Yucatán, MÉXICO
RINGED SNAIL-EATER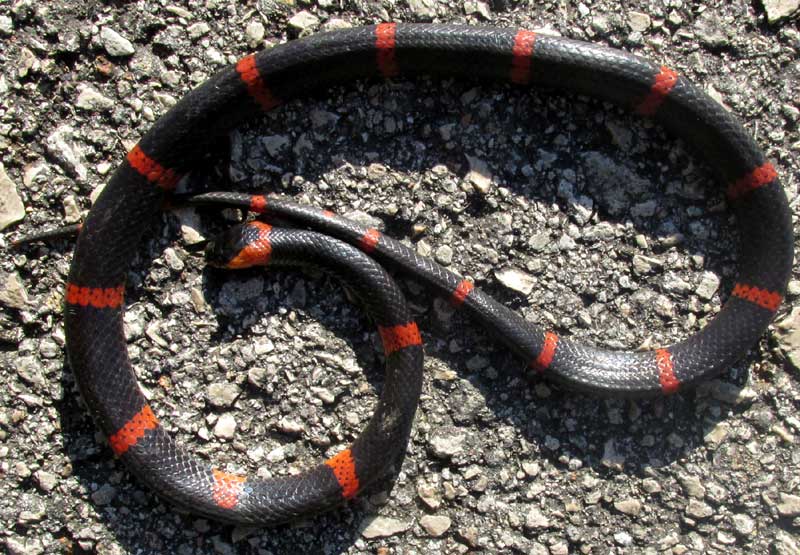 Despite not liking to look at roadkill, certain animals, especially nocturnal ones, are very seldom seen by average people other than dead along the road. Therefore, last Sunday on my banana-buying trip to Temozón, I just had to stop for a better look at the little snake shown above
At first I thought we'd already seen this species, the Short-faced Snail-Eater, shown -- also as roadkill -- on its page at http://www.backyardnature.net/yucatan/snaileat.htm
However, the yellowish bands on that black snake are relatively much wider than those on our Temozón snake. Sometimes regional variation accounts for such differences within a single species, so I almost didn't even photograph this new one. However, I did, even getting a close-up showing diagnostic scale patterns on the poor snake's head, shown below: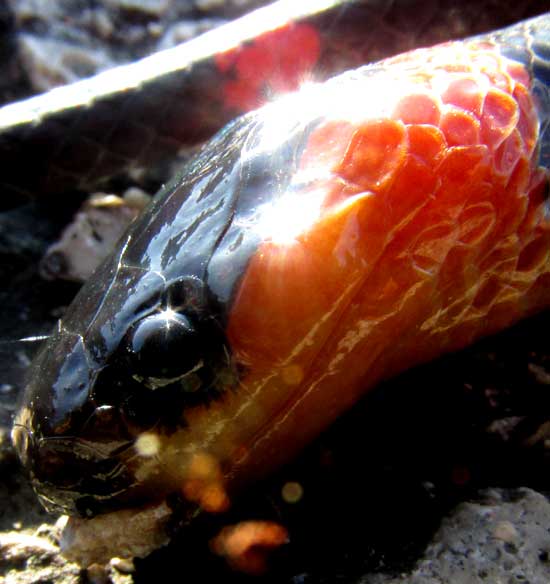 And the "undivided anal plate," another important field mark -- the round-topped one in the picture's center -- shown below: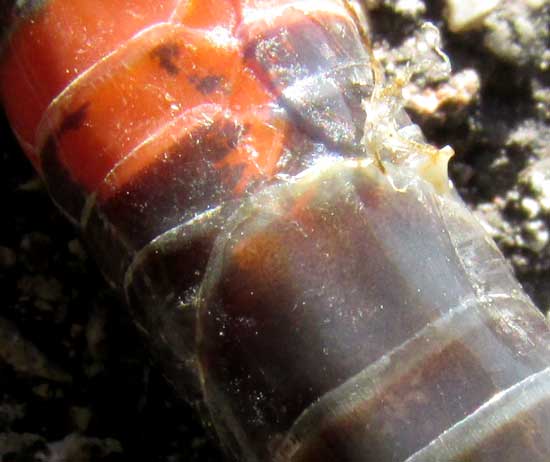 This turned out to be a new species for us, the Ringed Snail-eater, SIBON SARTORII, distributed from central Mexico south to Nicaragua. Several species of snail-eater snakes occur in the American tropics. Mostly they're nocturnal, as you might expect of something that preys on snails, since snails like the night's moisture. Besides snails, snail-eaters feed on slugs, but little or possibly nothing else.
Most snail-eater are highly arboreal, but our Ringed species usually sticks to the ground. It's regarded as common in forested and disturbed habitats, just like what's found along the road to Temozón.