Excerpts from Jim Conrad's
Naturalist Newsletter
from the March 5, 2017 Newsletter issued from Rancho Regensis north of Valladolid, Yucatán, MÉXICO
BULLY TREE
Along a forest trail a young tree about ten feet tall (3m) bore dark green, leathery leaves, sharp, slender spines on stiff, gray stems, and maturing, pea-sized fruits, as shown below: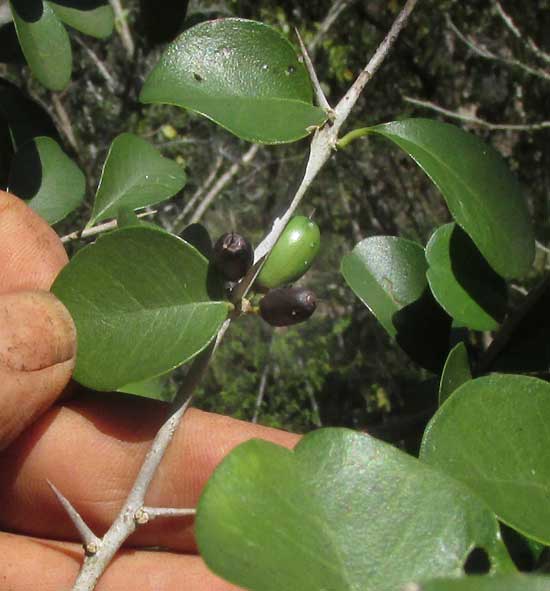 Notice that the green fruits turn black when mature. A close-up of some fruits is shown below: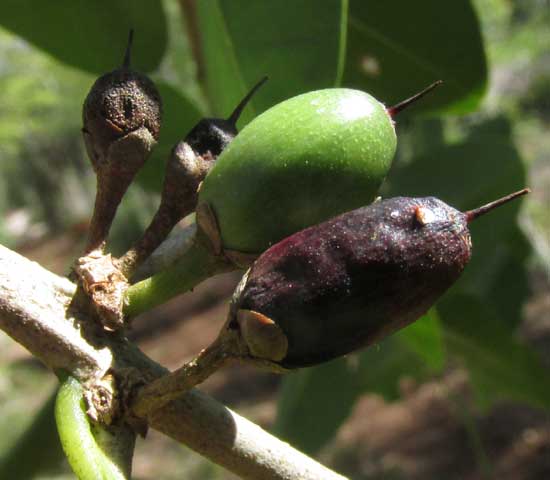 One unusual feature is the stiff, slender bristle arising atop each fruit. At the fruits' bases, the sepals are somewhat rounded and their edges overlap. The fruits, on short stems, or pedicels, cluster in groups of two, three or so. An immature fruit opened to reveal a single large, hard, brown seed is shown below:
When that fruit's top was cut off, copious white, milky latex oozed from the wound. Notice at the bottom of the picture how sticky strands of latex run from the fruit's bottom to my fingertip.
Interestingly, in every mature fruit I opened the seed had been replaced by what could have been brown sawdust, which I assumed to be frass or excreta of an insect larva that had developed inside the seed. Many of the black fruits bore a hole -- apparently where the metamorphosed, seed-eating adult had emerged -- as shown below: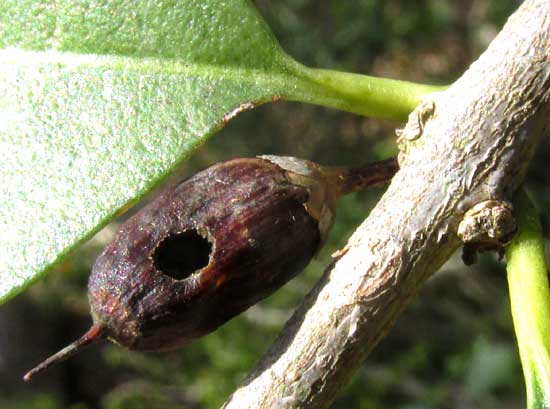 This little tree was a member of the Sapodilla Family, the Sapotaceae, which contains several species producing delicious fruits much eaten in tropical America -- such as the Mamey, Chicozapote and Canistel. It belongs to the genus Sideroxylon, of which several species are listed for the Yucatan Peninsula. It's hard to find good pictures of the various Sideroxylon species, but from word descriptions in the literature it seems that what we have here is SIDEROXYLON PERSIMILE, for which no English name is commonly accepted, but which at least one source calls Bully Tree. The species is native from southern Mexico through Central America into northern South America.
Sideroxylon persimile is described as growing up to 20m tall (66ft), which contrasts to our fruiting tree's small size. However, the extra-long bristle at the fruit's tip, the leaves' close, obscure venation, and the leaves rounded to indented tips and short petioles all are typical of Sideroxylon persimile.
I'm being a bit cagey about the identification because CICY, the Yucatan's Center for Scientific Investigation, lists the species for the southern Yucatan, but not for our northern Yucatán state. Maybe this observation represents a range expansion for the species in this part of the world.
---