Excerpts from Jim Conrad's
Naturalist Newsletter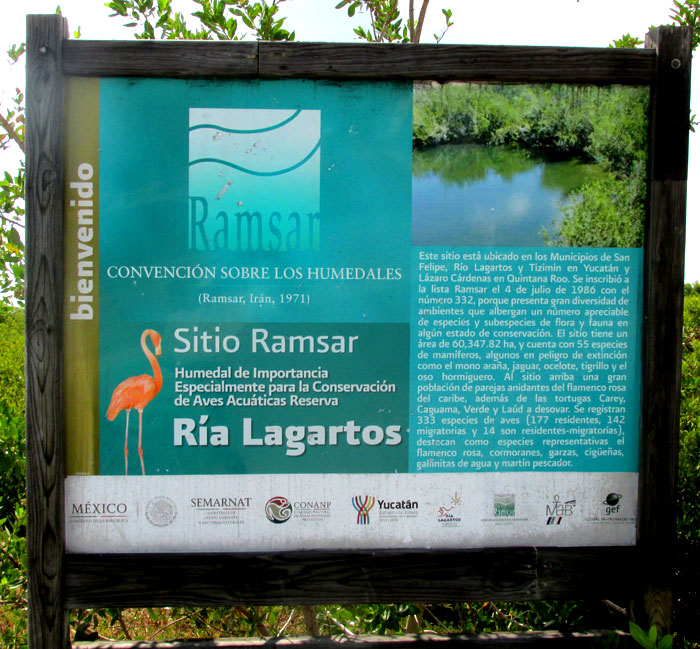 from the May 31, 2015 Newsletter issued from Río Lagartos, on the north-central coast of Yucatán, MÉXICO
RAMSAR WETLAND #332
On the two-lane extension of Río Lagartos's broad, seaside avenue, the Malecón, along the estuary's shore on the east side of town, right beside the mangroves there's the sign shown above.
The sign welcomes us to a "wetland reserve of importance especially for the conservation of aquatic birds," in accordance with the Ramsar Convention on wetlands that was signed in Ramsar, Iran, in 1971. The sign's fine print goes on to explain that this "Ramsar site" extends from the municipalities of San Felipe in the west to Lázaro Cárdenas to the east, in Quintana Roo -- basically describing the boundaries of Ría Lagartos Biosphere Reserve.
The sign says that under terms of the Ramsar Convention, the site was inscribed on July 4th, 1986, as Ramsar Wetland #332...
"... because it presents a great diversity of habitats that harbor an appreciable number of species and subspecies of flora and fauna in some state of conservation. The site has an area of 60,347.82 hectares (149,122 acres) and 55 species of mammal, some in danger of extinction, such as the Spider Monkey, Jaguar, Ocelot, Margay and the Northern Tamandua Anteater. The site has a large population of nesting pairs of Caribbean Red Flamingo, as well as Carey (Hawksbill), Caguama (Loggerhead), Green and Laud Sea turtles. Some 333 bird species have been documented (177 resident, 142 migratory, and 14 resident/migratory), of which representative species are the Red Flamingo, cormorants, herons, storks, rails, and kingfishers.."
Mexico is home to 141 Ramsar wetlands, and Ría Lagartos Biosphere Reserve was the first to be declared. Only the United Kingdom hosts more Ramsar wetlands. The US is home to 30.
The official Ramsar website is at http://www.ramsar.org.
There you can click on a map and read about all the world's Ramsar wetlands. On their Río Lagartos Biosphere Reserve page, our site is described as:
"An extensive complex of small estuaries and hypersaline coastal lagoons separated from the Gulf of Mexico by a dune cordon. Certain parts receive fresh water from subterranean aquifers. Eight specific vegetation zones are present, providing habitat for several notable or endangered species of plants. The vegetative diversity gives rise to an abundant fauna, representing a high percentage of species known in the Yucatan, including numerous threatened or endangered species. Several villages and archaeological areas are located within the site. Human activities include, fishing, tourism, agriculture, livestock rearing, and salt extraction. Special research and educational efforts are devoted to the protection and conservation of marine turtles."