Excerpts from Jim Conrad's
Naturalist Newsletter
from the November 12, 2017 Newsletter issued from Rancho Regensis north of Valladolid, Yucatán, MÉXICO
OUR RAINY SEASON, 2017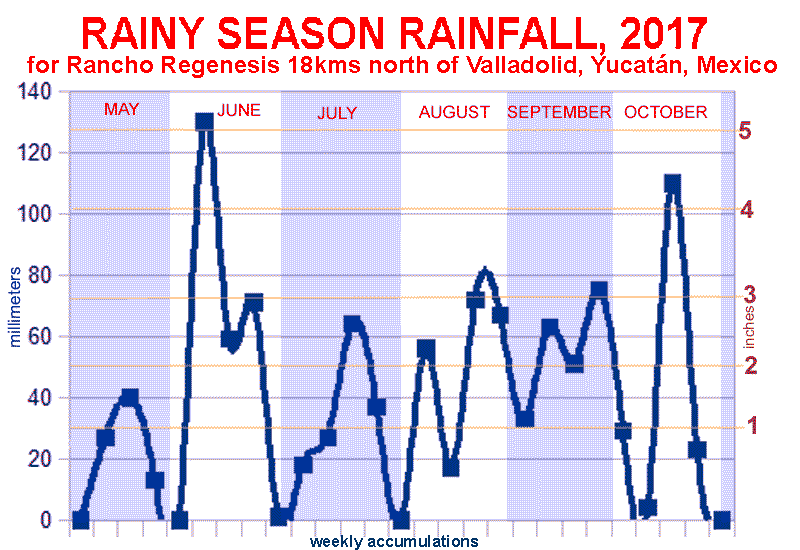 This year the rainy season at the rancho ended around 4PM on October 24th. It had begun with a 27mm rain (1inch) on May, 13th. Both the season's beginning and end were amazingly abrupt, and complete -- nothing but a few light drizzles for months before it began, and now not even a light drizzle since it ended on October 24th. Last year there was something similar, but I can't prove it, since last year I didn't keep records. This year I did, day-by-day, except for the two weeks when I was traveling, and then my Maya friend Gener kept notes. The resulting chart is shown above.
That chart is surprising. Some years ago I charted rainfall for Mérida, the Yucatan's capital city, and posted it at http://www.backyardnature.net/yucatan/wx-merid.gif
The Mérida chart shows at least a little rainfall throughout the year, with the rainy season beginning in May and lingering somewhat into December. June through October rainfall accumulation followed a more-or-less bell curve distribution, reaching a peak in September. Our rancho chart shows no hint of a bell curve distribution -- if anything, a barbell-curve distribution. The rainiest month appears to have been in June, when normally the season is just getting underway.
The rainy season's abrupt end isn't limited to our area. My gardening friend in Morelos state, in the highlands just south of Mexico City, reports that there the rains stopped so suddenly there that by the time he'd realized the dry season had arrived he'd lost important plants because he just wasn't thinking "dry season" and didn't water them as he should.
Our rainiest week of the season was the one beginning June 4th, with 117mm (4.6 inches).The second wettest week, beginning October 15th, produced 110mm (4.3 inches). The whole rainy season accounted for 1087mm (42.8 inches). If the upcoming dry season is like last year's, probably until May, 2018 we won't see more than 20mm or so of rain (less than an inch), coming in occasional brief showers and drizzels as cold fronts from the north move through, so our year's rainfall will probably little more, if any, than the 1087mm documented here.
However, patterns are more and more unpredictable, so who knows what we'll really end up with?
---