Excerpts from Jim Conrad's
Naturalist Newsletter
from the January 15, 2017 Newsletter issued from Rancho Regensis north of Valladolid, Yucatán, MÉXICO
A PURPLISH PENNISETUM GRASS
I'm still finding interesting plant species introduced onto the rancho years ago, but whose identities and intended uses have been forgotten. Now they hang on as relics, sometimes just barely. That seems to be the case with a certain head-high grass plant nowadays turning up at the weedy edge of a garden, untended and losing out to more aggressive weeds. You can see it below: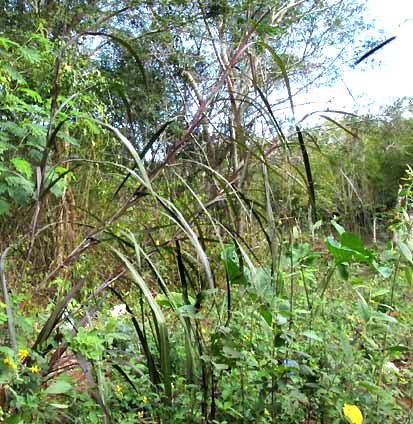 What caught my attention was that the grass's blades were a bit purple, and the flowering heads were very dark purple, as shown below: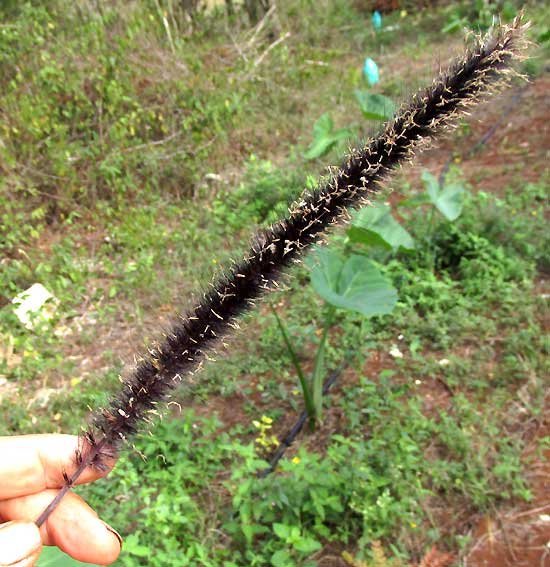 A close-up showing that the spiky flowering head consists of many spikelets issuing from the head's axis, or rachis, with each spikelet associated with a collection of long, stiff hairs, or bristles, is shown below: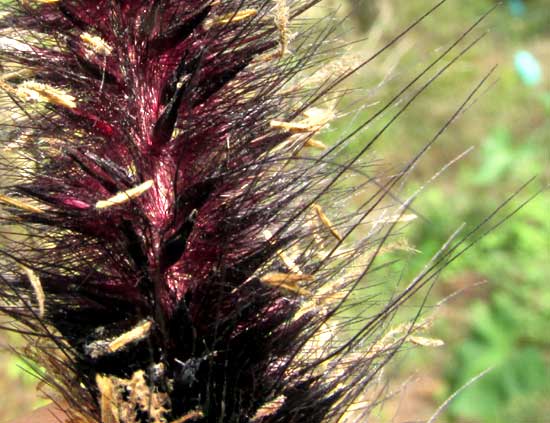 In that picture the yellowish white, elongated items interspersed among the hairs are pollen-producing anthers.
Foxtail grasses, sometimes called bristlegrasses, genus Setaria, display such long, fuzzy, spike-like heads and are very common and conspicuous in weedy places, so at first I thought that this must be an ornamental foxtail. However, when some mature spikelets fell into my hand, they didn't look like foxtail spikelets, as can be confirmed below: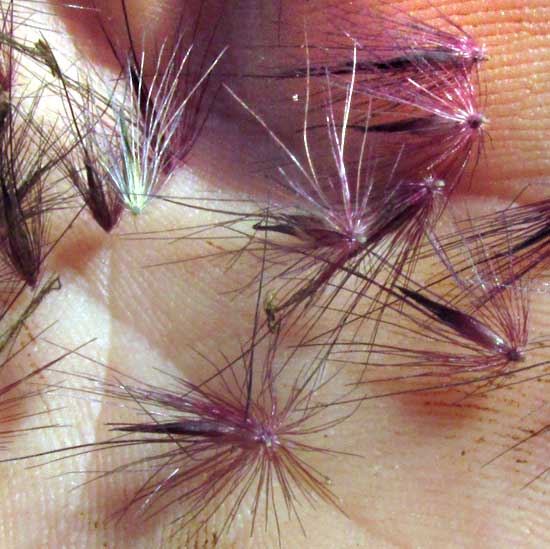 For one thing, the foxtail spikelets I know are roundish or oval shaped, not long and slender like these. More importantly, when foxtail grass spikelets fall from the rachis, they leave their bristles behind. The ones in my hand clearly have taken their bristles with them. This is a big deal in grass taxonomy, so our purple plant is something else than a member of the big genus Setaria.
This grass belongs to the closely related genus Pennisetum, which doesn't seem to have any good English name for its species, so we'll just call it Pennisetum. In that genus several species have supplied purplish cultivars that can be hard to distinguish. Best I can tell, this is PENNISETUM MACROSTACHYUM var. ATROPURPUREUM. Normally the species is green, but var. atropurpureum is a purplish cultivar. The species is native to the Borneo and New Guinea are.
The species doesn't seem to have any special use, other than that it's planted in certain gardens because of its attractive, purplish appearance, to contribute to the garden's "texture and dynamic interest," as one web page states it.