Excerpts from Jim Conrad's
Naturalist Newsletter
from the February 5, 2017 Newsletter issued from Rancho Regensis north of Valladolid, Yucatán, MÉXICO
MUNG BEAN PLANTS
All of my adult life I've sprouted seeds so I could eat them. Our seed-sprouting page is at http://www.backyardnature.net/simple/alf-spr.htm
Among the most commonly used seeds for sprouting are Mung beans, of which I've sprouted my share. I've always wondered what the Mung Bean plant looked like, so a few weeks ago when I had some Mung beans I planted them, and now you can see what kind of plant produced them, below: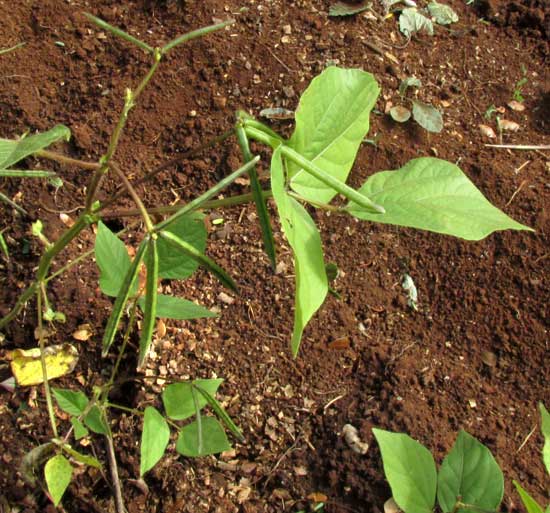 It looks a lot like a regular garden bush-bean, which it well may, because it's a member of the same genus, Phaseolus, as green beans, kidney beans, Lima beans and several other important bean food crops. The Mung Bean plant is PHASEOLUS AUREUS, not known in the wild, and of uncertain origin, though probably it originated in India. In the above picture, note the clusters of straight, slender, legume-type fruits projecting from the tips of longish peduncles.
A closer look at the Mung Bean's trifoliate, garden-bean-like leaf is shown below: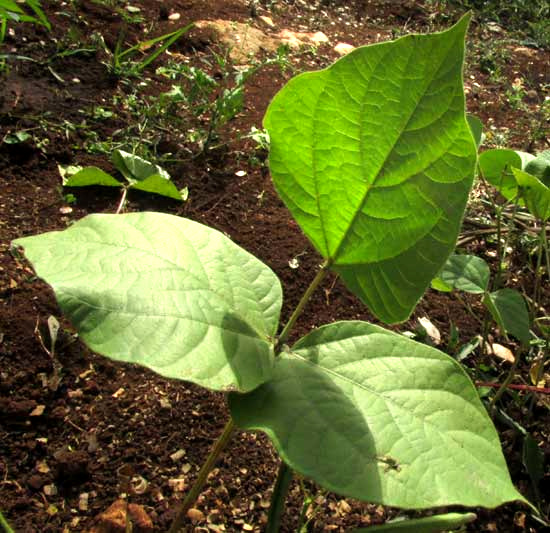 Our plants' flowers are pale greenish-yellow, otherwise very similar to green bean blossoms, as shown below: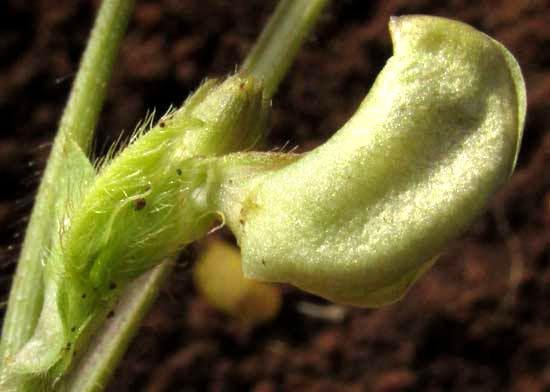 When the flower's corolla is removed some nice features of the sexual parts are easy to see, and exhibited below: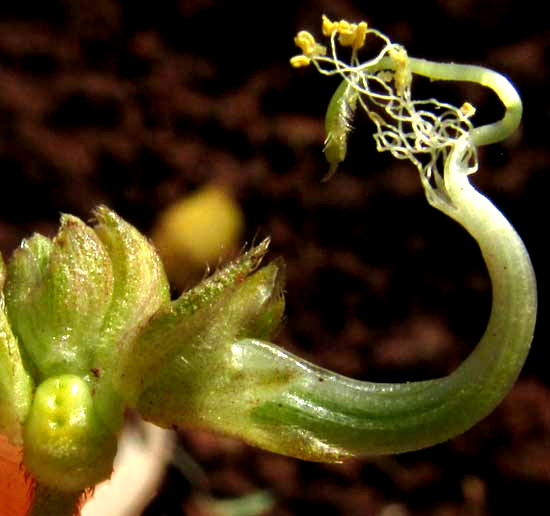 The ten stamens are grown together at their bases to form a curving cylinder around the long, slender style, which is hairy, or "bearded," at its tip. In the above picture's lower, left corner, the dimpled, green, egg-shaped item is a gland producing an ant-attracting substance, the ants helpful in driving off herbivores nibbling on the plant. All these features are normal for the genus Phaseolus.
Mung Bean plants produce interesting stipules, which are modified leaves appearing at petiole bases. Many plants don't have them, but the Bean Family normally bears conspicuous ones, and on Mung Beans they are large, oval, hairy, and instead of being attached to the stem at their bases, the normal way, they're attached at a point on their lower surface. They're "peltate," as seen below: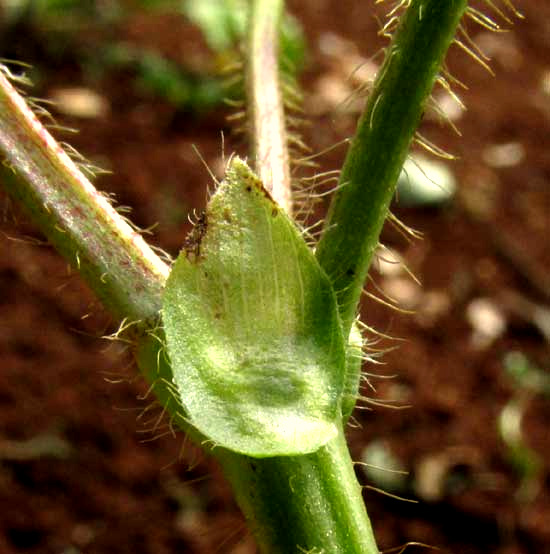 All in all, Mung Bean plants look like fairly normal members of the big genus Phaseolus. The seeds, or beans, are a little unusual because they're spherical, but also are soybeans and a few others
---
from the February 19, 2017 Newsletter issued from Rancho Regensis north of Valladolid, Yucatán, MÉXICO
MUNG BEAN PLANT PRODUCING MUNG BEANS
Nowadays the Mung Bean plants' legumes are mature, shown below: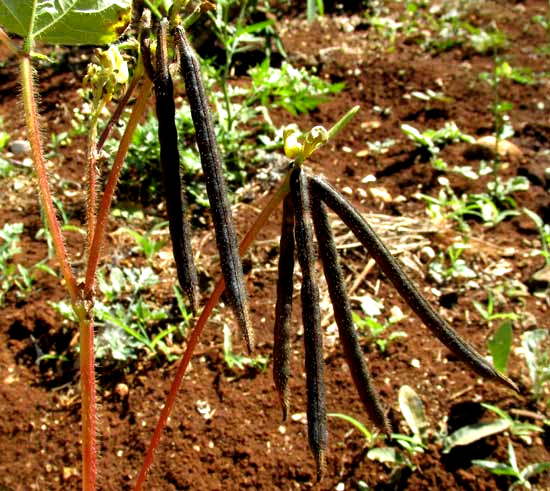 When the pods are opened, little green Mung beans appear neatly lined up next to one another looking just like the beans bought in healthfood stores to germinate, as shown below: