Excerpts from Jim Conrad's
Naturalist Newsletter
from the September 24, 2017 Newsletter issued from Rancho Regensis north of Valladolid, Yucatán, MÉXICO
"WILD SAGE" FLOWERING
Each morning at the turn-around of my jogging run I like to pinch a leaf from a certain semi-woody, much-branched, 7ft tall (2m) bush, crush the leaf as I begin running back, and smell it. The odor is vaguely like sage or oregano, though a bit musky and not as appetizing. Still, it's a good smell on a warm morning wet from the previous afternoon's storm, and the night's fog and dew. Below, you can see a flowering branch tip: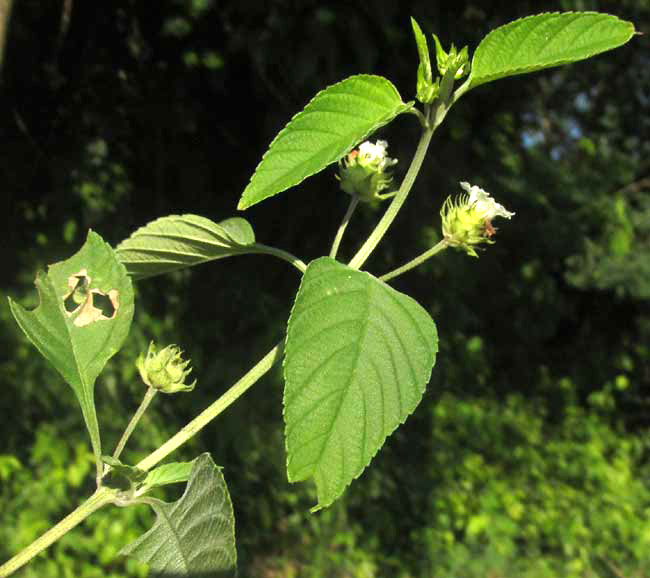 The small flowers are strongly "irregular," or bilaterally symmetrical, like little dog heads, as shown below: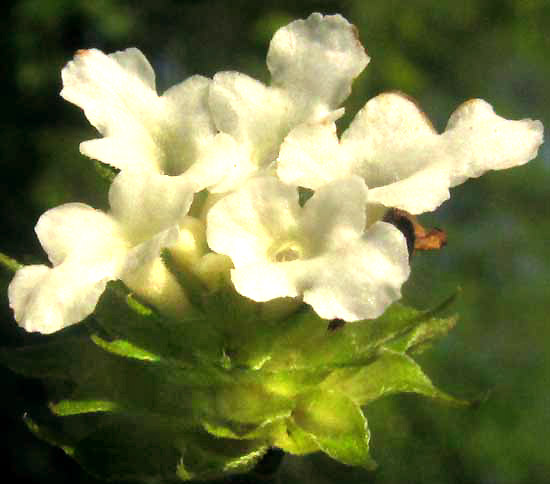 Below, the very distinctive flowering head is viewed from the side: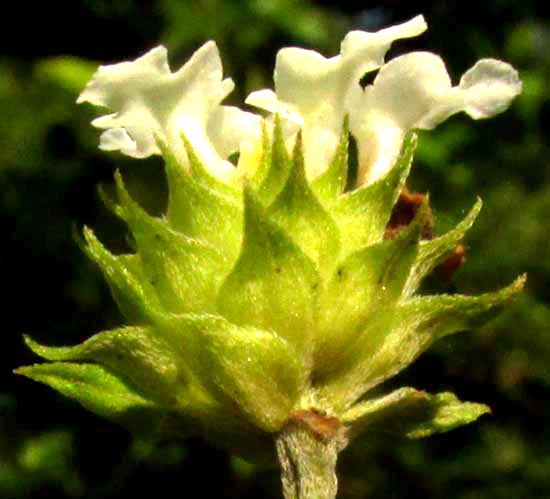 We've seen flowers and flowering heads like this before. The similarly strong-scented Lantana, a commonly planted garden flower often escaped and growing wild in warmer areas up north and throughout Mexico, is very like the current species, except that the garden one has colored flowers while the current one's are white. You can review the garden Lantana at http://www.backyardnature.net/n/w/lantana2.htm
That's Lantana camara, and our white-flowered one, also a Lantana, often is classified as LANTANA HIRTA. I'm hedging about the name because the taxonomic classification of this commonly occurring plant in years past has been very confused, just as it has with the even more familiar Lantana camara.
The Lantana hirta page at the freely accessible Biblioteca Digital de la Medicina Tradicional Mexicana website says that in Mexico people grow the plant in family gardens, and though no studies have found a basis for medicinal use of the plant, traditionally the plant has served to control vaginal hemorrhages, dysentery, and to deal with spells that have been put on you by dead people -- "hechizo de difunto," as they call it here.