Excerpts from Jim Conrad's
Naturalist Newsletter
from the April 24, 2016 Newsletter issued from Hacienda Chichen Resort beside Chichén Itzá Ruins, central Yucatán MÉXICO
CHIAPAS'S LACANDON RESERVE, & LACANJA CHANSAYAB
On April 12th, on the Bonampak road heading southeastward from Palenque paralleling the Usumacinta River, I took a taxi down the narrow, paved side-road leaving from the tiny settlement of Crucero San Javier. The first stop was at the entrance to the Lacandon Reserve where a ticket was bought for entering the reserve. The ticket said it cost 25pesos, but I was charged 75 (US$4.30), and told it was good for three days. Below, you can see the ticket below: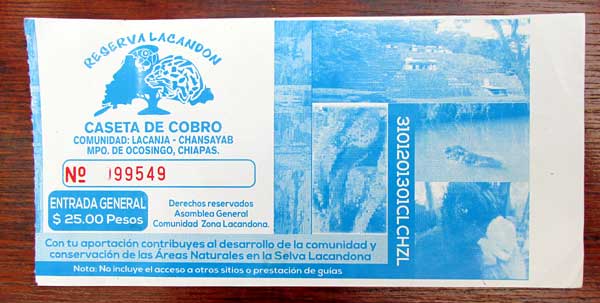 About ten minutes later we crossed the pretty little Lacanja River. Below, the river is shown from the bridge, with a small waterfall in the back: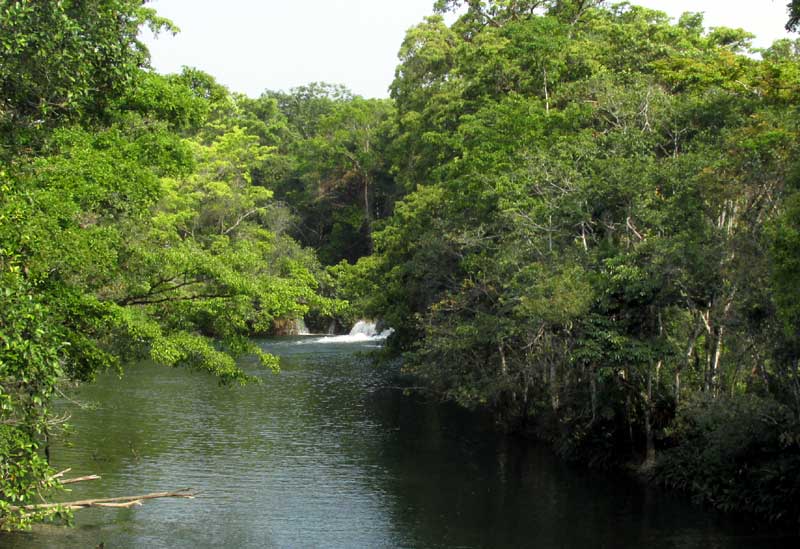 I was let out in the center of the Lacandon village of Lacanja Chansayab, the taxi driver beforehand having told me that there wasn't much of a "downtown" to the village, since his people, the Lacandons, like to live a little apart from one another, surrounded by trees. The driver also had told me that services such as campgrounds, eating, jungle walks, rafting and such were handled by individual families. I'd need to wander around looking for what seemed right for me. I wanted a quiet place in which to set up my tent, so I began walking down the road I'd just arrived on. Below, you can see the road near the center of town, with a typical sign offering various services: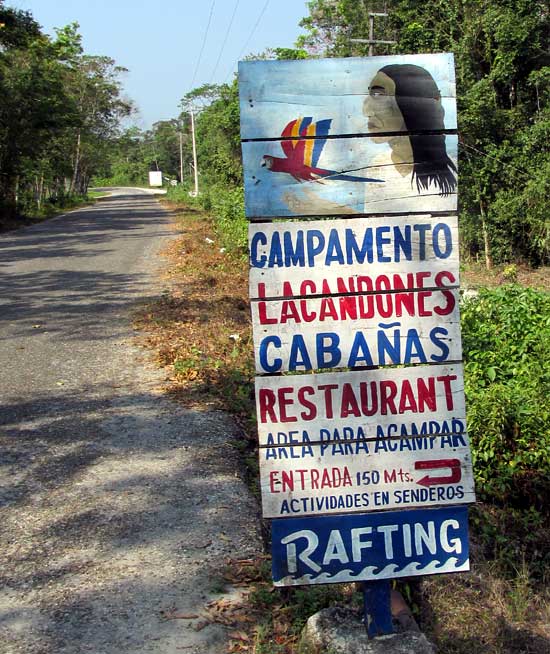 Another sign encountered a little farther on is shown below: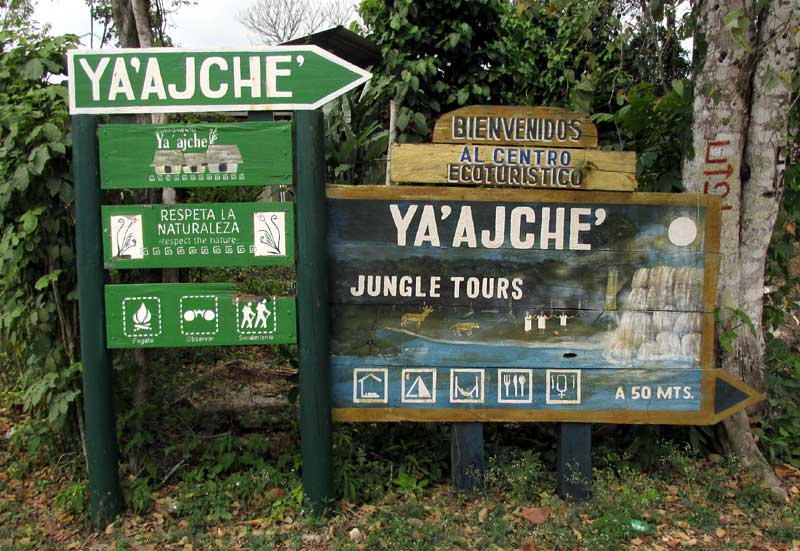 Some offerings were very low-key while others catered to more conventional tourism. Below, you can see one of the fancier establishments, right on the road and with a well maintained campground right beside the Lacanja River: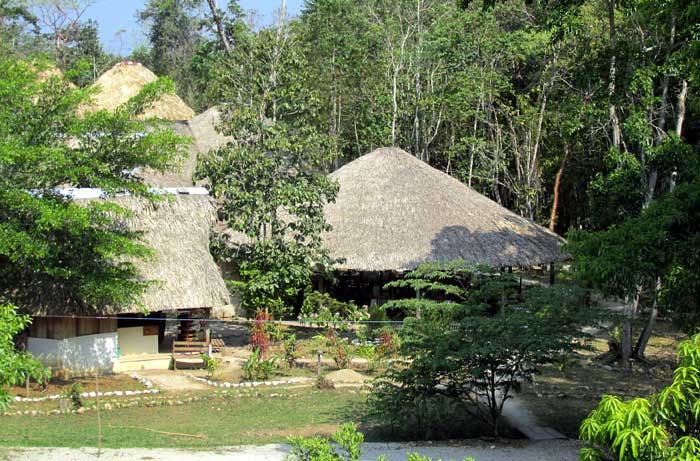 I wanted something away from the road, maybe with somebody who didn't get many visitors, and I figured I might have just that when I came upon a faded, peeling sign advertising camping 600 meters down a side-road, at Campamento Jaguares. There an old lady preparing herself for some kind of 1PM church activity -- northern missionaries of all kinds have been busy in the area -- showed me a grassy spot in her orange grove where I spread a tent for US$2.90 per night, for three nights. A meal of Mexican eggs (scrambled with chili, onions and tomatoes), beans and tortillas would cost the same. Below, you can see my tent shaded by orange trees, and a nice blue chair the lady brought out for me: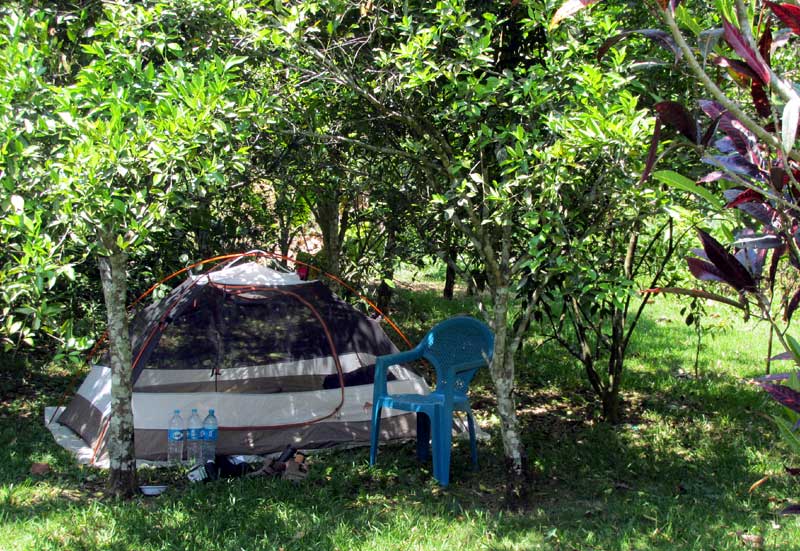 I spent three nights in that spot, and wandered about the village for three days, a time that seemed just about right. One day as I was holding a fruit while photographing it, a little girl's voice materialized behind me telling me the fruit bore tiny hairs that would stick in my skin and make me itch. Below, you can meet the little girl and her younger sister: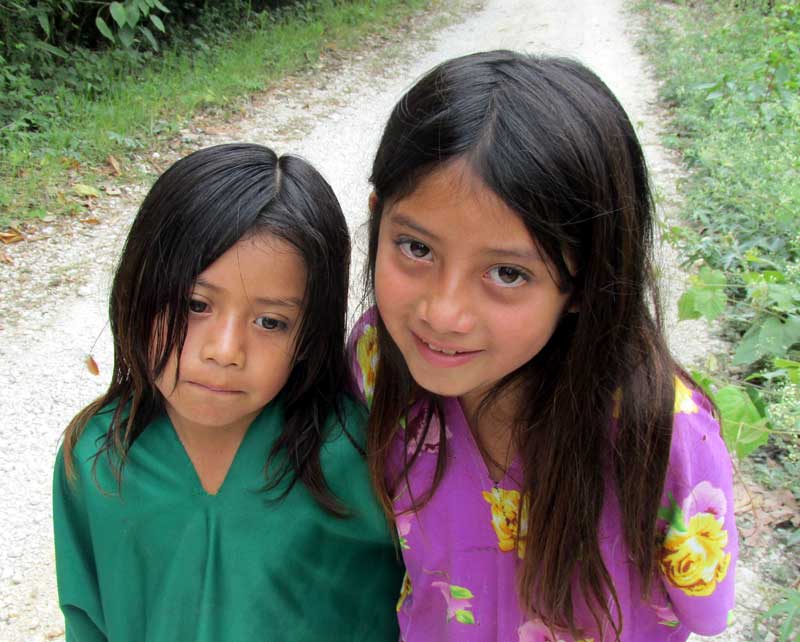 On Friday morning I broke camp and ordered one of my host's $2.90 Mexican eggs, beans and tortillas breakfasts. It was served with the most generous portions and tasted the best of any such meal I've had for years, and was accompanied by a delicious herbal tea the recipe for which the old lady good-naturedly refused to impart to me. I suspect that it was just a store-bought concoction, though, because when I asked about it, a little granddaughter snickered and ran into another room.