BALLARD COUNTY
Begin in Wickliffe.
Wickliffe Mounds is a wonderful little museum and roofed-over archeological-site and exposition area lying ¼ mile north of downtown Wickliffe. As you travel northward on US 51/60/62 out of Wickliffe, look for a large sign on the right, leading up a hill. The picture up above shows part of a much larger display area.

Barlow Bottoms Wildlife Management Area is accessible by Roads to the right, as you travel north, about 1 mile northwest of Wickliffe. Here you find beautiful shallow lakes with knobby knees of Baldcypress trees projecting above the water's surface, and good birding. The locals claim that this is their "best kept secret" place to visit. We have a map of this area showing how to make a circle drive of about 15 miles.
Wickliffe to Bardwell on US 51/62, about 9 miles.
A couple of miles south of Wickliffe this busy highway crosses Mayfield Creek, which is the boundary between Ballard and Carlisle Counties.
CARLISLE COUNTY
Bardwell to Columbus on KY 123, 9 miles.
KY 123, marked with MRT Bike Trail signs passes through a pretty landscape of low hills covered with small plots of oak and hickory forests, interspersed with little farms and an occasional cluster of houses.
About a mile north of the Carlisle/Hickman Counties border, in the community of Berkley, a sign points westward down Berkley - Fish Lake Road toward the Westvaco Wildlife Management Area. This road and roads leading from it dead-end at various places in swampy ground in the Mississippi River floodplain. You may be interested in the Westvaco-Columbus Bottom WMA driving tour, which you can ask about at (502) 335-3151.
HICKMAN COUNTY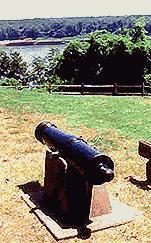 At Columbus, the way to Columbus Belmont State Park is incredibly poorly marked. A small sign across from the Columbus Post Office points down a small road which you follow for about ½ mile. The park is a restful place with a small museum and a good view of the Mississippi River, as the picture at the right shows.
Columbus, on KY 123, to Bluff Road, 1.5 miles.
Bluff Road/ Kough Road, 6 miles.
This is tricky. In the north you start out on Bluff Road but in the south the road is signed as Kough Road. In the south, Kough Road begins at KY 123. If you come from the north you will take a gravel road to the right within plain view of KY 123 about 200 feet away. There you can see the only sign announcing Kough Road. If you come from the south, your gravel road will end at a narrow paved road, Kough Road, where you will turn left. When you turn left you can look to the right to see KY 123, some 200 feet away.
This road has some steep, short inclines. There is plenty of kudzu to see as well as thickets of the introduced Tree-of-heaven, Ailanthus altissima. In some places this road passes right at the edge of the loess bluff, but trees obscure the Mississippi River coursing very close below, to the west.
Kough Road to Hickman, sometimes on Blumenburg Road, 10 miles.
FULTON COUNTY
This is also tricky. Most of the trip is on a gravel road running through a pretty lowland, often passing along a channelized creek, known as Obion Creek in its natural state. If you come from the north, just take the gravel road mentioned above and stay on it all the way until you hit Hickman with its paved streets, and come to an end at KY 94. Toward the northern end, you know you are on the right road if about a mile on gravel you cross a concrete bridge over Obion Creek, then turn right, toward the south.
If you come from the south, then your challenge is to find Bernal Avenue on the eastern side of Hickman. On KY 94, signed as Moscow Avenue, Bernal departs on the left, northward. Bernal crosses a concrete bridge about a mile north of town, over the Bayou du Chien, then the road turns to gravel about a mile further on. About 8 miles from its southern beginning, take the gravel road to the left, where you immediately cross a concrete bridge over Obion Creek.
Despite the lack of signing and the almost inevitable feeling of being lost most of the time, this is a nice trip through the bottomlands. During much of it you can see basking turtles in the creek and picturesque communities of Baldcypress trees with their knees rising from the water. Even the big fields of soybeans are good to see. On this stretch it is especially helpful to keep tabs on whether you are heading north or south.
Through Hickman on KY 94.
KY 94 passes through Hickman from East to West, as its main street. On the east side, to head north, find Bernal Avenue, on the left. On the west side, to head south, take KY 309 south, to the left.
Hickman to KY 925, on KY 309, 3 miles.
Hickman has two KY 94s, the southernmost being the Bypass, which you do not take. Just stay on KY 309 and cross the southern Bypass.
KY 925 between KY 309 and the Tennessee Border, about 4 miles.
The Tennessee Border is not marked. At or near the Tennessee border KY 925 becomes known as the Mt. Manual Church Road. This is a winding road with plenty of kudzu, often coursing at the bluff's very edge, and providing views overlooking the lowlands.