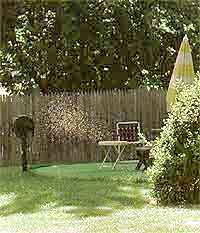 You'll be amazed just how many niches your backyard has. In the picture at the right, see that cluster of pale dots showing up against the fence? That's an amazing, glowing globe of zigging and zagging bugs forming a cloud that very, very slowly drifts across the neighbor's lawn next to my mother's suburban home in Kentucky. I saw this one summer day a few years back. I have no idea what kind of insects they were or what they were doing, for by the time I could get my insect-identification books together they were gone.
Well, the lesson is this: What to us may seem like a backyard sterilized with incessant lawn mowing and prodigious dosages of insecticides and weed killer -- such as my neighbor's -- still may provide nurturing natural niches for rainbows of natural plants and animals. Let me tell you about a classic study by R.H. MacArthur, done in 1958, in the spruce forests of Maine:
NICHES IN A TREE...

Photo © Greg Scott
In our backyards some of the "ugliest" places may be the most ecologically beautiful. At the right you see the remains of a dead tree that is a center of species diversity. Chimney Swifts nest in the hollow trunk. Notice the metal sheath at its base to keep animals such as house cats from climbing the tree to get to the nest. The tree's decaying wood is tunneled through by untold numbers of wood-eating insects, which attract woodpeckers. That dead tree is a beautiful, thriving CITY of living things and it's great that it's being protected!
It's an ecological principle that no two species can for long occupy the same niche at the same time and the same place -- because one species will drive the other away. With this in mind, MacArthur wondered what was going on when he saw that in a single spruce tree, five different species of closely related birds, all wood-warblers, were nesting and foraging for food.
MacArthur did what any good naturalist does when a question like this arises -- he watched his critters. Here's what he found:
Each species nested at a different level above the ground
Though all five bird species ate insects, on the average they found their insects in different parts of the tree
There were differences in feeding strategies among the warblers: If two different warblers found themselves on the same branch, one might be probing among spruce needles, while the other could be searching for insects on the branch's bark
This study gives us two important insights into natural history:
Niches occur in an amazing variety of places (even in suburban backyards)
Even when two or more different kinds of organism appear to be occupying the same niche, if you pay close enough attention, you'll probably see differences in how they exploit their environment
Therefore, a single tree -- even a backyard tree -- is like a whole city where, if you know where to look, a rainbow of plants and animals can be found occupying their own unique niches. Since typical backyards often support more than single trees, the actual number of niches there may turn out to be mind boggling!
But, to discover these niches and the wonderful plants and animals occupying them, you must simply always keep your eyes open, prepared to see anything...