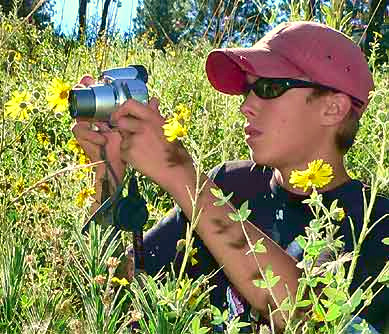 If you only want to see your pictures on computer screens you might want to shop for a digital camera differently than if you plan to print high-quality pictures on paper. If you're a real amateur a simple but effective approach to choosing a camera is to walk into someplace like a Wal-Mart or Kmart camera section, choose several cameras in your price range made by companies you've heard of, such as Canon or Kodak, and then compare features of the models you've chosen. This approach often works because nowadays the vast majority of digital cameras, even fairly inexpensive ones, are so good. Also, if you buy from a local chain store, your take-back options are better. You can get into real messes buying online from companies you've never heard of.
MEGAPIXELS
Megapixels has always been a big deal when buying digital cameras. In general, the higher the megapixel rating, the bigger your pictures can be while remaining sharp (the way to say it is that the picture has higher resolution), and the more expensive the camera is. Unless you want to make high quality, large prints with your photos, even low-end cameras have high enough megapixel ratings to do a good job. A megapixel (MP) rating of 5 or 6 MP is high enough to create good quality 4x6 prints. If all you want is to send snapshots via email, or illustrate your web pages with good, full-screen photos, even a 1 MP rating is adequate -- though nowadays nearly all cameras have ratings higher than that.
MEMORY
The memory built into your camera is one thing, but the memory on your camera's memory card, which you'll probably need to buy separately and then fit into a slot in the camera, is quite another. Most people think of built-in memory as "emergency memory" to be used only when the memory card is full or forgotten. Maybe using this internal memory you can get 20 or 30 large pictures onto your camera. Memory cards with lots of memory can hold thousands of pictures. Of course, the greater the card's memory, the more it costs.
For example, at this writing a Kingston 8 GB Class 4 SDHC Flash Memory Card SD4/8GB (EIGHT gigabytes of memory) costs about US $17, while a the same card but with 16 GB costs $35. A 16 GB memory card is so large and holds so many pictures that it hurts my head to think about it.
OTHER THINGS TO LOOK FOR
Probably one of the most aggravating things about using a digital camera is that often the little screen on the back -- the LCD viewfinder you look at when you're composing the picture -- doesn't show the image clearly, especially in bright light. On the model you are considering, is the screen large enough? When you test it, is the image sharp and well defined?
HINTS FOR PHOTOGRAPHING
PLANTS & ANIMALS
Most people have the urge to get everything they can in a picture, so they stand way back from their subject. The end result is a lot of look-alike, uninteresting pictures full of clutter. Therefore, let your default picture-taking attitude be that of wanting close-ups and portraits, not hodgepodges. The more specific your subject matter, the more interesting your image will be.
Here's my favorite trick, something I do before I take any picture: Look at the subject being photographed with only one eye -- because that's the way your camera sees it. Very often something that looks good when seen with both eyes suddenly gets lost in background clutter when seen with just one eye!
If you have arthritis or thick fingers, are the buttons easily accessible? Some people end up with cameras and simply can't get their fingers to push on the little buttons they're supposed to push. Some cameras have their buttons larger and farther spaced apart than others.
My $235 Canon PowerShot SX100 IS bought off-the-shelf at Wal-Mart camera has an image stabilization or vibration reduction feature that keeps images from blurring so badly when the camera moves during taking a picture. This is a great feature to look for.
My mid-range camera also takes videos with sound, which most cameras in that price range do. The videos can be uploaded to Websites such as YouTube.com.
Smaller cameras are handy but the fact is that the larger the lens up front, the more light can enter, and the better the picture can be -- brighter colors, better defined images. Also,when you snap a picture with a small camera the lens up front moves more than if the camera is large, and that moving lens causes pictures to be fuzzier.
DEPTH OF FIELD
If you only have used film cameras you'll be amazed how much depth of field good digital cameras have. Depth of field is a measure of how much of your subject is in focus behind and in front of the point on which you focus your lens, and it is most important when taking close-ups. With film cameras, when you take close-ups, usually you must use a tripod, a slow shutter speed and a narrow lens opening or most of your subject will be out of focus -- show up blurry. Good digital cameras enable you to have much more of your subject in focus because of their much greater depth of field.
For the vast majority of my pictures I just set my camera on automatic and it chooses the settings. Sometimes I have to override the settings though -- as when taking a picture of a flower against a very bright background. What I'm saying is that you need to learn a few basics or you're going to end up with some bad pictures no matter how much your camera costs and how many special features it has.
On the other hand, if you use your brains, you can create great shots with a relatively inexpensive digital camera. One secret behind many of the great pictures at my own website is that I consider taking the picture just part of the work. Once I have that picture in my computer, I work on it with a good graphics program. In fact, the smart, artsy person wanting the best pictures for the least money may end up spending more money on a good graphics program than the camera!
DIGITAL CAMERAS PRODUCE BIG FILES
When you take a digital picture your camera is creating an image file a computer can read. Moreover, usually the camera produces a file much too large if you only want to see your images on a computer screen.
For example, when the picture at the top of this page was taken with average settings of a typical $450 digital camera and the image was downloaded from the camera to the computer, it produced a file about 2.8 MB large. When I viewed that big file on my computer screen only a small section fit onto the screen.
One way to think about a digital picture's number of bytes is that bytes are nothing but bits of information. A piece of information might be something like "make this tiny point in the picture (the pixel) red. Another piece of information might be "make that red pixel a certain brightness."
Here's an important point about the picture at the top of this page. Though it started out in the camera as a file 2,800,000 bytes large, the picture you are seeing now is only 28,600 bytes large!
In other words, to make the picture usable for this page, I had to reduce it to a hundredth of its original size, from 2.8 MB to 0.028 MB, or 28 KB! For my purposes on this page, the camera gave me a hundred times more information that I needed, so that was wasted camera expense, wasted computer hard-disk space, and a waste of my time reducing the picture.
BUT, SOMETIMES BIG FILES ARE NICE...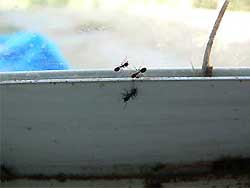 The nice thing about big digital-camera files, however, is that they produce images with a high resolution. That means that you can enlarge small parts of the picture and they'll still be sharp.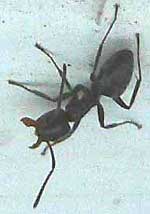 As further explained on our page about using graphics programs, the rather crummy picture of ants on a window above and to the right began as a file 1.9 MB large (it's only 0.04 MB now). Before I reduced that picture to fit onto this page I enlarged the part of the picture with the ants in it and lightened it up with my graphics program so that now I have the picture of the bottom ant in the group shown at the left. If the camera hadn't produced a picture with such high resolution, it would have been impossible to get such a sharp ant-picture.