Excerpts from Jim Conrad's
Naturalist Newsletter
from the February 11, 2008 Newsletter written in the community of 28 de Junio, in the Central Valley 8 kms east of Pujiltic, Chiapas, MÉXICO
about 800 meters in elevation, ± LAT. 16° 18'N, LONG. -92° 28'
A DEAD URRACA
Friday morning Don Andrés came to my door bearing a dead Urraca -- the White-throated Magpie-jay, CALOCITTA FORMOSA, I told you about last week. It was the most gorgeous bird on my list of the first fifteen bird species noted while exploring my new home. The dead Urraca with its upside-down teardrop crest is shown below.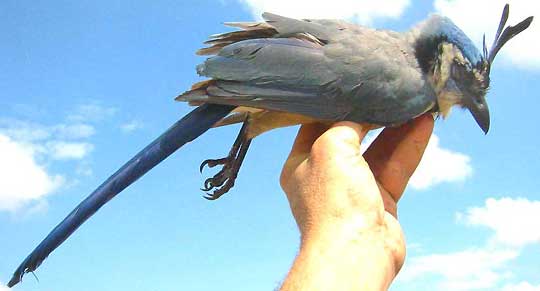 The picture is a disappointment because usually the jaunty crest conveys a feeling of bird savoir-faire, but this bird's crest is messed up. And of course there's nothing of the feeling you get seeing a small flock sailing in like elegant Chinese kites. In real life the bird's neck is more extended, emphasizing the white face.
Don Andrés didn't know what killed the bird. The previous day I'd seen a farmer fumigating his field with insecticide, so probably that's the answer.