Excerpts from Jim Conrad's
Naturalist Newsletter
from the April 7, 2008 Newsletter written in the community of 28 de Junio, in the Central Valley 8 kms east of Pujiltic, Chiapas, MÉXICO
about 800 meters in elevation, ± LAT. 16° 18'N, LONG. -92° 28'
KING CHARLES &THE QUEEN OF INDIA
The other day I met Antonio cutting firewood and he asked if I knew La Reina de India, or Queen of India. I knew he was talking about a plant, but I couldn't guess which plant it was. I figured it must be especially pretty to be graced with such a name.
Down the hill and across a field we went, then proudly he presented the Queen growing on his own land. She's below: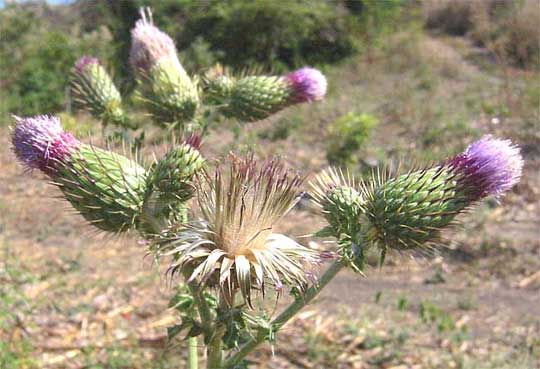 It was a spiny, weedy thistle! But when Antonio pointed to the urn-shaped flowering heads I understood the name, for it was pineapple-shaped like turbans I've seen Indian royalty wearing in old pictures.
Then he pointed to the fruiting head in the middle with its involucral bracts pealed back and its seeds ready to unfurl white parachutes, and said, "Here's Rey Carlos," that being King Charles. Instantly the British kind of crown, at least its pointy rim, formed before my eyes.
Thistles are uncommon enough here to be regarded as special. And when you look at them with unprejudiced eyes, actually they do deserve names offering pretty or interesting associations. And have you smelled a thistle's flowers? Their perfume is musky, evocative of deep purple, good enough to close your eyes for as you sniff.
If you need to be reminded of the spininess of certain thistles' leaves, take a look at this plant's leaves below: